Dial M for Murder is a 1954 American crime mystery thriller film directed by Alfred Hitchcock, starring Ray Milland, Grace Kelly, Robert Cummings, Anthony Dawson, and John Williams. Both the screenplay and the successful stage play on which it was based were written by English playwright Frederick Knott. The play premiered in 1952 on BBC Television, before being performed on stage in the same year in London's West End in June, and then New York's Broadway in October. The film earned an estimated $2.7 million in North American box office sales in 1954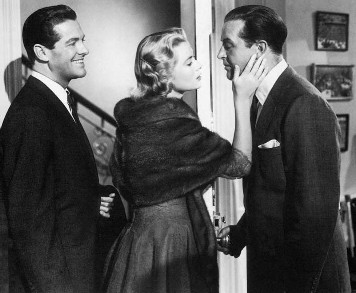 The New Vic Theatre staged a production of the play in its main house (in the round) in 2017. It was directed by Peter Leslie Wild and the cast featured William Ellis as Tony. The play received positive press reviews. Since then it has been on various tours around the United Kingdom.
The new tour arrived at The Lowry Theatre at Salford Quays last Monday starring Tony (Tom Chambers) Margot (Diana Vickers) Captain Lesgate/ Inspector Hubbard (Christopher Harper) and Max (Michael Samami ) last night we went to the Lowry to watch the new tour with a high profile cast step into Robert Cummings, Grace Kelly and Ray Milland shoes.
Last night we were sat with an excited audience wondering this version of the 1954 classic how the would turn out. Steamy opening to the first half between Max and Margot showing their romantic side straight away the audience opening to kissing on stage. In a few minutes it was clear that Margot was having an affair behind her husband's back. Soon after her husband Tony coming on after Max and starting kissing her too, all very intense straight away. A very different Diana Vickers from the sweet and innocent teeny bopper 2008 X factor finalist, who topped the UK charts in 2010 with her song "Once".
Set in the last 1950s early 1960s the set design is very simple with a very small cast which at times had very intense scenes especially in the second half when Tony plots his wife's murder. Then gets rumbled in the second half by the lover Max and Inspector Hubbard. We loved Captain Lesgate / Inspector Hubbard who was very funny added a special northern twist to the classic thriller.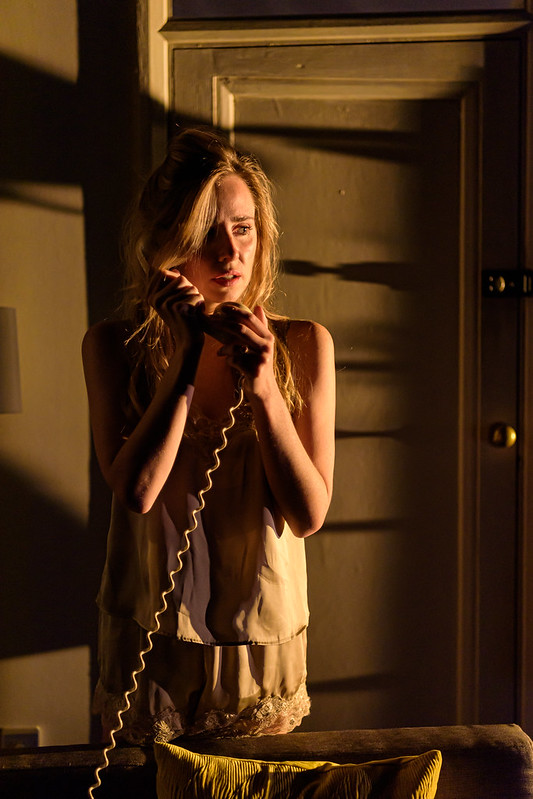 Highlights for me included included David Woodhead's set design due to being small and intimate and definitely pulling off the 60s vibe completely. Sound and light by Lizzie Powell and Ben & Max Ringham helped subtly move the performance along and create a timeline. It also echoed the overall feeling of the play such as the intense red flashing lights sequence in the second act.
We loved Tony (Tom Chambers) his energy, flare, odd but intriguing. I bet it would be nice to talk to him in our local pub sometime… or maybe not as this was his plotting ground.
For me didn't at point strike as a 1950s/1960s thriller as there was plenty of comedy moments especially in scenes with Tony and the hitman very funny and over the top.
Inspector Hubbard was a stand out character the way he pieced together the murder plot, not just leading the audience to an expected answer. Making the characters turn against each other and questioning each others motives!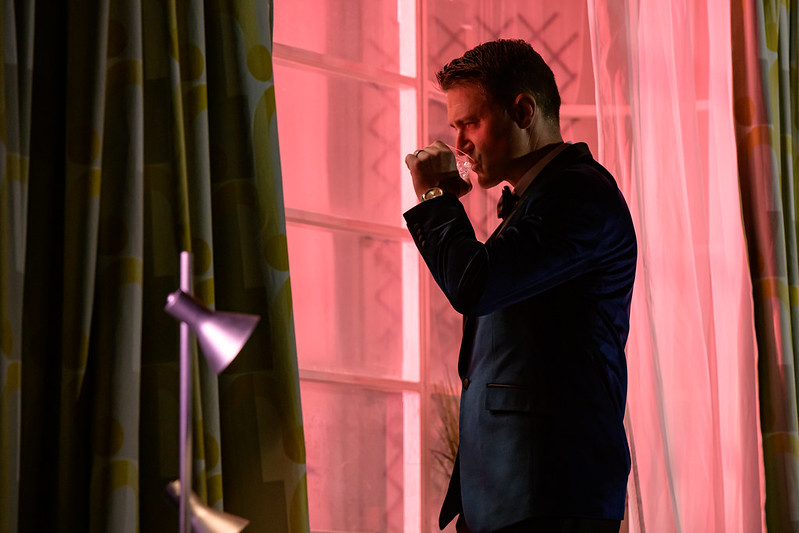 The quality of the acting on display, and the top-notch stage design and accompanying lighting, ensure value for money
All in all it was a modern twist on a classic thriller, intense, exciting and in parts extremely funny. A modern crime story with Hitchcock's undertone. This production was fast paced, energetic and captivating throughout.
The production is running until Saturday 20th November 2021 get yourself down there!
Tickets: HERE
Review by Tamzin Bentley