After a hard days work at the office and feeling a little blue Natalie and I were lucky enough to be invited to Hairspray, which opened at the Palace Theatre in Manchester last night. Red carpet arrival beautiful queens out and plenty of colour everywhere, just what the doctor ordered!
I had previously seen the production in 2017 in Manchester and thoroughly enjoyed it. 2021 new tour new cast and some new parts, believe me I was ready. Tracy Turnblad played by Katie Brace was cast by Jonathan Russell and honestly he made the perfect decision with Katie. Humble, exceptional funny and had the most amazing powerful voice. Set in Baltimore, United States in 1962 Tracy lies in bed wondering what the day lies ahead of her. The bed is upright has she gets up and sings the first number 'Good Morning Baltimore' a fantastic array of colour and sunshine as the other singers and dancers burst onto stage. The next thing you notice is the strong Baltimore accent, all of the actors didn't drop it once and lovely not to hear a British accent for a few hours.
The show follows dance-loving teen Tracy auditions for a spot on "The Corny Collins Show" and wins. She becomes an overnight celebrity, a trendsetter in dance, fun and fashion. Perhaps her new status as a teen sensation is enough to topple Corny's reigning dance queen and bring racial integration to the show. The production is bright, plenty of humour and teeth and smiles, underneath it deals with some deep rooted and important issues which happened in the early 1960s racial segregation and fighting for what is right. It still amazes me how we could live in a world where we ever treated another person discriminately, because of their skin colour. Also dealing with bulling about Tracy's weight and how she looks Velma Von Tussle (Rebecca Thornhill) and her daughter Amber Von Tussle (Jessica Croll) who were part of the original crew on the The Corny Collins Show are cruel and nasty to Tracy. Both actresses play the prefect spoilt women especially in the song 'Miss Balitmore Crabs' honestly I see cruel nasty characters like this in all walks of life and believe me they are not happy within themselves.
Highlights for me Tracy's parents played by Edna Turnblad (Alex Bourne) and Wilbur Turnblad (Norman Pace) were the right kind of funny. Clever witty and played off of each other, they reminded of old comedy duos of the past like Laurel and Hardy, Cannon and Ball that old school panto humour. Literally had me howling with laughter in the second half in the song 'You're Timeless to me' even breaking character only for a second during the erotic dance routines HAHA, great scene!
Then who walks in and shows her amazing gigantic voice none other than Motormouth Maybelle played by the amazing talented Brenda Edwards her vocal range is outstanding particularly in 'I know where I've been' her vocal range is off the chart. She has previously been in X Factor in 2005, and is a regular panellist on ITV's Loose Women. She has a long history in theatre and television and we can see why. Very powerful strong voice and able to hit notes some singers can only dream of; an honour to listen to her sing. Honestly Brenda considering what you have been through you are remarkable, I cant wait to see you in the future in the theatre.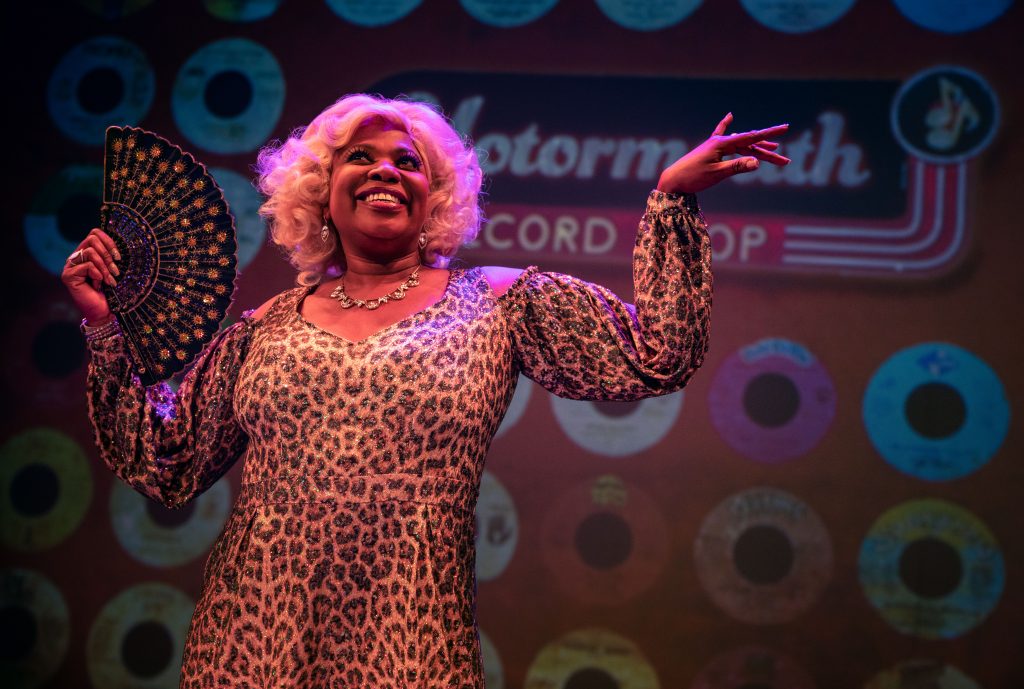 Great to see the uplifting dancing from Corny Collins (Richard Meek) and Link Larkin (Ross Clifton) played the confident leads to some of the actresses. I definitely would have felt like Tracy seeing Link at school (ring the bells) lol
The band lead by Ben Atkinson did a splendid job and booting out those power numbers and honestly cast members like Tracy (Katie Brace) had no problem keeping up with them. Considering Katie this is your professional debut you did an excellent job as Tracy! Your facial expression particularly swooning after Link made me smile with laughter, draws me back to my school days when I had a crush on a guy called Alex ha ha.
The set, lights, music and cast really gelled well together. I loved the final song 'You cant stop the beat' had the Manchester audience on their feet. I had a jolly good time and really enjoyed myself thank you!
5 stars from me, Congratulations cast and creative
Its on at the Palace Theatre in Manchester from now till Saturday 30th October then from Monday 8th November till Saturday 13th November 2021 you cant afford to miss this!
Tickets: HERE
Review by Amy Parkinson