Its the tenth year of the National Theatre producing 'The Curious Incident of the Dog in the Night-time' In the past it has won an Olivier Award and Tony Award for Best Play, Mark Haddon's international best-selling novel to thrilling life on stage in a dazzling adaptation by two-time Olivier Award winner Simon Stephens and directed by Olivier and Tony Award winner Marianne Elliott (War Horse, Company). War Horse also one of my favourite productions strong and emotional story too like this one.
If you haven't seen the play before here is the plot – Christopher Boone, a 15 year old, who is exceptional at Maths but finds people confusing. The play opens with Christopher discovering a dead dog in his neighbour, Mrs Shears', garden. Despite his father, Ed, warning Christopher not to get involved, Christopher decides to investigate the death of the dog. In doing so he discovers that his mother is not dead as his father had told him, but alive and well, living in London. He also discovers that it was his father who killed the dog.
Christopher feels that his father is a murderer, who he cannot trust. He can no longer live with him and so he bravely travels to London to find his mother. Christopher has difficulty settling into his new life in London and returns to Swindon to take his A-level Maths exam. The play ends with him passing the exam and the realisation that he can do anything he puts his mind to.
Last night Rayna and I went to see the play at the beautiful Opera House in Manchester. Christopher who played by David Breeds a complex character with clear learning difficulties and finds everyday tasks (Which we all take for granted) difficult like eating, touching, getting dressed and talking to people. Christopher has traits of Asperger's and Autism. David who has previous theatre experience in 'The Girls, Out of the Thunderdome a oneman show' and Dear Evan Hansen' in the West End nothing like he has ever played before in this production. David did an excellent job, his movement, interactions and mannerisms were brilliant such a professional young man who has a big career ahead of him.
A key theme in the story is that of honesty and trust. Each of the main characters has issues of trust and honesty with each other. Ed (his father – Tom Peters) lies to Christopher about his mother, Christopher lies to Ed about stopping his investigation on the dog. The interactions between Ed and Christopher can be really heart warming especially in the second half when Ed goes to London to look for Christopher. The emotion on his face to see him again pulls at your heart strings.
One of the cleaver points about this play is the back drop and how the characters interact with the set design (Bunny Christie) Christopher draws with chalk which then mirrors on an electronic screen behind him which is clear the audience to see. In the second half when Christopher is trying to navigate around London and the tube the scenes created by an electronic backdrop, lights, sounds and energy is truly stunning to watch. All these sound emphasize how stressful it must be for a 15 year old boy with autism to navigated to London from his hometown of Swindon. This must have been terrifying for him and the lighting, set design, movement and music really brought this to life.
For me at times I found the play quite intense due to the nature of the plot and Christopher's complex character traits. I loved the part in the second half on his journey to London, the enable lifted Christopher up and walked him around the electronic screens as if he was navigating around London. Fantastic effects and illusions especially with the strobe lighting, smoke and haze effects, high-intensity video and lighting effects, loud intense sound effects including white noise and music looked brilliant but maybe a little overwhelming but some younger viewers suitable for 11+ ages.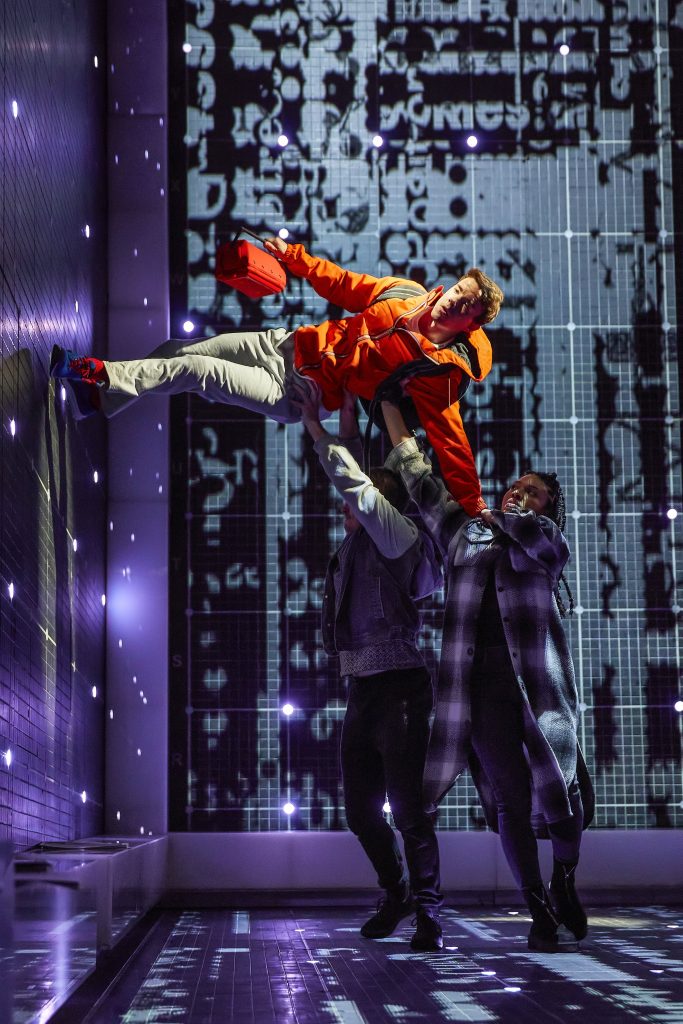 I have to mention Siobhan (Rebecca Root) who played Christopher's Teacher playing various other characters to. Again I loved her interaction with Christopher and she seems to be the one person who could make him feel calm, they had a nice relationship onstage.
Nice to see lots of school children in the audience the play is part if the English Literature National curriculum, which is taught in schools as part of their GCSE's. A complex and interesting story to learn and study educating young minds and showing them that if you work hard enough you can achieve your dreams just as 15 year old Christopher does.
I have to mention Christopher's mother Judy played by Kate Kordel captures so much emotion in her powerful performance and her confession of the difficulty she had raising Christopher. This is delivered with raw honesty and an undiluted vulnerability. Incredible to watch this actress perform and at times becomes quite emotional to watch.
For me the play really opened my eyes to see what its like living with someone with complex needs like Christopher's. Physically and emotionally draining everyday for his parents who also show him so much love and appreciation for him.
The show's programme reminds us that Mark Haddon's The Curious Incident of the Dog in the Night-Time is the nations favourite book, and perhaps Simon Stephens' stage adaptation should be considered the nation's favourite play.  It's themes of summoning enough bravery and strength to undertake difficult journeys feel more important now than ever. A very memorable night for us the beautiful intimacy of a family drama with stunning effects, this really is a special play which should not be missed.
Showing at the Opera House in Manchester till Saturday 12th March 2022
5 Stars from us Congratulations cast and creative, standing ovation too!
Tickets: HERE