In 1982 Douglas Day Stewart co-wrote an Oscar-winning film called 'An Officer and a Gentleman' with the iconic song 'Up where we belong' which in the 1983 Academy Awards won 'Best Score' for and for the best-supporting-actor playing Sgt. Emil Foley (Louis Gossett Jr)
Now over 30 years later the production is back in musical form. Mentored by the said original Screen Writer Douglas Day Stewart who worked with the original cast Richard Gere and Debra Winger. We caught up with them back in April of this year – http://www.backstageaccess.co.uk/backstage-with-an-officer-and-a-gentleman/
Directed by Nikolai Foster the story tells a story of Zack Mayo played by Jonny Fines a new member of the U.S. Navy, who has a bad attitude. When he signs up for the Aviation Academy, he is met with the strict leadership of Sgt. Emil Foley played by Ray Shell, who gives Zack a rude awakening in terms of relating with other people. Through Foley's guidance, an unexpected romance with Paula Pokrifki played by Emma Williams, an outsider who hangs around the naval base with co-star Lynette Pomeroy played by Jessica Daley. Through this process, Zack learns some tough lessons and discovers what he truly wants out of life also making life-changing friendships along the way with Sid Worley played by James Darch.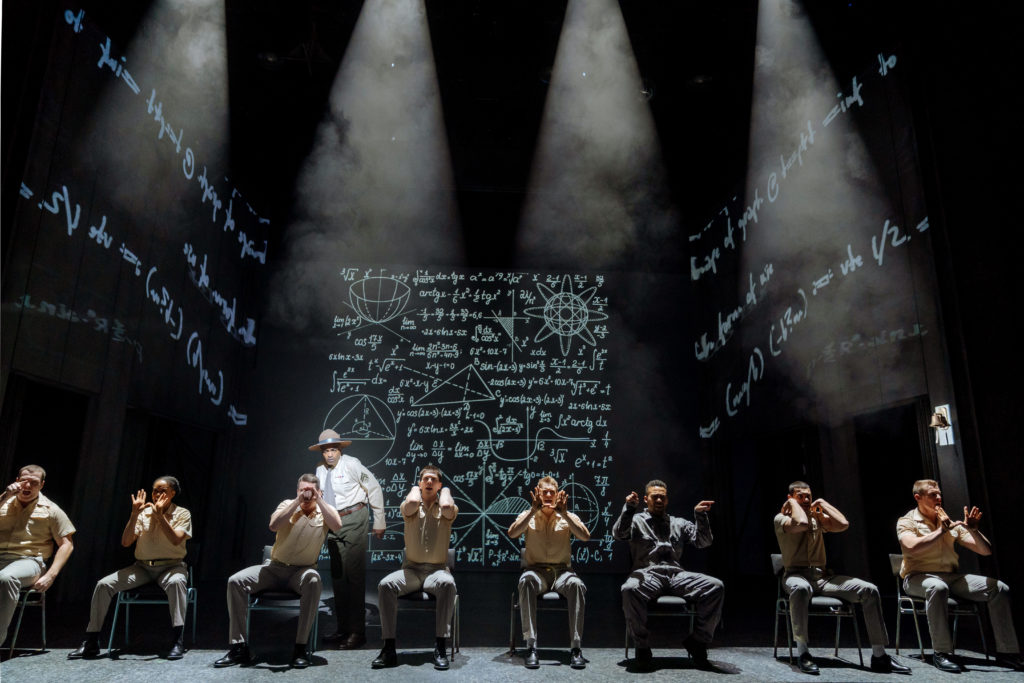 Credit: Manuel Harlen
The production has a potential for me for being a 5 star,  because of the talented cast and creative especially as the original screenwriter has been involved. The scene opens with Zack and the new recruits enrolling in the Navy and the brutality of basic training. Emil Foley who plays the Sgt in charge is just how I imagined him, a harsh no bullshit sergeant who can whip the candidates up to shape. Ray Shell was cast perfectly for this role. Showing strength, soul and compassion his scene at the end when he put the graduates into there navy roles was thrilling. The audience cheers as each candidate were given each job and where they would be posted. I also loved his scenes when trains the candidates, he is brutal especially with Zack. One of my favourite scenes being in the first act 'Hearts on Fire' where he is a charge of basic training. Reminded me of a rocky 4 scene montage!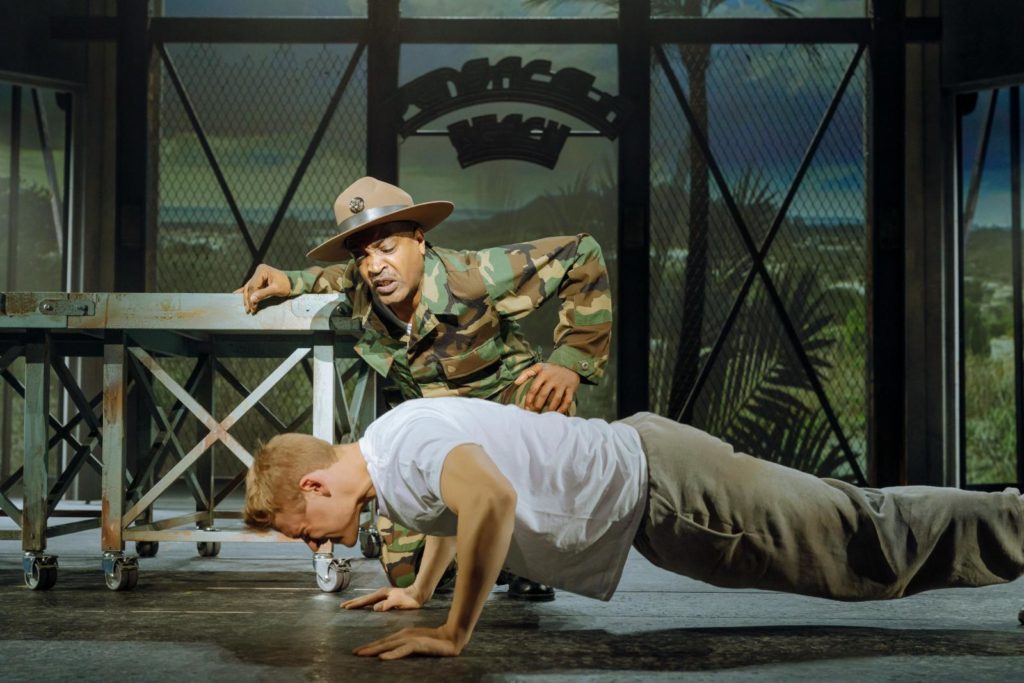 Credit: Manuel Harlen
Other highlights for me were the strong ladies voices of the cast. One of my favourite scenes in the first half were Paula and Lynette in the car singing 'Girls just want to have fun' a happy go lucky 80's tune!  I also loved Lynette solo of Material Girl, well done Jessica Daley!
We also enjoyed the scenes with Paula's mum Esther Pokrifki played by Rachel Stanley and Corinna Powlesland as Aunt Bunn. They brought a realism to the production warning, Paula and Lynette, how the future could turn out for them. I particularly enjoyed the song 'It's a Man's, Man's Man's World' when they were all singing in the factory showing the harshness of the 1980's particularly working in the industrial sector.
A couple of reasons why I didn't rate this production a five star, I felt at moments the cast held back on the songs. They didn't feel like they let go and rushed different scenes; which I thought was a shame. In parts a felt like it was more of a stop and start to the next scene instead if it flowing nicely.
However, I did love the strong powerful voices of the female cast, in particular, Paula, Lynette, Casey, Aunt Bunny and Esther. I felt the male cast voices weren't as strong and at times they struggled to keep up with the females especially in songs like 'I want to know what love is and Toy Soldiers'. Although I did enjoy Zack's vocals a softly spoken gentle voice with a powerful ending. Especially in songs like 'St Elmo's Fire and Family Man'.
I did enjoy the neon signs and the quick changes for the set design, they flowed nicely into the next scene. Well done Micheal Taylor!
Overall a feel-good production, jam-packed with 80′ hits. Together with a powerful females vocals and a smoking hot lead, Zack played by Jonny Fines! Reminded me of Ryan Gosling from 'Crazy Stupid Love' the dirty dancing scene (You know what I am thinking of)
Anyways (still blushing ha ha)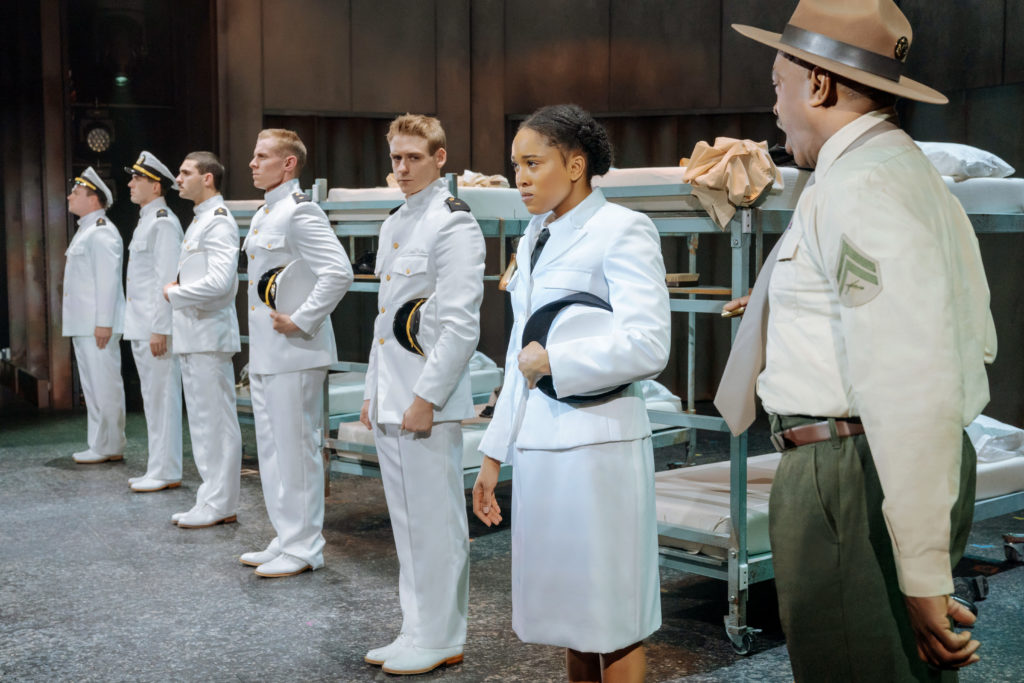 Credit: Manuel Harlen
Go and book this because it will literally 'lift you up' and make you feel good, we came out of the theatre smiling. Especially at the end, I won't spoil the surprise for you!
It's on till this Saturday 18th August 2018 in Manchester.
Tickets: here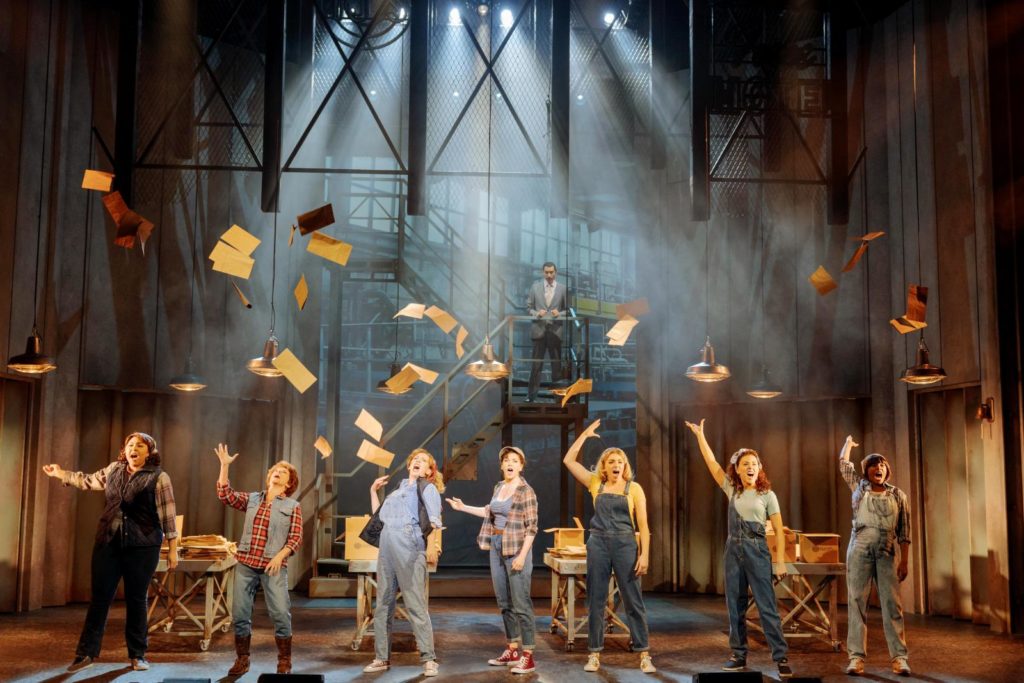 Credit: Manuel Harlen