Last night Laura and I attended the press night of Benidorm live after ten years of success on ITV1, I was curious about how this would be turned into a stage show. The Brits aboard humour and the quick witt of the script made 'Benidorm' one of my favourite television shows. Creator Derren Litten's genius thinking to come up with funny and relatable characters is flawless. Each of his characters in the TV show and on stage we have all met in Spain in real life that's why its so funny, with a hint of Derren quick witt added for substance.
The plot for the show was very similar to the television series a posh couple forced to spend a night in the cheap-as-chips Solona hotel, undercover hotel inspectors and a gay swinger with the hots for hairdresser Kenneth played by Tony Maudsley have a familiarity about them. While the structure is looser, without the quick-fire approach afforded by being on screen, director Ed Curtis winds everything together convincingly, in a way that will appeal to new audiences while giving fans plenty of what they've come to expect.
Kenneth and Liam played by Adam Gillen work at the Blow'N'Go salon, provide the most outrageous laughs, while inveterate swinger Jacqueline played by Janine Duvitski and newbie Derek played by Damian Williams, provide an abundance of song and single one liners which will have you screaming with laughter.
For me Jacqueline really steals the show with her quick witt, cheekiness and her fantastic timing. Especially in the first half when she meets Asa for the first time by the sunbeds. Her ability to charm the socks of every single person she meets is adorable and her characters understanding of the other actor gets them to commit to her way of thinking quickly. Ordering her 'Pink Pussy cocktail and Sausage in Cider' moments made me howl! I think I actually disturbed Nathan Morris in front of me because I am was laughing so loud!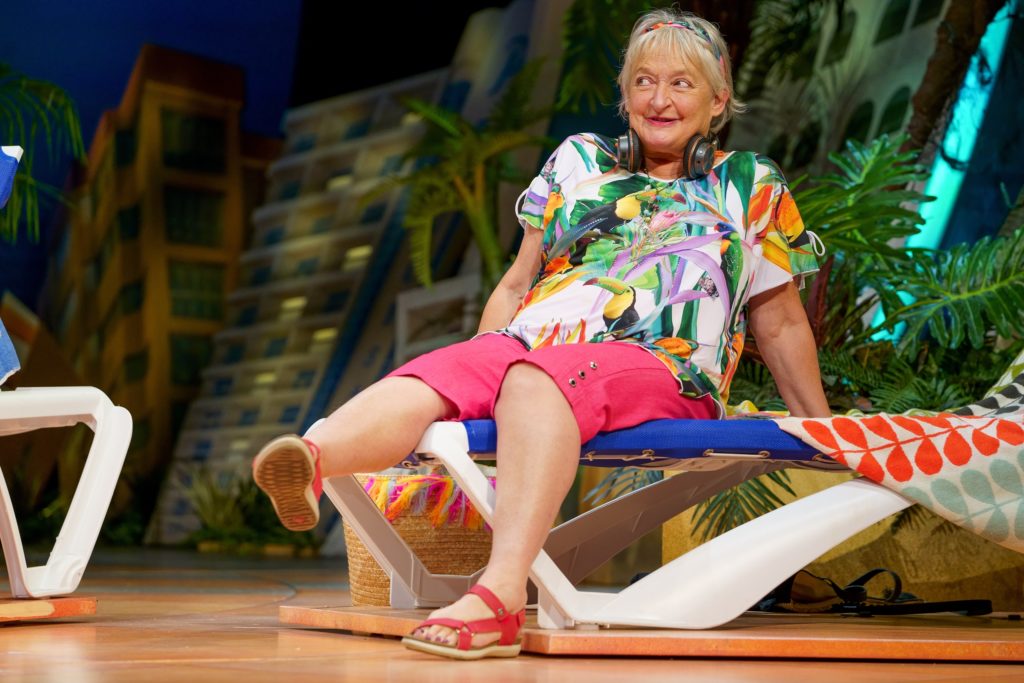 Credit: Paul Coltas
Then enters Mateo played by Jake Canuso who plays the sleazy Spanish waiter who everyone has an affair with. Watching him seduce Sophie in the first half  actually makes him quite appealing. He looks a lot better in real life and its easy to see with his broken English, hips twists and cheeky smiles why people definitely want EVERYTHING from there all inclusive package at the Solana! Laura and me were melting at his presence! ha ha!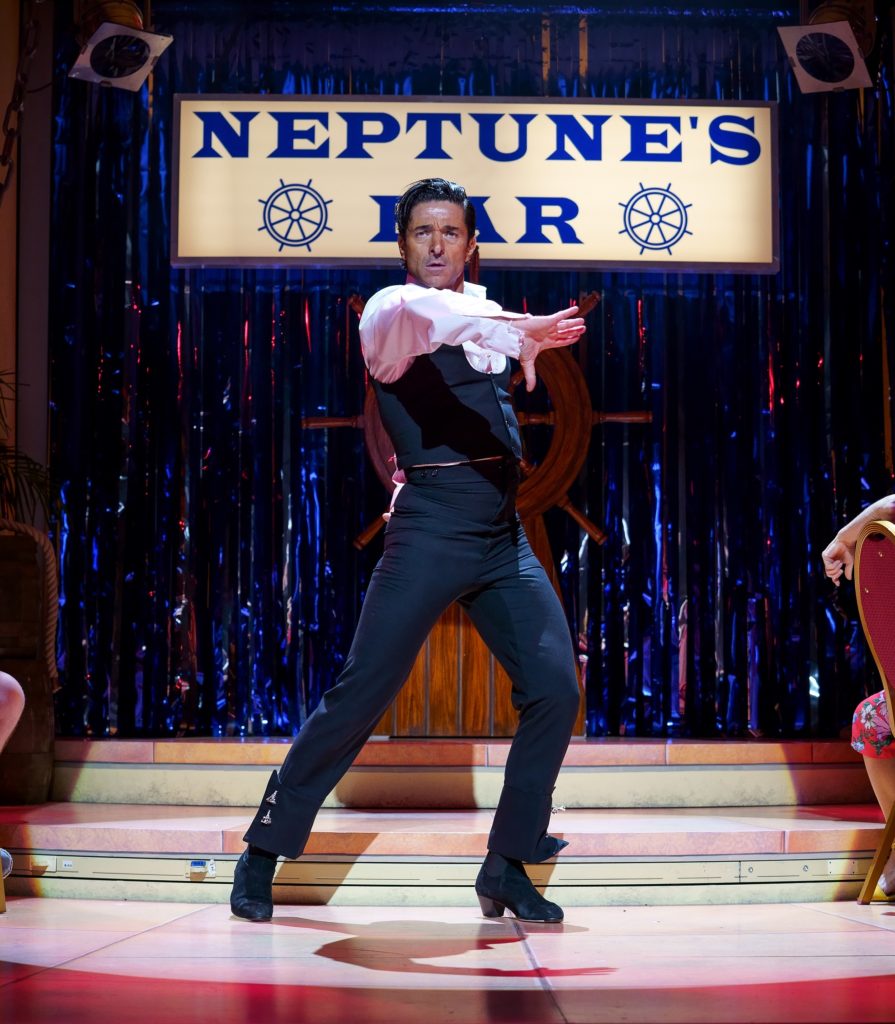 Credit: Paul Coltas
Jake I think you now have two new fans now!
Lovely to see original cast member Sam played by Shelly Longworth test her vocal cords at Neptune's Bar for a big number. She has a lovely voice which adds more depth to her character which is not in the TV series.
Joyce Temple-Savage played by the legendary Sherrie Hewson does not disappoint she looks incredible and is hilarious as ever as she was in the TV show. Mateo's dancing in the flamenco is brilliant and funny at the same time, especially when he comes out in tiny budgy smuggler pants which say "Hola" on them. haaaaaaaaaaaaaaaa!
I love the set design warm, cosy and very quick changes in between scenes, well done Mark Walters!
Six of the original cast are in the stage show Mateo, Jacqueline, Liam, Joyce, Sam and Kenneth. Easy two see why Benidorm the TV show picked up two National TV awards and was nominated for a BAFTA, a fantastic transition to stage picking up where the TV show ended.
For me the stage show was huge hit and great to have the original cast involved make it all that more sweeter. Each cast member got a cheer when they came on stage! If you want a screaming laugh out loud night at the theatre you must see this! Together with Alan Harding's clever choreography some of the dancing scenes are so funny to watch and completely in line with their character, I loved your dancing too Liam!
I adored every minute! Congratulations its a 5 star from me. A very naughty night out to be had and don't worry you don't need to have seen the TV show. Believe me its brilliant! Your face will ache from laughter after!
Tickets: here
Its on until Saturday 1st December 2018 – be quick!
Review by @amyparkinsonTV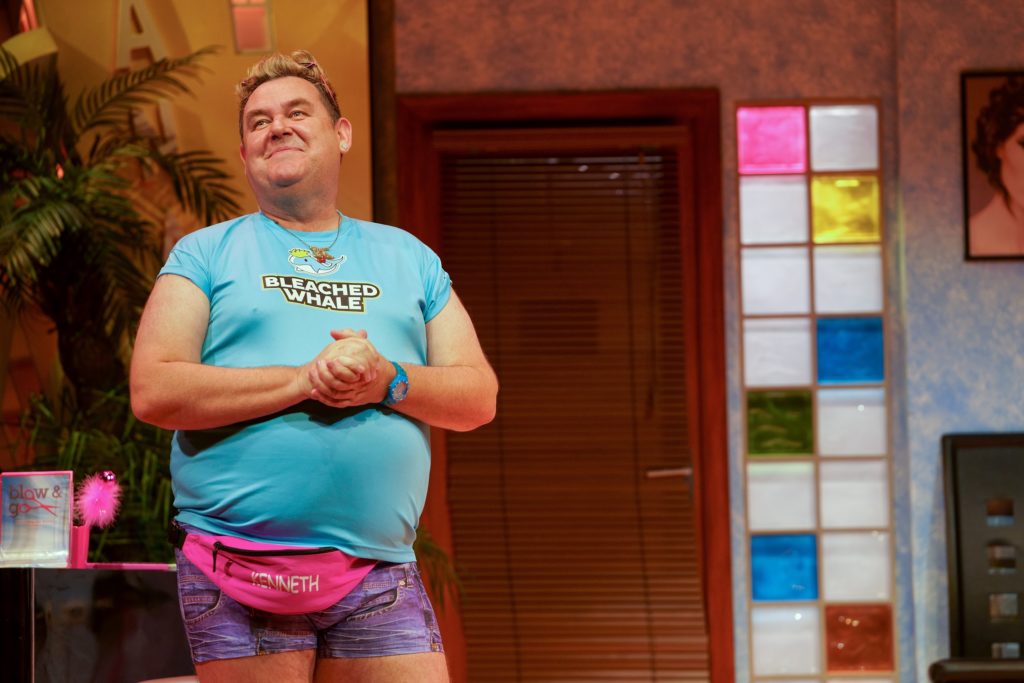 Credit: Paul Coltas