Bob Marley and the Wailers are one of those bands that their music will live on forever. Four decades and 250 million albums worldwide later their music will never die. Even though it has been over 35 years since Bob tragically died of Cancer at a hospital in Miami. His music continues to touch the lives of millions around the world including me. There is something about their soulful music which completely makes you feel at ease straight away, something about their sound which is so unique that's it's beautiful and relaxing to listen to at the same time.
Having the opportunity to promote the Wailers new tour is a privilege for me as I am a big fan of their music. Last night I spoke to Aston Barrett Junior the son of the original wailer and bass player aka 'Family Man' about his father the Wailers and Bob Marley and their new up and coming tour which starts in the UK in March. This is what he had to say.
In the 1960s The Wailers  (Bunny Peter and Bob) released a song called "Simmer Down" before my father came into the band, which became a big hit in Jamaica. 
During the early 1970s, the Upsetters members Aston "Family Man" Barrett and his brother Carlton (Carly) Barrett joined forces with Bob Marley with the Upsetters, this band later became the Wailers we know as today. The Wailers recorded groundbreaking ska and reggae songs such as "Simmer Down", "Trenchtown Rock", "Nice Time", "War", "Stir It Up" and "Get Up, Stand Up". An attempt at creating a full overview of all the music made by The Wailers prior to their signing to Island Records was made by the Roots Reggae Library.
Credit: www.knowyourbassplayer.com (Bob Marley and Aston Barrett aka 'Family Man')
Back in 1969, my father met Bob Marley through a contact of his Lee "Scratch" Perry, because he was known for his unique sound on the bass.  Bob had heard Aston's sound before in various different bands in Jamaica like 'The Upsetters' who topped the Jamaican charts, this was before Aston joining the band. Their music had a unique style of Reggae and Bob wanted that sound. Bob wanted to be part of the Upsetters and found the band and said "That's the sound I want" upon meeting my father Bob couldn't believe his eyes when he saw my father.
Bob said, "this little guy can make that sound"?
My father answered and said "Yes it's me, I'm 'Family Man'.
After this Bob left for the USA to get experience and get to earn money for studio time to bring back to Jamaica. With the intention of finishing up the albums and to open a record store called  'Tuff Gong'.
During the time my father started recording hit songs with a producer called Bunny Lea and other artists such as Dennis Brown, John Hoult, Gregory Isaacs, Max Romeo and Burning Spear plus many others. 
During this time Bunny and Peter were also recording with a guy named Junior Braithwaite who is an original Wailer. 
When Bob returned from America he called my father and said 'we are ready' my father got the band together. Who were the members of 'The Upsetters' and they recorded 'Soul Rebel and African Herbsman' albums from the money Bob had earn't in America. One of the most famous songs on the African Herbsman album 'Sun is Shining' which has been covered by bands all over the world.
After that Bob met with Chris Blackwell and signed for a two-album deal, 'Catch a fire and Burning' all the artwork was done by Esther Anderson. My dad and my uncle and Earl Wya Lindo joined the band. On the 'Catch a fire' Album one of my favourite songs is made 'Stir it up'. From the Burnin Album 'Get up, Stand up and I shot the Sheriff' also some of my favourie songs from this album.
My father was influenced by all sorts of different music during his time the Jackson 5, James Brown, country music and legendary guitar players like Jimmy Hendrix and also bands like the Beatles. These sounds helped create the songs and sounds we have today.
In 1974 The original Wailers line-up disbanded due to Tosh and Livingston's refusal to play "freak clubs." The pair believed doing so would violate their Rastafarian faith. Bob Marley formed Bob Marley and the Wailers with himself as a guitarist, songwriter and main singer, the Wailers Band as the backing band, and the I Three as backup vocalists. The Wailers Band included the brothers Carlton Barrett and my dad "Family Man" Barrett on the drums and bass respectively. In 1976 Donald Kinsey came into the band playing the guitar, Tyrone Downie and Earl "Wya" Lindo playing keyboard, and Alvin "Seeco" Patterson playing the percussion. The I Three consisted of Bob Marley's wife Rita Marley, Judy Mowatt and Marcia Griffiths.
Two albums were produced and agreed as part of the contact. The contact was with Island Records was between Bunny and Peter.
When Peter left the band in 1974. A new contract was drawn up now between Carlton Barrett my uncle, my father and Bob. 
After this Bob Marley and the Wailers, Peter Tosh, and Bunny Wailer all enjoyed considerable success as reggae music continued to gain popularity during the 1970s and 1980s. During this time Earl Wya Lindo left in 1973 and returning in 1978 he played the keyboard and guitar for the band. One of the last performances that included Marley was in 1980 at Madison Square Garden in New York City to one of the biggest crowds ever!
Several of the group's members have died subsequent to Marley's death in 1981: Carlton Barrett and Tosh (both murdered) in 1987, Braithwaite (also murdered) in 1999, and Earl Wya Lindo in 2017.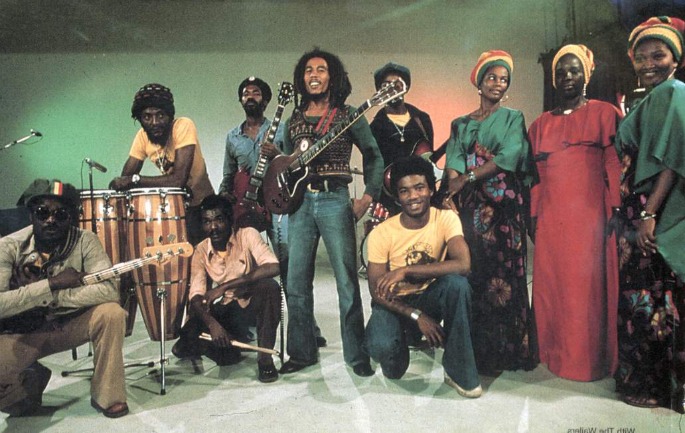 After Bob's death, the band decided to finish the current album. They already had Bob's voice recorded in the studio. 'Buffalo Soldier' was one of those songs on the album. The band found it difficult to go back to the studio without Bob after he had gone, but the Wailers wanted to carry on his legacy and honour him.
Aston Junior tells me about this career – 2009  "I am 14 years old living in America with my sister.  Through my father and the Wailers, I met Julian Marley, Bob's son" Aston says that "Julian Marley took care of him and that music saved him."
I asked Aston Junior how he got into music as a full-time career and he said he has his first break touring with Julian Marley; then with my father and thereafter with Lauren Hill "She influenced me". After the tour, I decided to learn Jazz. My father would say to me "Jazz is a free form type of music and goes against all the rules in the music world" I learned Jazz in high school, went to a jazz high school of music  Dillard in Florida USA and also attended Berklee school of music online.
During his years touring Aston Junior met some of the Jackson Five Brothers. Jermaine and Tito Jackson. I asked him what that felt like to meet them.
He said "God put on us this earth for a reason and music was mine," He said meeting the Jackson five they had a good aura about them. He believes musicians are 'not normal humans' and we are here to do different music. He said shaking their hands was like meeting ' the Royalness'.
I asked Aston Junior about Bob and the Wailers sound and who they were influenced by back in the day when they were first formed. He said back in Jamaica a lot of Cubans would come to Jamaica. Their music was heavily influenced by the Cubans, Samba and Ska Music.
He said that the sounds today are very much different to nowadays. He said back in the day his father said to him, for example; three drummers could be playing the same tune on different recordings, but you can always know which drummer is playing by their unique style. Today in the digital era some things have increased, but also lost the soul of the analogue in order to get the real benefits; both sides need to work together both the analogue and the digital music. 
If you have ever heard of Esther Anderson she was a big influence Bobs music in the early times on the album 'Catch a Fire and Burnin' Albums.  Esther and Bob had an ongoing relationship that I heard. They also helped launch Island Records with Chris Blackwell, who produced Bobs and the wailer's albums. Aston Junior said 'she had a big influence on Bob and the Wailers music and the song "I shot the Sheriff".
Now over 35 years later the Wailer are back on tour "Carrying on the Legacy of Bob Marley" on a new fourteen date tour around the UK.
For me, interviewing Aston Barrett Junior son of the notorious bass player Aston Barrett has been a pleasure. Really interesting to listen to how the band formed, stories of bob and the wailers and the rise and fall of the band.
No matter what happened in the band, the wailers have always been passionate about their music.
Aston "Family Man" Barrett, believes that music will always reign supreme in the minds of the people he said: "Reggae music is the heartbeat of the people, it is the universal language that carries the message of roots, culture and reality and is for all ages and time, past present and future. They ask me how can I do it for so long and I reply that our music is timeless and like the moon, the older it gets the brighter it shines" I loved this quote and really pulls you into the heart of their music.
The wailers were responsible for hits like  Exodus, Stir It Up, Is This Love, and Jammin. Which are some of my favourite reggae songs. Its clear to me that the 'Family Man' remains the heart of the band, continuing to be the connection between the past and present. 
If you want to hear some of Bob Marley and the wailers iconic songs from the last 40 years one of these gigs are not to be missed.
They start their tour on Friday 8th March in Newcastle and finish on Saturday 23rd March in London. These dates will sell out so get your tickets while you can.
I am attending the Manchester date, and I simply can't wait to travel back in time with one of the most successful bands in the world. Who have influenced musicians like  (Sting, Stevie Wonder, Carlos, Santana, Eric Clapton, UB40, The Rolling Stones and many more)
The band lineup is : Tyron Downy (Keyboards) Lopez (Keyboards) Lead Singer (Josh Barrett) Owen Read (My fathers students – Bass) Donald Kinsey (Guitar) Junior Jazz (Guitar) Aston Barrett (Drummer) Two background singers (Shema and Anne-Marie)
Don't miss out on this iconic tour of legends. I will be going!
Tickets: https://www.gigsandtours.com/tour/the-wailers
The review was written by Amy Parkinson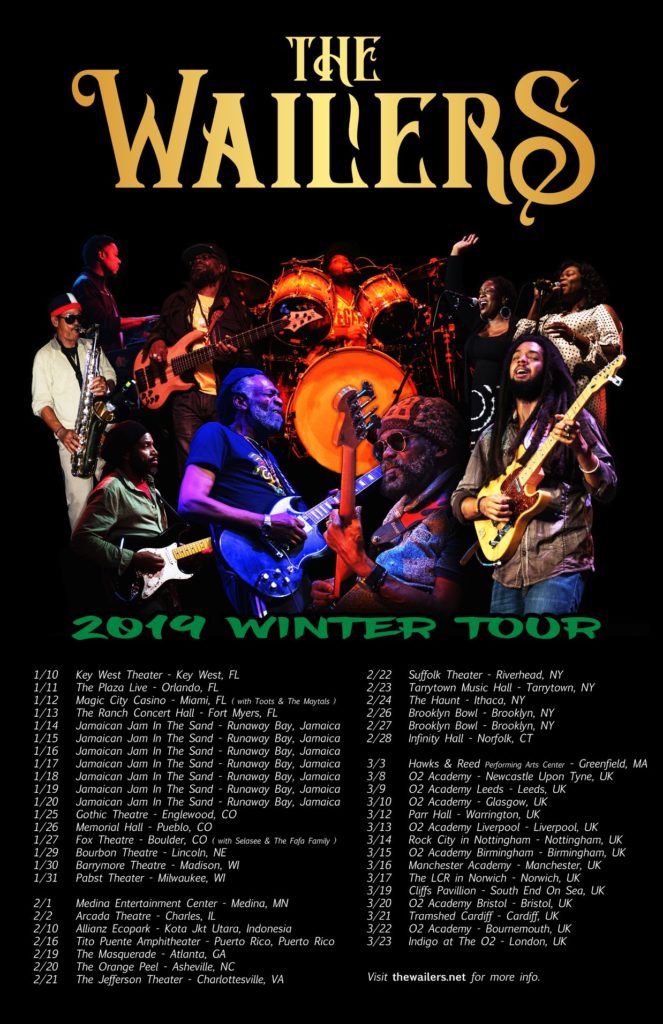 You need to add a widget, row, or prebuilt layout before you'll see anything here. 🙂