1967 London, a British/American band formed. A band that would go on to sell more than 100 million records worldwide! This band called 'Fleetwood Mac' founded by Guitarist Peter Green, Drummer Mick Fleetwood and Guitarist Jeremy Spencer.
Over the years the band had various lead vocalists and guitarists come and go from the band. The real success came in 1974 when Lindsey Buckingham and Stevie Nicks joined the band. Together the full band now Mick Fleetwood, Christine McVie, John McVie, Stevie Nicks and Lindsey Buckingham released the album 'Rumours' in 1977. Which went on to become their most successful album selling over 40 million copies worldwide.
I have seen the real Fleetwood Mac live before at the Manchester Arena during their 'Fleetwood Mac Tour' in 2013 and they were truly breathtaking to watch. Watching old Mick Fleetwood smashing the drums and his long grey hair waving everywhere. Such a talent!
When I heard the tribute band 'Rumours of Fleetwood Mac' were touring again I had to see them. I have seen them before and they were also excellent. This time they were touring to celebrate 40 years of the Rumours album playing all the iconic songs from the album.
Last night mum and I went to watch them at the stunning 130-year-old theatre in at the Lyceum in Crewe. A giant screen came down and video of Mick Fleetwood (the original band member) introduced the tribute band and welcoming them on stage.
The band burst onto the stage and quickly began rocking out some of Fleetwood Macs hits. The band members consist of Mick Fleetwood played by Allan Cosgrove on drums, Stevie Nicks played by Jess Harwood, Christine McVie played by Emily Gervers, Peter Green played by Dave Goldberg, on Guitar/ Vocals played u Scott Poley and Lindsey Buckingham plated by James Harrison and John McVie played by Etienne Gerard. In the first half 'Go your own Way, Don't Stop, Dreams' and some of my other favourite hits from the album were played. Bringing back nice memories of mum and I listening and dancing to them in our car.
Highlights of the show for me included the electric guitar solos from Scott Poley. The way he plays makes the hair stand up on the back of your neck. His solo for 'Don't Stop and Oh Well and The chain' were absolutely amazing! 'The Chain' is the very famous formula one song used in the intro we use today.
The second half came with a surprise Dave Goldberg came to the front and played some tunes with just the men. When they all played 'The Chain' the music was just fantastic. Four electric guitars in a theatre rocking out. It felt like rock heaven!
At the end the band also returned for an encore and played some of Fleetwood Macs biggest hits 'You make loving fun, Black Magic Woman and Tusk'. James Harrison who had lovely vocals, he could do the sweet tender voice of Lindsey Buckingham which worked with Jess Harwood who plated Stevie Nicks. I really enjoyed the song 'Dreams' performed by her. One of my favourite songs.
Emily Gervers also performed some nice solos from Fleetwood Macs music!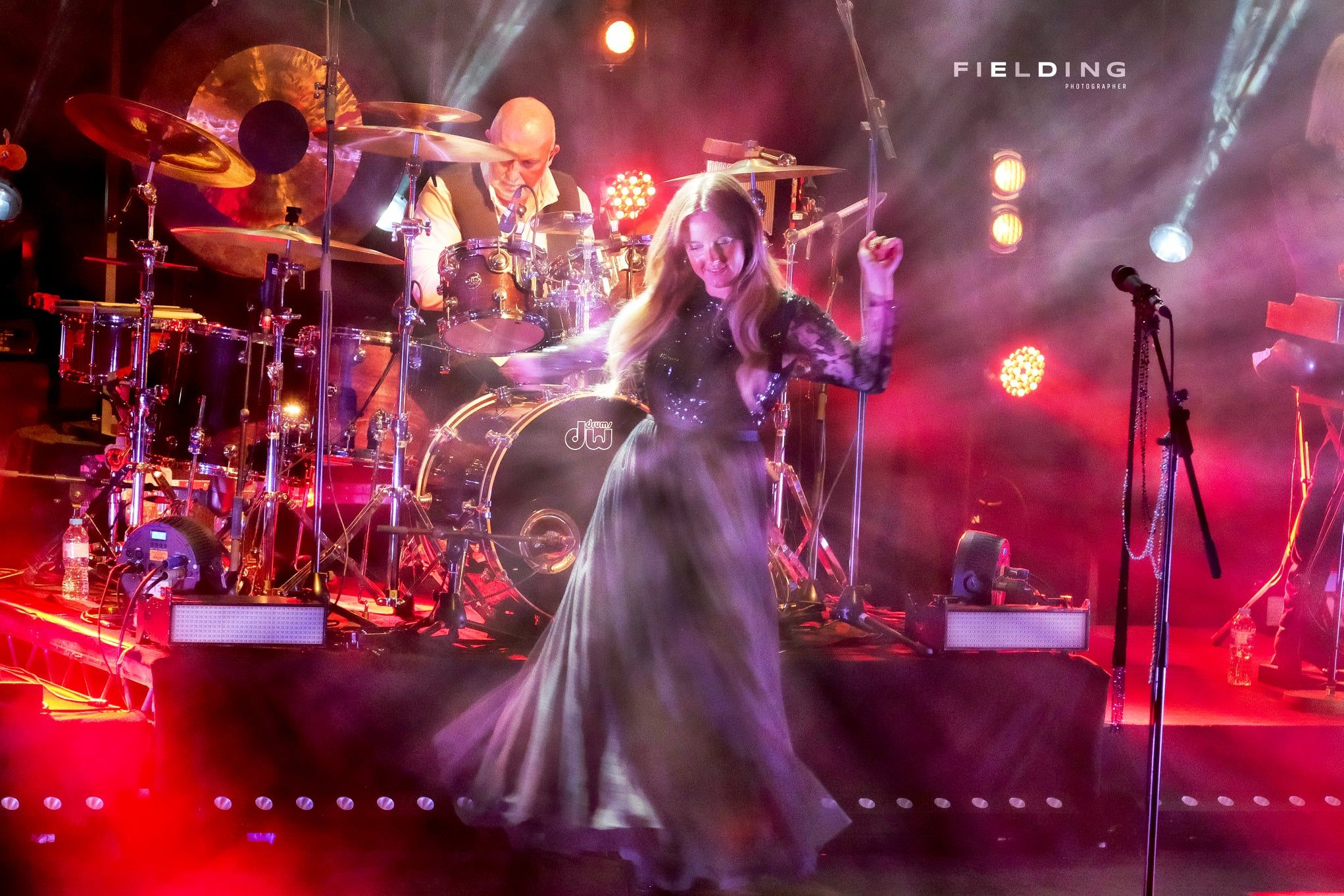 My favourite person without a doubt in the band was Allan Cosgrove who played on the drums as Mick Fleetwood. He has passion, fire and charisma just like the real Mick Fleetwood. Banging on the drums and cheering. The audience was dancing on their feet and cheering for him. He was brilliant!
All in all, a okay performance by each of the band members they each have great on stage presence and chemistry. I have seen the band a few times, before not as good as normal and they played alot of B side covers. Still a good night out though.
They are currently touring the United Kingdom, go and book this, you won't regret it!! A night out for older and younger generations!
Tickets: HERE