We took our seats on the opening night of Baz Luhrmann's Strictly Ballroom, the musical at MediaCityUK's, theatre, The Lowry.
Adapted for the stage from the 1992 film by Baz Luhrmann's and Craig Pearce, we are taken into the world of ballroom dance and young competitor, Scott Hastings (Kevin Clifton) who longs to break boundaries with his original and non-conforming dance moves, all whilst pairing up with the absolute beginner but enthusiast, Fran (Faye Brookes).
This is the film which inspired the BBC's dance contest and my utmost favourite (I've never missed an episode of the 20 strong series), Strictly come dancing.
So it's no surprise that strictly favorites, Craig Revel Horwood (Director and co-choreographer) and Jason Gilkison (co choreographer) have brought the razzle dazzle back to stage with it's very first UK tour.
Strictly' s golden boy and firm fan favourite, Kevin Clifton appeared in every year's final from when he joined the show in 2013 with the exception of two years up until 2019, an impressive feat which no other professional has achieved. He recently appeared in the BBC's Who Do You Think You Are? learning that there was indeed truth behind the family's 'folk tale' which had been passed down through generations. Known as 'Kevin from Grimsby', he was surprised to find himself in a remote trading post on Hudson Bay, once the centre of the British Canadian fur trade. His five-times great-grandmother, Matooski was one of the very few First Nations women to be recorded in historical documents. Her strong willed nature results in her being triumphant despite many challenges, much like many of Kevin's female ancestors.
Clifton shines in his role as Scott, whom he shares a real life resemblance too with regards to his ballroom background. He began dancing Ballroom and Latin as a child, partnered with his sister, Joanne Clifton. It was only when he and his sister decided to move to new partners, he chose Latin as his main dance style to avoid competing against his own blood!
Clifton is full of energy, passion and drive. He gives 110% to the choreography, standing out amongst a talented cast. He effortlessly sings a number a songs, including a beautiful rendition of Time After Time. Kevin is not only a British Latin Champion, but boy can he can sing. Other well-known musical numbers include Perhaps, Perhaps, Perhaps and Love is in the Air with less known creations added from artists such as Sia, David Foster and Eddie Perfect.  His vocal abilities are matched by Faye Brookes. Brookes is best known for her acting abilities playing Kate Connor in ITV's Coronation Street. Brookes is entertaining and amusing in her role as the nerdy outcast. I'm not familiar with seeing Brookes do comedy and it's most definitely another string to her bow.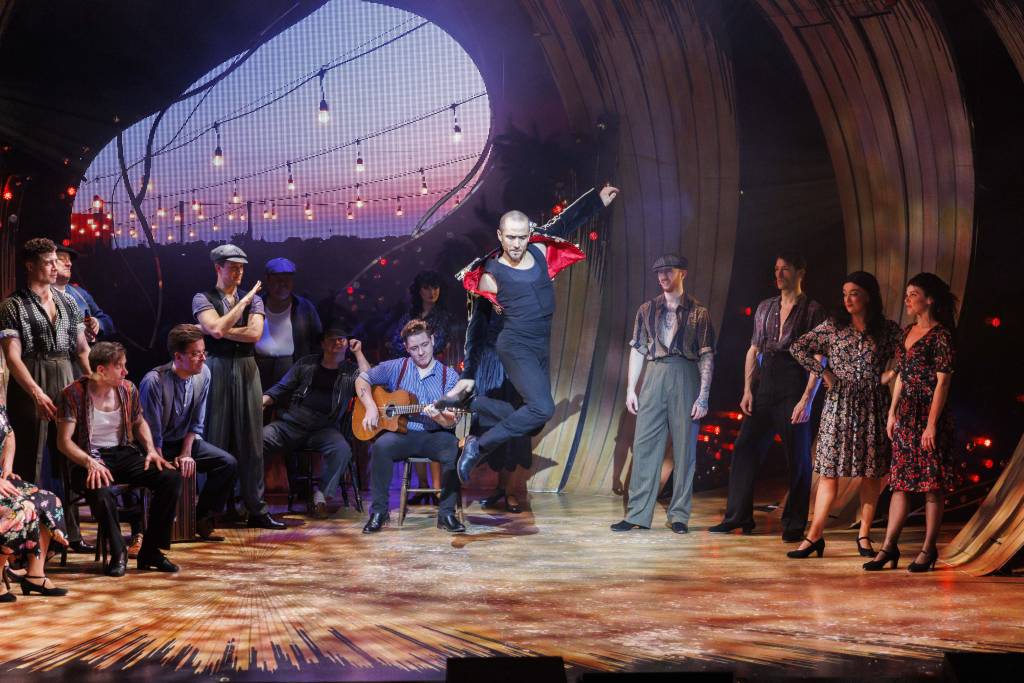 Despite overcoming an initial technical glitch with saw the cast members leave the stage and return to a round of applause, and two very strong cast leads, the show becomes somewhat repetitive and a bit flat. Whilst there's no denying the show is visually pleasing with an array of stunning costumes (Mark Walters, Set & Costume design), and some amazing choreography, the story line becomes drawn out and the pace too slow. Some of the laughs come off, whereas others just miss the mark. The show starts with a bang, but towards the end of Act 2, my enthusiasm began to wane a little.
There are some great highlights. We see Fran's father, Rico (Jose Agudo) show Scott what it really means to do a paso doble. Agudo brings the stage back to life and the audience clearly enjoy his performance. Kieran Cooper plays dancing Australian Federation head, Barry Fife and along with his hilarious hair wig, stands out for his scenes with comedic value. Oliver Brooks (JJ Silvers) with his uncanny likeness to the Mr Revel Horwood also has his moments of brilliance. The ensemble are a talented bunch and Scott's former partner, Liz (Dance captain Agnes Pure) stands out for her talent on the dance floor having had 11 years of Ballroom and Latin training prior to her musical theatre training.
It's clear that this musical is meant to be a little bit silly and cheesy and it does exactly what it says on the tin.
If you enjoy a bit of romance and enjoy watching a good dance, then sure, go and watch it.
Its on at the Lowry Theatre until Saturday 1st July 2023
Tickets: HERE
Review by Katie Marie