I am always grateful to my mum and Grandma for bringing me up with music in my life. Whether it was my Grandma Wistasion taking my mum to see musicals or mum taking me to see music gigs or simply just playing in it the house constantly I am grateful. Grateful for the music education she gave me and its something special I will be passing on to my children (When I have them ha ha)
Last night Claire, Rick, Ian and Billy and I attended the Classic Rock Show at the Lowry Theatre in Salford, Greater Manchester. We have seen them before and absolutely loved it! Mainly because there is a very special and extremely talented guitarist called Pete Thorn. Talented in the fact that this guy can play anything! I mean anything like Clapton, Dire Straits, Led Zeppelin, Queen some of the most difficult rock songs this guy makes it look very easy. What's even magical about him is he uses an exact copy of the original guitars which the bands use. So he sounds exactly the same.
The Classic Rock Show is songs from bands of wild amazing, hip thrusting rock songs (50s to 80s music) From Bands like Led Zeppelin, Dire Straits, AC/DC, Queen, ZZ Top, Meat Loaf, Elo, David Bowie, The Eagles, Eric, Clapton, Fleetwood Mac and many more just to name a few. Together with a very talented band and singers, they play the greatest hits. What more could you ask for on a dark cold night in the theatre?!
The band entered with Baba O'Riley then followed by Barracuda. I had not seen this complete band played before with an edition of Jesse Smith (lead vocals/guitar) he definitely looked like a rocker with his long brown locks. Oh boy, could he sing like one too! Especially when he performed Burn by Deep Purple a song notorious for difficult guitar sections! Honestly loved it, rocking our air guitars!
Then came on Rudy Cardenas the lead vocalist with a beautifully soft and powerful voice a the same time, especially when they all sang 'The Chain' by Fleetwood Mac a song which is difficult to play and sing as it's one of Fleetwood Mac's most famous songs, the thumping of the intro really got the crowd in the mood. Together with Jess Harwood's soft voice, they had the song nailed. Her voice resembles that of Stevie Nicks!
Later on, the band played one of my favourite Dire Straits songs 'Romeo and Juliet' as soon as I hear the first few chords the back of the hairs on my neck stand up. It's such a beautiful song. James Cole (Musical Director/ Guitar/ Vocals) and the band play it beautifully. The song is played beautifully and puts you in a state of ease.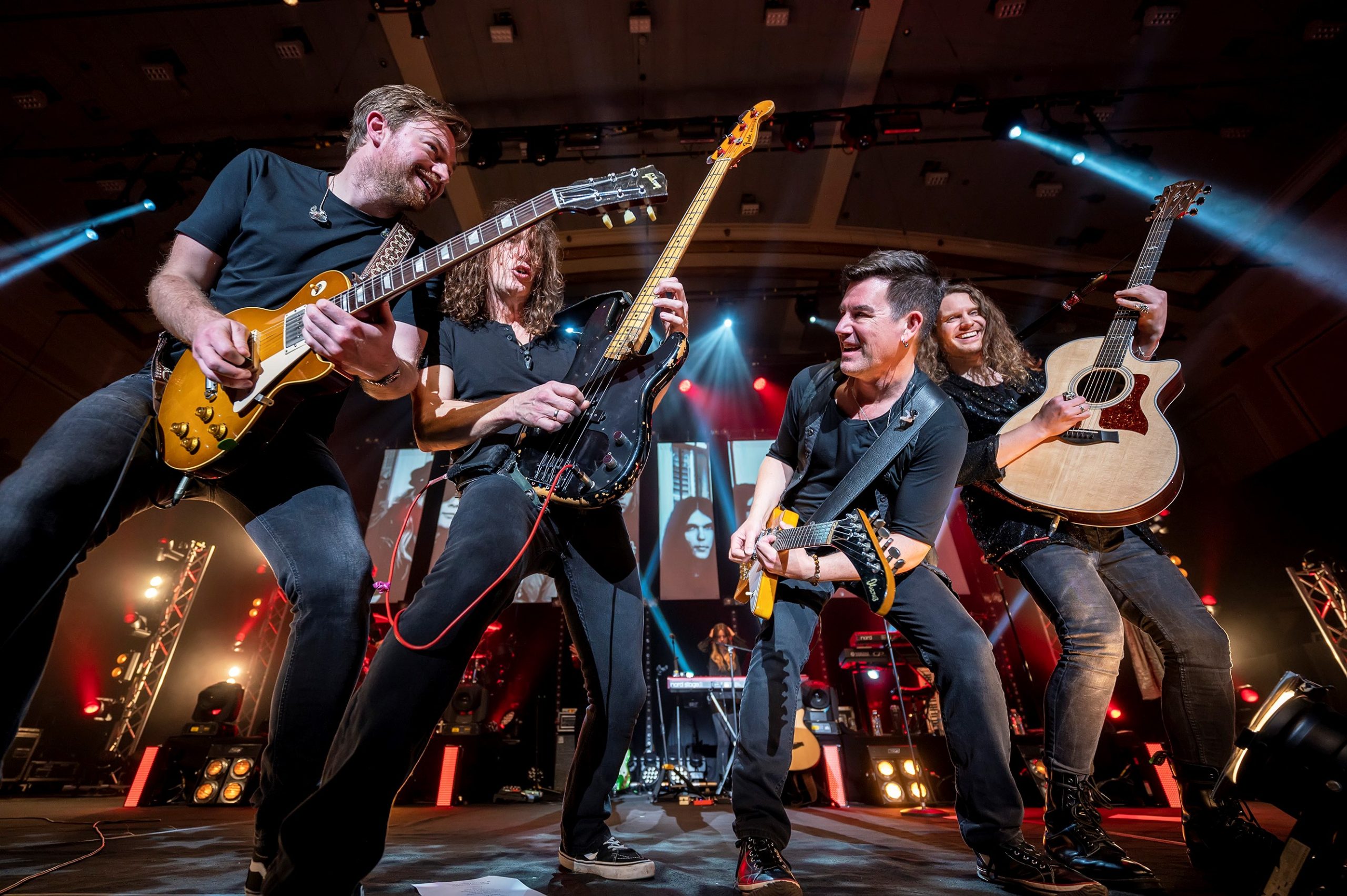 In the second half, there comes some interesting surprises. Bonnie Tyler's big hit 'Total Eclipse of the Heart' again performed lovely and a track unexpected from the band. For me, the band is at its best when they are performing dirty big rock songs. You don't hear these very often played live (Bat out of hell, Thunderstruck, and Jump) because they are difficult to play. Not only that the skill and talent in this eight-piece band more than can cover it. Their range of skills and sound is truly out of this world.
I have seen The Classic Rock Show many times now and they keep me coming back for more. The familiar band member was Pete Thorn honestly this man's guitar range is unbelievable and love it when he shuts his eyes (usually when he is playing a difficult piece) makes you believe he really gets lost in the rock moments. I loved listening to him play Bohemian Rhapsody at the end.
What I also loved about the show is on a large screen behind them they had the original band playing and then they played the song live. Amazing to see how the guitars matched the original bands behind them. The sound was perfect for the original band using the same or similar guitars.
One of the best nights ever celebrating everything from the last five decades with some extremely talented musicians. They had new band members and new songs this time from when I last saw them back in 2017.
If you want hip-swinging, jumping out of your seat, and moving your head from side to side in the madness then this is the concert for you to really let go! Believe me, your mental health needs this boost, especially in the cold winter months.
Thank you for playing my favorite song too by The Chain by Fleetwood Mac' the riff is aawweeesssome!!
Go and book this rock sensation now! Currently on their UK tour don't miss them coming to a town near you.
Lovely to see the band come out after and sign people's albums for them.
5 Stars congratulations from us!
Tickets: http://www.theclassicrockshow.com/ 
Review by Amy Parkinson