Last night I took my seat at one of my favourite theatres, The Lowry. Arriving soaked through from the good old British rain, meant the friendly hellos from the staff were ever more welcome!
Having watched The Shawshank Redemption film over and over meant I had high expectations and this play's adaption didn't disappoint.
Based on the short novel by the prolific writer Stephen King (guilty as charged – I've not read the book), this was one from a collection of four stories titled Different Seasons. Stephen King was already well known for his thrilling and frightening horror stories such as The Shining and Salem's Lot but this collection was different and The Shawshank redemption, eventually went on to become a firm fan favourite. Initially, the film had a mediocre box-office taking, despite being nominated for seven Oscar awards including Best Picture and Best Adapted Script. Forrest Gump won best picture whose lead star, Tom Hanks had originally been considered for the wrongfully convicted murderer, Andy Dufresene. The role also attracted many other stars of the time including Tom Hanks and Kevin Costner. One of Steven King's later novels (1996), The Green Mile was later turned into a Tom Hanks movie in 1999.
This narrative, set in 1947, tells the story of banker Andy Dufresene (Joe Absolom) who is convicted of murdering his wife and her lover, with four gun bullets to the head, a crime he did not commit. He is sentenced to two consecutive life sentences at the notorious Shawshank State Prison.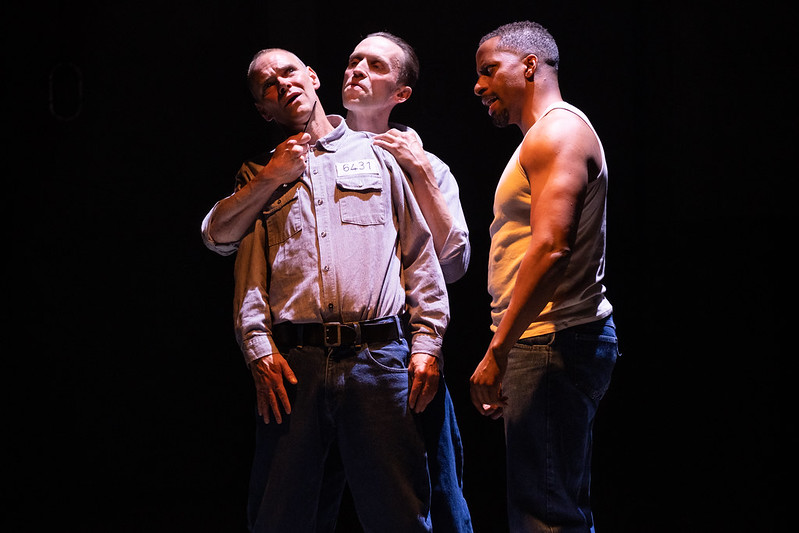 The staging design (Gary McCann) is reflective of the bleak prison setting. It's minimal with only a few basic props such as a bed and posters, one of which later proves key in Andy's escape from prison. Similarly, the lighting is dark, gloomy, and somber which is reflective of the inmate's outlooks, with the exception of Andy who does not give up hope even in the most trying of times. As expected, the inmates have little to no material possessions and the costume designs are ordinary and modest.
Having such a confined design set allows the actors to really hone in on their gripping performances and means we engage with almost all 12 characters of the all-male cast.   Ben Onwukwe (Ellis 'Red' Redding) has me hooked from his very first line of narration with not a single sound to be heard from the audience. Morgan Freeman is a hard act to follow and Onwukwe succeeds. Onwukwe is humorous, warm and authentic.
Joe Absolom (Andy Dufresne) is so believable in his portrayal of an innocent intellectual. Joe is known for his BBC dramas and recently received a Supporting Actor BAFTA nomination in 2020 and it's not hard to see why. His performance is compelling and sincere.
Mark Heenehan plays the Warden, Stammas who is wilfully cruel, corrupt, and unpleasant. Heenehan recites his lines and threats in a chilling, calm, and sinister manner.  For me, Jay Marsh (Bogs Diamond) is unfortunately a little less convincing in his role as the prison bully. I found the more subtle, understated approach Heenehan took more effective.
On the other hand, Leigh Jones who plays Bog's side-kick, Rooster, convincingly depicts a chaotic and mentally disturbed individual with his wicked laugh still ringing in my ears.
I couldn't help but compare Kenneth Jay who plays inmate, Brooksie to Danny DeVito. He is loveable, comical, and endearing. The sad death of his character during parole also sheds light on the many political questions surrounding the rehabilitation of serious offenders. The arrival of his belongings to Andy and Red is a sad affair.
Despite Coulter Dittman (inmate Tommy Williams) not being introduced until the second interval, he draws the audience in with his believable youthful, and unassuming nature. He stands defiant in his decision to attest to Andy's innocence which costs him his life.  His murder has a large impact on Andy who stays in his cell and talks to nobody for weeks.
This is a really strong cast. 5 Stars from me congratulations cast and creative! The play adaption is on until Saturday 5th November 2022. Go and get your tickets. You won't be disappointed.
Tickets: HERE
Review by Katie Marie