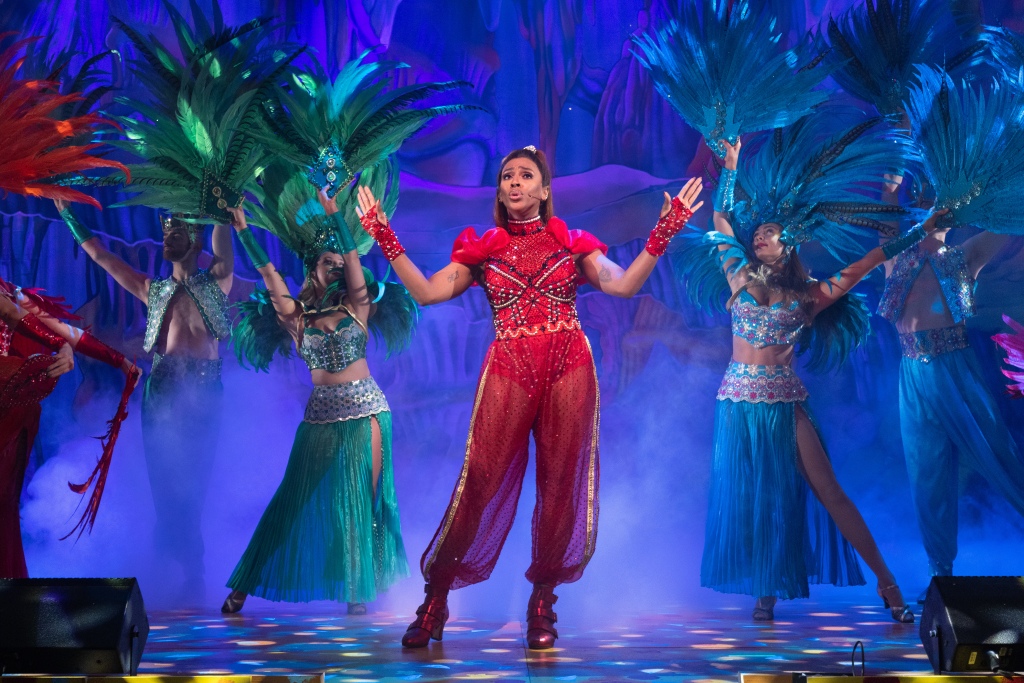 Up next the 'Fabulous' Ceri Durpree playing Widow Twanky her ability to hold an audience is amazing. Very confident and extremely experienced and her outfits I absolutely loved. One of the best dames I have ever seen. Honestly I loved the fairy washing up liquid outfit in the second half, the lady Gaga one and the one with the washing basket on her head, remarkable well-done, Mike Coltman who made the speciality costumes!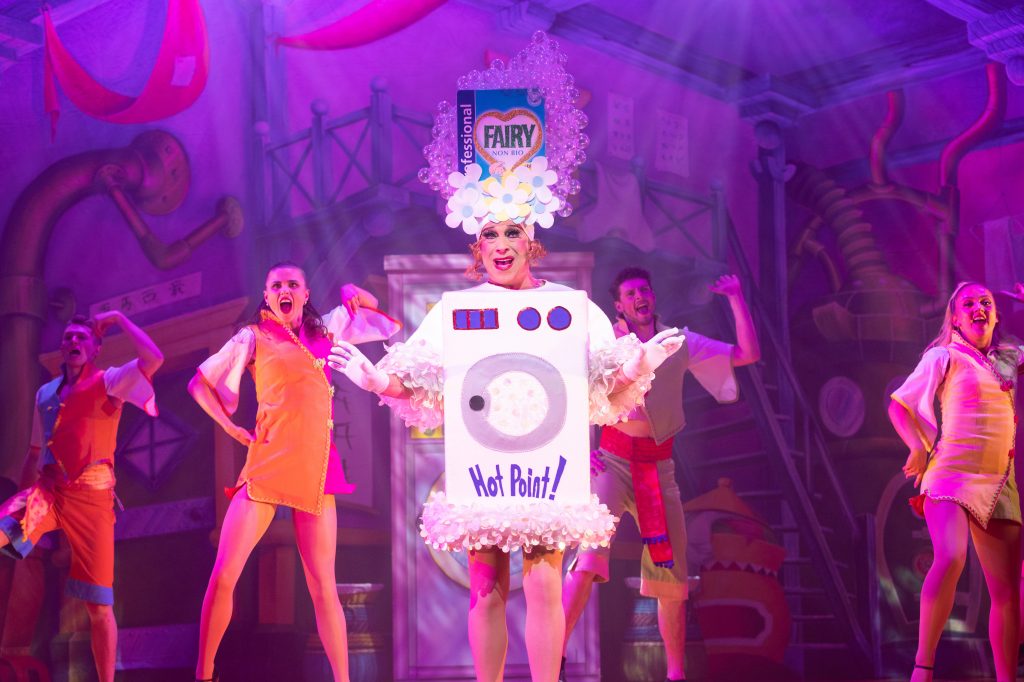 Up next Ben Nickless (Wishee Washee) bounces on stage, with his child like character and brilliant scene of humour. He previously played Muggles in the 2019 panto of Snow White And The Seven Dwarfs, which he was brilliant in this too. I have been looking forward to watching him ever since he was announced earlier this year. He is a professional comedian and impressionist. Guess what? He didn't disappoint either, his acts in the second half (video tapes) with Widow Twankey describing how she met his Dad; had Angie and I howling with laughter and me banging on the seat in front of me! Honestly I haven't laughed like that in years, by the end of the scene my face hurt!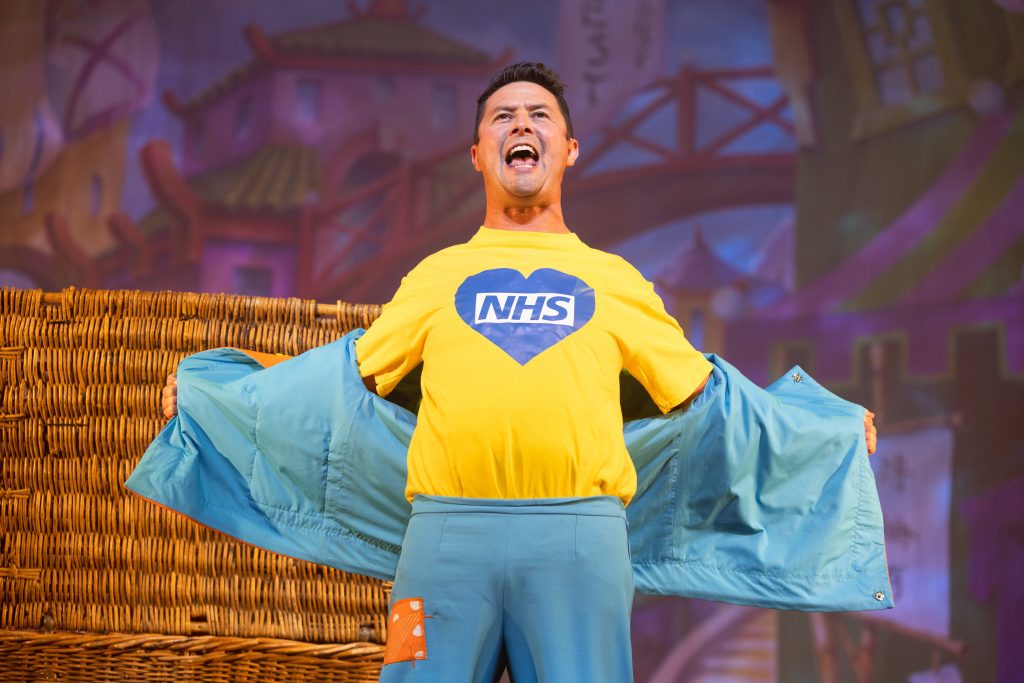 I loved the dance off between Alexandra and Nick. It was nice to see a funnier side to Alexandra, Nick is a panto king and his faces and reactions to things are simply priceless. Especially in some of the old Morecambe and Wise sketches he took inspiration from. Over 30 years ago some of these sketches and still hilarious today, I loved the scene where the others hit poor Ben while moving down line into song "What I would be". Very funny and quick and one of my favourite pieces of comedy. The lottery funded production spared no expense in terms of props, lighting and costumes bright colourful and at times very Las Vegas especially Aladdin (Matthew Croke) and Princess Jasmine (Rumi Sutton). Aladdin in some parts with Wishee Washee also made some comedic jokes too. Both of them together had a good and funny relationship. One of the big highlights for me was during the second half when Aladdin took a magical carpet ride. Aladdin travelled over the audience and waved at the children a truly a magical moment. The children in the audience stood up and waved at Aladdin honestly my heart melted! Fantastic effect! I have to mention Abanazar played by John McLaron exceptional baddy, the audience booed and hissed at him. Plus the puppets which joined him on stage were awesome too the Genie and the Evil serpent snake at the end.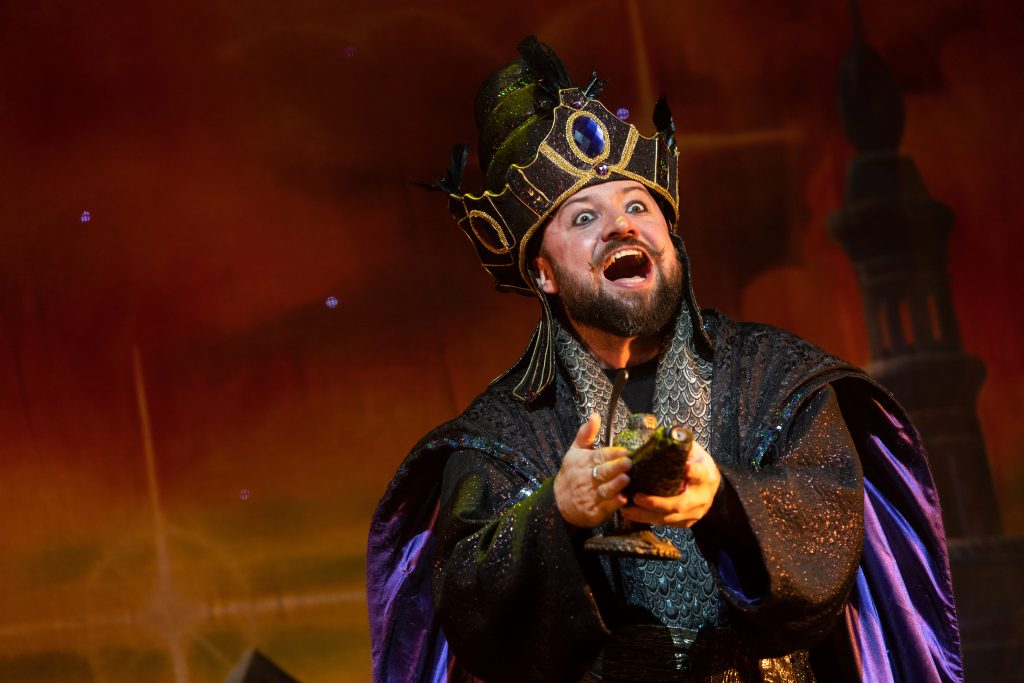 Honestly this was my favourite show this year, full of belly laughs, good old-fashioned comedy for children and adults and a brilliantly co-ordinated production throughout well done Director Jonathan Kiley. I must mention the musical director and his team Francis Goodland, great accompaniment especially with the sound effects for Ben (not easy to do that) I strongly recommend you take the children to see this I thoroughly enjoyed myself! 5 Stars congratulations cast and creative! Get on your magic carpet and take a trip to the land of mancunian I loved every minute. Lets support our theatre tickets start from just £13 bargain! Its on from now till

Sunday 2nd January 2022

Tickets:

HERE

It's been two years since we have had a good ole pantomime and boy I have missed it. It's the perfect warm up to Christmas it's been a tradition since the 16th Century. Good old-fashioned comedy mixed up with a good story aimed at both adults and children. This year panto is back with Aladdin hitting the Opera House in Manchester with an all star cast Alexandra Burke (Scherezade) Ben Nickless (Wishee Washee – my favourite actor) Ceri Dupree (Widow Twankey) and Aladdin (Matthew Croke) the proper Aladdin from the West End, he is a local lad to from Sheffield. Last night Angie and I attended the press night of Aladdin I could feel the excitement in the air. Giggling children, parents with their Christmas jumpers on and a packed house at the theatre too. A fantastic atmosphere, and something I have been craving for the last two years, its lovely to see everyone back. The curtains opened and the stage lit up and Alexander Burke came up from the stage, all dressed in red as the beautiful Scherezade, belting out one a number to get everyone in the party spirit. Time has shot past so quickly it felt like only yesterday when Alexandra won the X Factor in 2008 the releasing her number one hit "Hallelujah" under Simon Cowell's record label.