Set in the Summer of 1963 and made in 1987 a small film with a budget of $4.5 million based on a screenwriter Eleanor Bergstein's own childhood. Patrick Swayze (Johnny) and Jennifer Grey (Baby) play the leads and tells the story of an epic love story where Baby falls in love with a dance instructor at a family camp she's on vacation with her family.
Patrick Swayze a classically trained ballet dancer performs his own stunts in the movie and is one of the best dancers I have ever seen. In 1987 the film made over $214 million at the box office and throw Patrick and Jennifer into the limelight backed an amazing 1960s soundtrack with music from The Rockettes, Otis Reading, and even Patrick Swayze sings himself 'She's like the wind'. The film was adapted for the stage in 2004 as a musical, Dirty Dancing: The Classic Story on Stage. Produced by Jacobsen Entertainment in Australia for $6.5 million, it was written by Eleanor Bergstein and had the same songs as the film, plus a few extra scenes.
Two years later it opened I'm in the West End history, Dirty Dancing opened on 29 September 2006 with a record-breaking £15 million advance in sales and a completely sold-out run for the first six months, making it the fastest-selling show in West End history, and ran for 5 years. Today the show still tours and continues to pull in millions at the box office.
Last night Angie and I went to see the 2021 tour at the Palace Theatre in Manchester. The theatre was a packed house and the Manchester audience were keen to have a good time. In this tour of the show, Kira Malou plays Baby and Johnny played by Michael O'Reilly. Michael set hearts racing when he came on the stage looking and talking like Patrick Swayze very tall over 6′ foot toned and incredibly flexible.
Set design for the staging was simple yet effective quick changes into the next scenes and a smooth transition. Loved the costumes the girls looked absolutely stunning in their 50s outfits! I particularly enjoyed the 'Love Man' scene when Baby first meets Johnny all the dancers look amazing behind a Miller sign. Penny played by Carlie Milner with her beautiful toned legs and her perfect dance moves as she danced with Johnny. Both of them looked stunning together, clearly had a lot of trust as he was throwing her about over his head.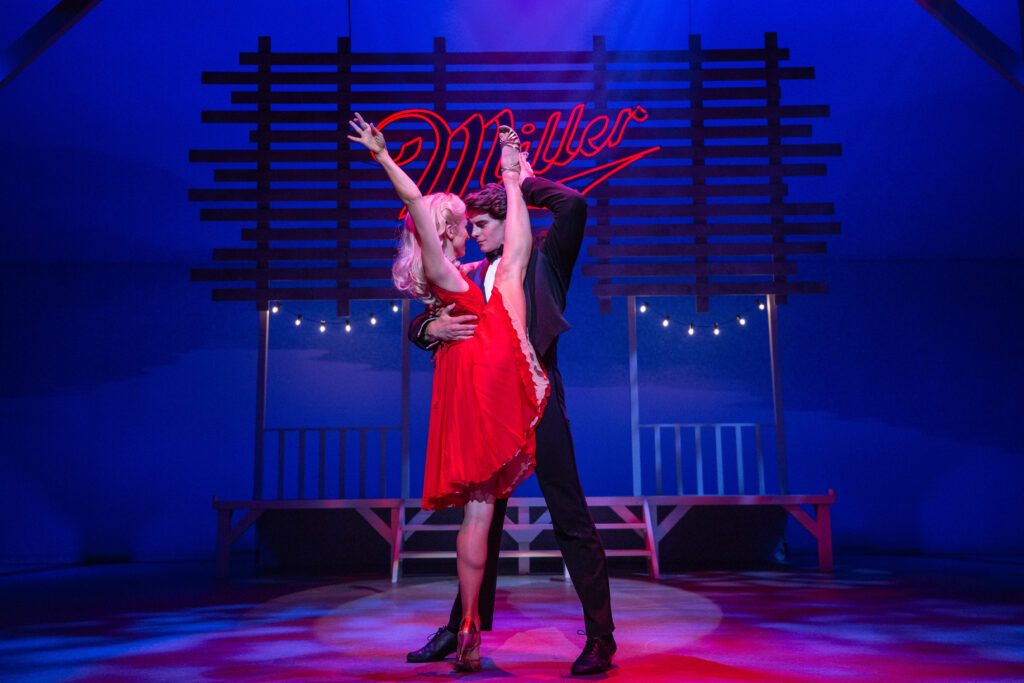 Surprising the Dirty Dancing Show is a lot more amusing than the film, yes it's a longer version too and extra scenes have been added but this time I found myself laughing out loud a couple of times. When Johnny first shows Baby how to dance and swing, she thrusts back and forward and exaggerates her moves hilarious! Mr Schumacher played by Mark Faith comes in with random dance moves on some of the numbers and cracks me up, his facial expressions too are the best.
So Johnny and Baby don't sing on the stage, when they are dancing Tito played by Colin Charles steps in on some of the numbers and swings them hips baby, pure sex appeal especially has he opens the second half with 'Love Man' he is a pure genius and got our hearts racing for the second half an amazing stunning voice and stunning vocals well done Charles! I hope I get to see you again on stage.
Another stand-out vocalists were Billy played by Samuel Bailey the highest-pitched voice I have ever heard on a man, beautiful and Elizabeth played by Amber Sylvia Edwards with strong vocals and matched perfectly with him.
I absolutely loved the band begins on stage the sax and trumpets sound sooooo good next to the dancers and really brought the show to life.
It's clear to me that the two leads Kira and Michael have real chemistry there dancing and little kisses in the second half proved that, honestly you can't act that. Kira came across as very funny, humble and a strong character and Michael got our heart and audience screening when he did the Love scene with Baby. He reminds me of a young Christopher Reeves (First Superman) very dashing and he got Patrick Swayze's dancing ballet moves at the end perfect he made a great Johnny.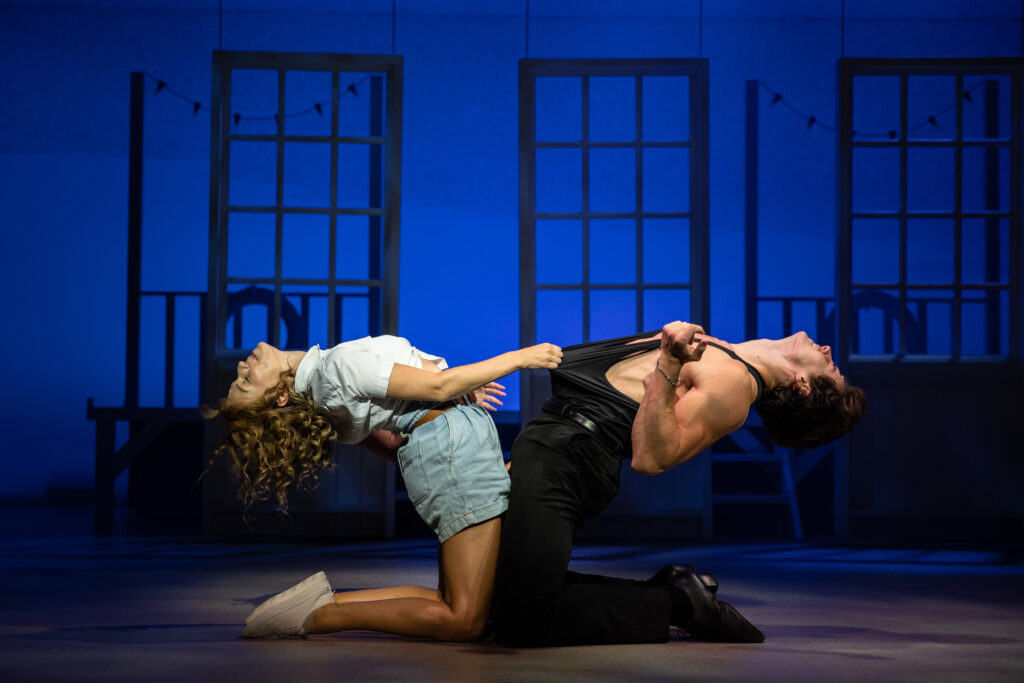 All in all, a great production, the sexual chemistry between some of the actors/ actresses was off the chain. 50s dress, 60s music and swinging and thrusting those hips how can it not!
A perfect night out with all the classic moves in and of course the lift at the end with (Time of your life) honestly, I thoroughly enjoyed the production, and it's a 5 star from me.
Congratulations cast and creative! Loved the Kellerman Band too!
Turns out Kira (Baby) and Michael (Johnny) are together in real life, melting my heart guys! Aw
It's on at the Palace Theatre in Manchester from now till Saturday 2nd October 2021 go and book it!
Tickets: HERE