Glamorous Press Night Alert!
Last night we attended the press night of the wonderful 'Something about Jamie' with music by Dan Gillespie Sells and book and lyrics by Tom MacRae. The musical is inspired by the 2011 television documentary Jamie: Drag Queen at 16, is now an award winning modern musical.
The lead Jamie played by Layton Williams a local lad from Manchester, Bury with an absolutely beautiful voice took the Lowry audience last night by storm. He plays Jamie set in the current day a sweet 16-year-olds lad in school in Sheffield England. He feels like he doesn't quite fit in with the rest of his classmates in school and he goes on a wild journey of discovery both ups and downs about who he is and what he wants to be. Also dealing with a father that doesn't want him and horrible bullies at school I think we can all relate to issues like this.
He takes it in his stride by putting on his seven-inch red heels his mum played by Amy Ellen Richardson who is trying to get by and support her son. Again with a stunningly powerful voice that really shines in the son "He's my Boy" hitting ridiculously high notes while feeling her pain and emotions as an audience. Well done Amy! Her best friend Ray played by Shobna Gulati (Coronation Street, Dinnerladies) brings whit, cheekiness and at times is absolutely hilarious with perfect comedic times really shines in this role and it was amazing to see her on stage (As I have only seen her on-screen)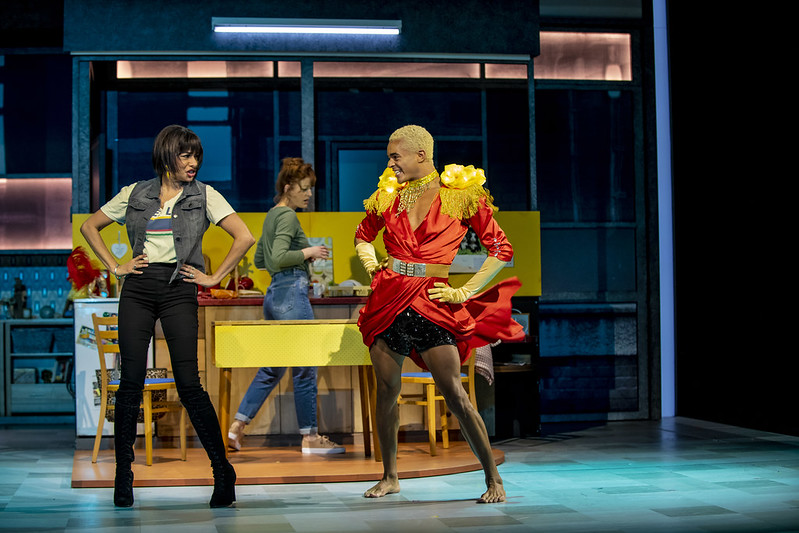 The musical delves deep into a large range of life obstacles that can appear in our lives sexuality, racism, and adversity. During Jamie's journey, he meets his mentor and a drag teacher Hugo or 'Loco Chantelle' player by Shane Richie (I'm a Celebrity…Get Me Out of Here, EastEnders) who takes the music in a different direction brings again high comedic value through Tom Macraes writing and gives Jamie that confidence and father figure he has been looking for.
I love Jamie's and Hugo's relationship because he is an important part of Jamie's journey to discover who is he and have someone who's 'been there and done that' to look up to. This is apparent by songs like 'The legend of Coco Chanel' and 'Over the Top' as Jamie makes his first debut on stage in drag as mememe. Lovely to watch their relationship grow and clearly to actors who have a great relationship off stage too.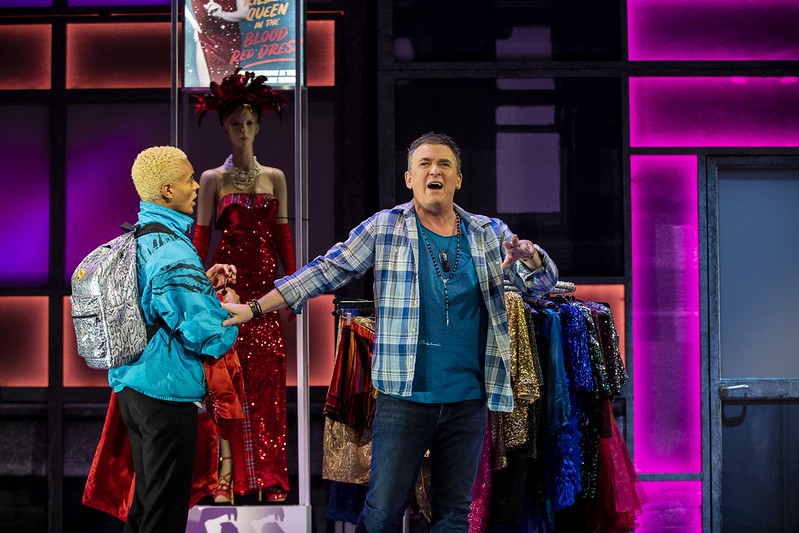 Another stand-out character was Pritti played by Sharan Phull playing Jamie's best friend bullied for being different. A beautiful Muslim girl, who wears a Burka and is treated horrendously by some of her fellow classmates. Again another beautiful stunning voice, I particularly enjoyed 'It means beautiful' and 'Spotlight' this lady has a bright future I hope I see her again soon.
A live band at the top and back of the stage is who appeared in the distance in certain scenes nice touch Anna Fleischle! I loved her set design and how very simple ideas can look amazing in Pritti's bedroom for example space projections and street projections which quickly changed scenes. Some cleaver direction by Matt Ryan too, I particularly enjoyed the 'Spotlight' number with Jamie & Pritti, where the girls who were revising turned into backing singers making music with their cans of soda and clapping their knees.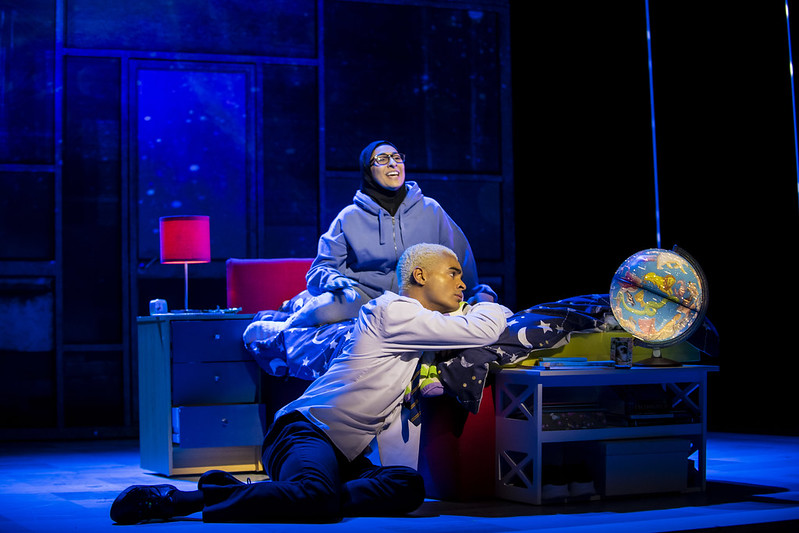 Overall I thoroughly enjoyed Jamie an extremely talented and very experienced cast with Layton Williams shining like a bright star as Jamie. A standing ovation last night and thoroughly deserved, a fun night out covering some serious issues with a happy ending of course! I would have loved to have seen Layton with the red dress and blonde wig on at the end of the first half, the director teasing us there! Loved the music from the band too excellent Sam Coates.
Smart, sassy, and extremely funny where ever this production heads to it will sell out. It's a 5 star from us top marks and a must-see for any audience we loved it, congratulations cast and crew.
Thank you to The Lowry for a wonderful press night!
The production is on from now until Sunday 12th September 2021 you simply can't afford to miss it
Tickets: HERE
Review by Amy Parkinson