It's been over 30 years since the original film of Fatal Attraction was released starring Michael Douglas playing Dan and Glenn Close playing Alex. In 1987 the budget for the film was $14 million and made $320 million at the box office, clearly a massive success the film was also nominated for six Oscars, Golden Globes also winning a British Academy Film Award for best editing.
Years later the original films screenwriter James Dearden adapted the movie to a play and it opened in the London West End in 2014.
The films plot is a erotic psychological thriller a brilliant storyline and at the time certainly pushed the Michael Douglas and Glenn Close to the max both with excellent performances in the movie. If you haven't seen this movie or play before a Dan Gallagher (Michael Douglas), his life is good. He is on the rise at his New York law firm, is happily married to his wife, Beth (Anne Archer), and has a loving daughter. But, after a casual fling with a sultry book editor named Alex (Glenn Close), everything changes. Jilted by Dan, Alex becomes unstable, her behaviour escalating from aggressive pursuit to obsessive stalking. Dan realises that his main problem is not hiding his affair, but rather saving himself and his family.
Last night the play arrived in Manchester at the Opera House to a celebrity induced audience a packed theatre (Corrie, Hollyoaks, Strictly and Emmerdale cast members) The two leads in the play were Kim Marsh (Corrie) playing Alex and Oliver Farnworth (Corrie) and Susie Amy (Footballers Wives) playing Dan's wife Beth. All had big shoes to fill and I believe they achieved this nicely. Kim and Oliver a far cry from their characters in Coronation Street.
The play started off everyone happy life is normal and just two people meeting in a nightclub having after work drinks. Who would know that one decision by Dan would change his life forever. Oliver really pushed his character in the play and it was really good to see how far he could go. I loved the New York accents by the main cast members and they didn't drop it once. It was refreshing to see Kim in a completely different role and she looked stunning on stage she made the perfect sinister vindictive character and very believable.
I haven't seen the movie for over twenty years and forgot how erotic it was, the first half were Dan and Alex meeting hooking up having lots of raunchy love making scenes. Kim's Dad and her family were sat behind us and us and kept shouting "Here we go again" when the erotic scenes happened between Dan and Alex absolutely hilarious!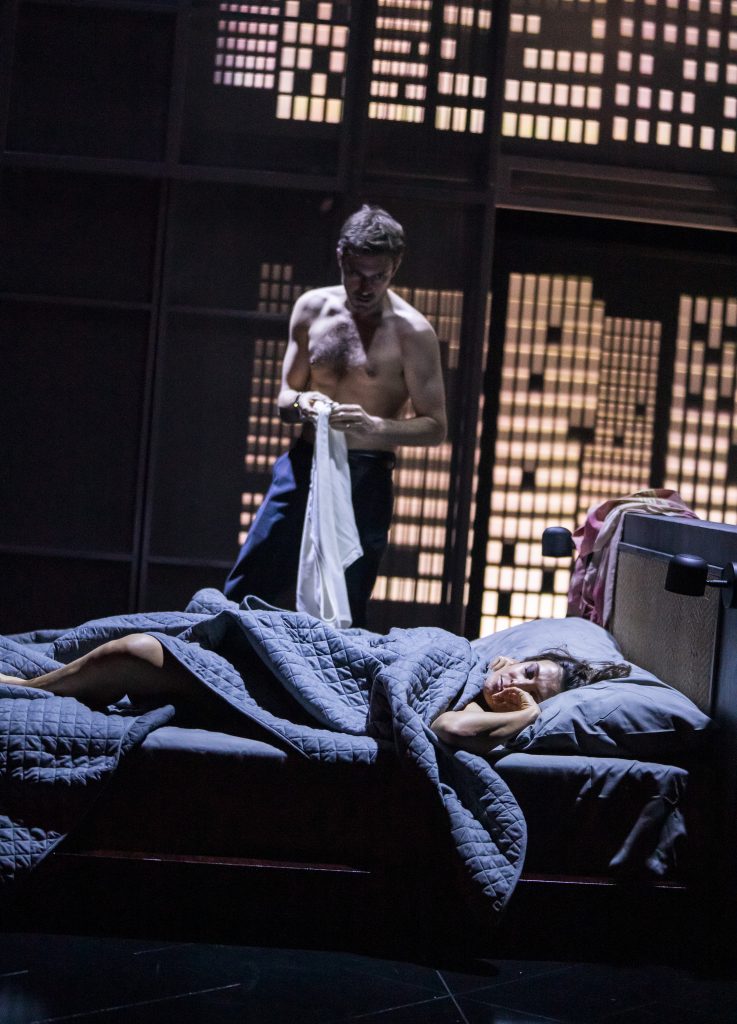 I found the set design very basic with some scenes only a table and electric background change to tell the difference between rooms. Something which if I am honest could have been done better. I loved the phone calls and leaving messages how they were displayed on the screens behind the cast members like 'facetime' and if voicemails were left on another actors phone the sound bars would appear and the message would play simple but effective.
Highlights for me came in the second half Kim really stepped it up a gear when she portrayed the traits of psychopath. I am pretty sure Alex's character displays the symptoms of borderline personality disorder and she attempts to turn Dan's world upside down after he rejects her after their weekend together and returns back to his life with his wife and child.
Little does he know what Alex has in store for him. I really enjoyed Kim's portrayal of this character and she pushes herself to the limit especially in the second act. The scene near the end when Dan arrives at her apartment and is crazy angry, her reaction is brilliant and clearly a sign of a person who isn't well and feels like she should have what she wants or dies for it. Very dramatic ending.
It was really nice to see Susie Amy who play Beth on stage I haven't seen her since her 'Footballers wives' days and she was brilliant in this. Her character in this has the patience of saint and I would have clearly kicked Dan out earlier. Again great New York accent and didn't drop it once.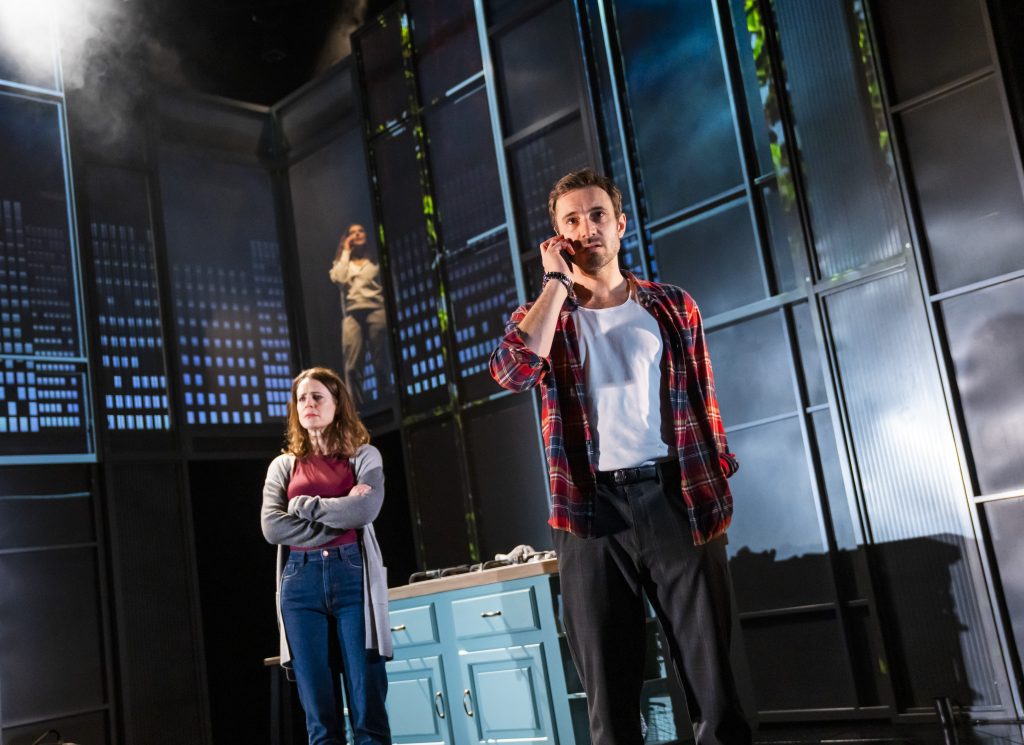 For me I felt the main three cast members were excellent and excelled in their different parts. What was lacking for me was the stage and set design to basic and I thought at time the music could have been more dramatic.
The play is a provocative and inventive feast of a thriller and Kim was brilliant in being the psychopath, obsessed hunter of Dan, well done Kim!
Alex's femme fatale suicide which was both physiologically consistent left Dan to face the murky morals of his behaviour this was highlighted at the end and an alterative to one of his decision.
Nail biting, intense and highly erotic with an experienced cast.
4 out of 5 stars from me well done!
Tickets: HERE
Its on until Saturday 26th February 2022 at the Opera House in Manchester, go and book it now if you dare!