Grease the musical first opened its door in Chicago February 1971 the Kingston Mines nightclub a musical by Jim Jacobs and Warren Casey. Named after the 1950s United States working-class youth subculture known as greasers, the musical is set in 1959 at fictional Rydell High School (based on William Howard Taft School in Chicago, Illinois and named after rock singer Bobby Rydell) and follows ten working-class teenagers as they navigate the complexities of peer pressure, politics, personal core values, and love. The score borrows heavily from the sounds of early rock and roll. In its original production in Chicago, Grease was a raunchy, raw, aggressive, vulgar show. Subsequent productions sanitised it and toned it down.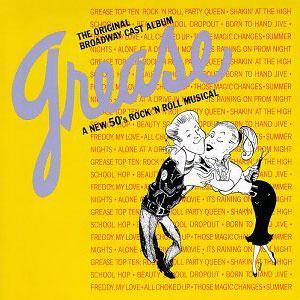 The show mentions social issues such as teenage pregnancy, peer pressure and gang violence; its themes include love, friendship, teenage rebellion, sexual exploration during adolescence, and, to some extent, class consciousness and class conflict. Jacobs described the show's basic plot as a subversion of common tropes of 1950s cinema, since the female lead, who in many 1950s films transformed the alpha male into a more sensitive and sympathetic character, is instead drawn into the man's influence and transforms into his wild, roguish fantasy. Then hitting Broadway in 1972 and continues to tour (with breaks until the present day)
In 1978 is was adapted as a film and released in 1978 made with a budget of $6 million and grossed at the box office in the USA $366.2 million so it would be fair to say it was a massive hit! Also turning John Travolta and Olivia Newton-John into massive global superstars.
I loved the film as a child and never thought it was a musical first, I have learnt something today. Its Broadways 16th longest running show over 40 years wow! Winning numerous award on its way including the Drama Desk Award, Two Theatre World Awards and nominated for Tony Awards too.
Last night Angie and I attended the 2021 tour of Grease at the Opera House in Manchester. Greeted with a bright colourful set and bursts of song, the production really dragged us back to 1959 Rydell high school. The first thing that struck me was the 'Greasers' they weren't' called 'T-Birds' but saying 'Burger Palace Boys' on the back of their black leather jackets (After the diner where the kids hung out) this is what they were called in the original 1978; play six years later the Hollywood studios renamed them T Birds. I didn't know this!
The lead Danny Zuko (Dan Partridge) was a cool hip American high school guy, who really took to the Danny part. He looked the part and he made a strong Danny. Also a really strong voice too to match Sandy (Ellie Kingdon) her first professional appearance as a debut alternate and honestly I think she did a great job especially in numbers like Sandy See and Hopelessly Devoted to you which is a massive song and she has no problem whatsoever hitting those high notes. Well Done Ellie!
My favourite character was Kenickie (Paul French) gosh he made me giggles with his extravagating facial expressions and that car OMG! He to me was a real T bird very similar to Jeff Conaway the actor from the 1978 movie! I loved his 'Grease Lightening' songs with the boys really dragged me back to the mid-80s when I first saw the movie, well done Paul!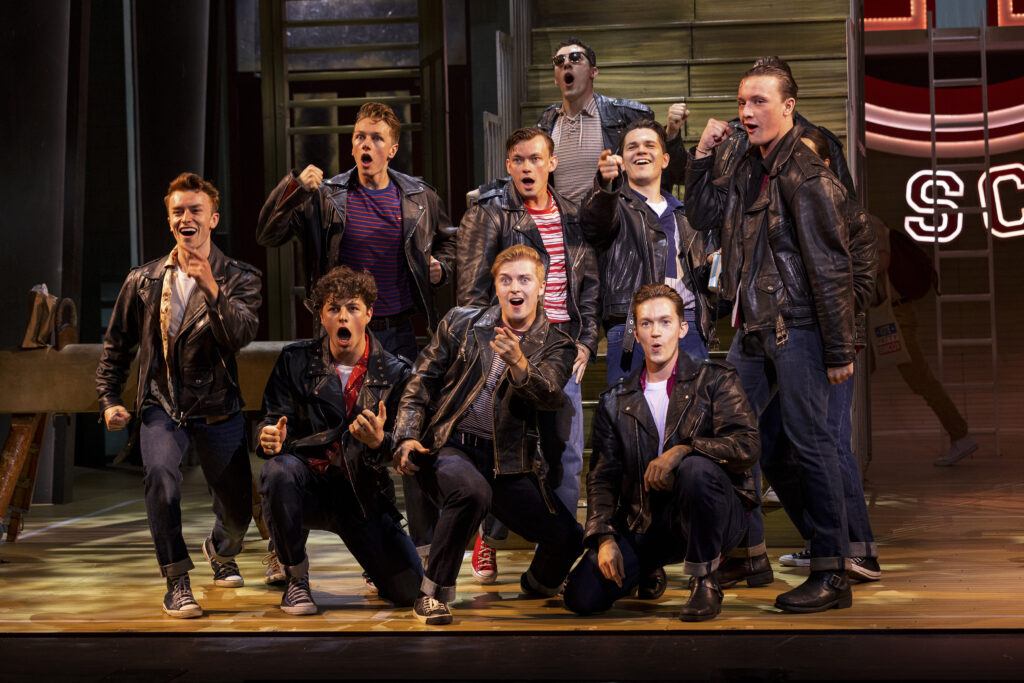 Lovely to see Peter Andre in this production to who played the DJ Vince Fontaine/ Teen Angel he was really funny and comedic especially in the second half. He took the mick out of himself and really pushed those 50s Big Bopper dance moves hard. I really enjoyed the Beauty School Dropout scene when he came down dressed as Teen Angel. He still has a beautiful voice and had no problem hitting those high notes, I remember seeing him in the Mysterious Girl video with his six pack with that Thailand sun beaming down on his body in 1995. He made a fantastic addition to Grease and fit really well in the production. Another scene I enjoyed was Handjive again great to see him rocking his hips and thrusting moves like 1950s Elvis! I absolutely LOVED the choreography in this scene too, 50/60s style dancing perfect to the beats of the track. Not surprising it was prefect when you have legends like Dame Arelene Phillips behind the scenes. One of the best choreographers on the planet and even at 78 years old creates fantastic dance pieces! I worked with her very briefly on ITV's Britannia High in 2008 at Granada Television and I remember how amazing she was then!
The sets, music and production was amazing I loved the Burger Boys Café set at the end completely 1950s style, lightening great to match too.
Other stand out performers were Jan (Maeve Byrne) and Roger (Josh Barnett) both lovely voices and extremely funny I loved the 'Mooning' scene. I can easily see these two as leads in the future, they never dropped their accents once. These two are ones to look out for!
Honestly though we you have a crew like Nikola Foster (Director) and Dame Arlene Phillips (Choreographer) involved it's hard to see that Grease would not be a hit. Both have long careers in musicals and Broadways and have both worked all over the world. I sault you both!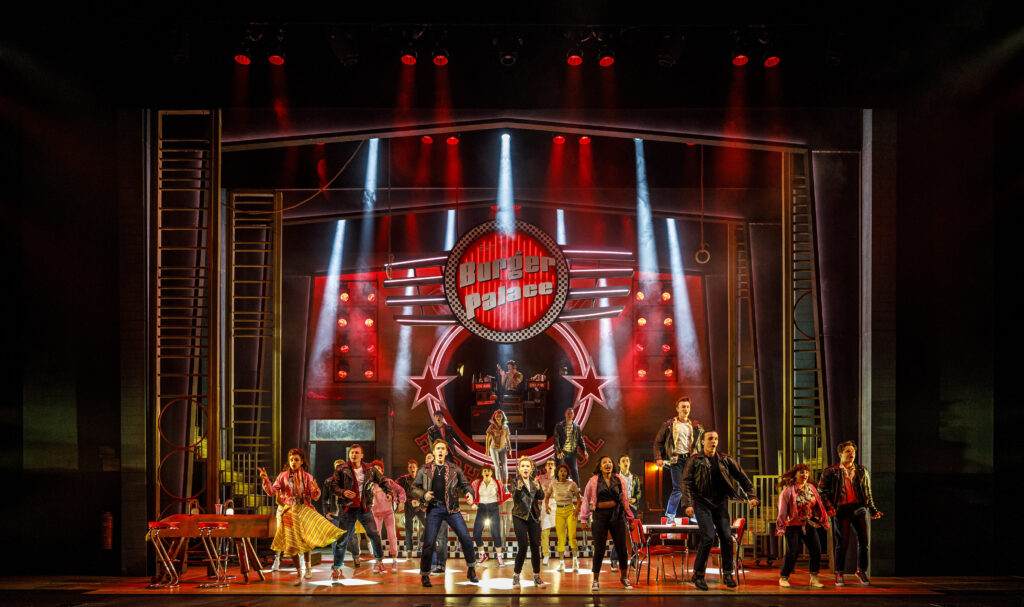 Only thing I wasn't thrilled about was Sandy in the final scene missed her curly blonde wig, her heels and cigarette apart from that brilliant! (Maybe it wasn't like that in the original play but I loved this scene in the movie)
Thoroughly enjoyed Grease last night and the audience were singing, dancing and laughing the whole way through. It's a 5 star from me, congratulations cast and creative. You MUST go and see this!
It's on at the Opera House in Manchester from now till Saturday 23rd October 2021
Grease is the word baby!
Tickets: HERE