Last night we saw Priscilla Queen of the desert arrived at the Palace Theatre, Manchester. Having never watched the Oscar-winning film (yes, guilty!) and having only read a short synopsis, I took my seat without having any preconceived ideas on what the show might be like.
The plot covers the adventures of a fabulous trio of two drag queens and a transgender woman as they travel across the Australian Outback from Sydney to Alice Springs in their rickety, old tour bus named Priscilla. The extraordinary trio includes Bernadette (played by Miles Western) who is both the queen and mother hen of the group, Felicia (played by Nick Hayes) who is the sassy, wild child of the group whose antics later cause trouble and Tick/Mitzi (played by Edwin Ray) who perhaps goes on the greatest journey of self-acceptance and love following his secret past.
Western is convincing with his portrayal of an experienced and knowledgeable queen, which isn't surprising given his long list of theatre credits. Western shines with his lip sync rendition of 'I will survive' which would have any other contestant on RuPaul "Sashaying away". Bernadette – "Shante you stay!" Hayes delivers his quick witted one liners and insults with perfect timing, sass and feistiness (often towards 'old queen' Bernadette)! Ray is convincing in his initial portrayal of acting as the mediator between the other two girls, perhaps due to his personal circumstances and his well-kept secret.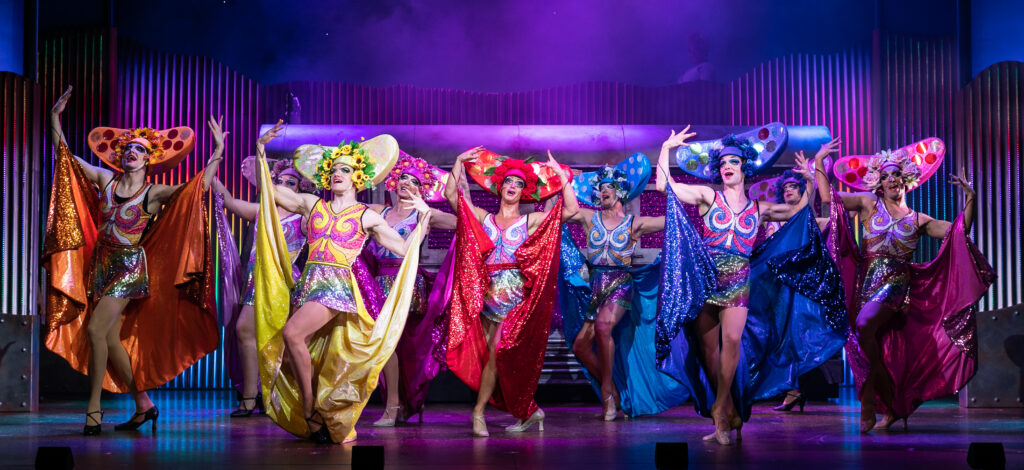 The ensemble cast of 13 are versatile with three of the dancers impersonating the main girls at different stages throughout the show. The ensemble transition into various characters with ease and Gracie Lai is hilarious in her portrayal of Bobs soon to be ex-wife, Cynthia! Bob 'the mechanic' (Daniel Fletcher) not only saves the day but also steals someone's heart. Fletcher is endearing and sets an example for a better society. He is the perfect advocate for the LGBTQ+ community.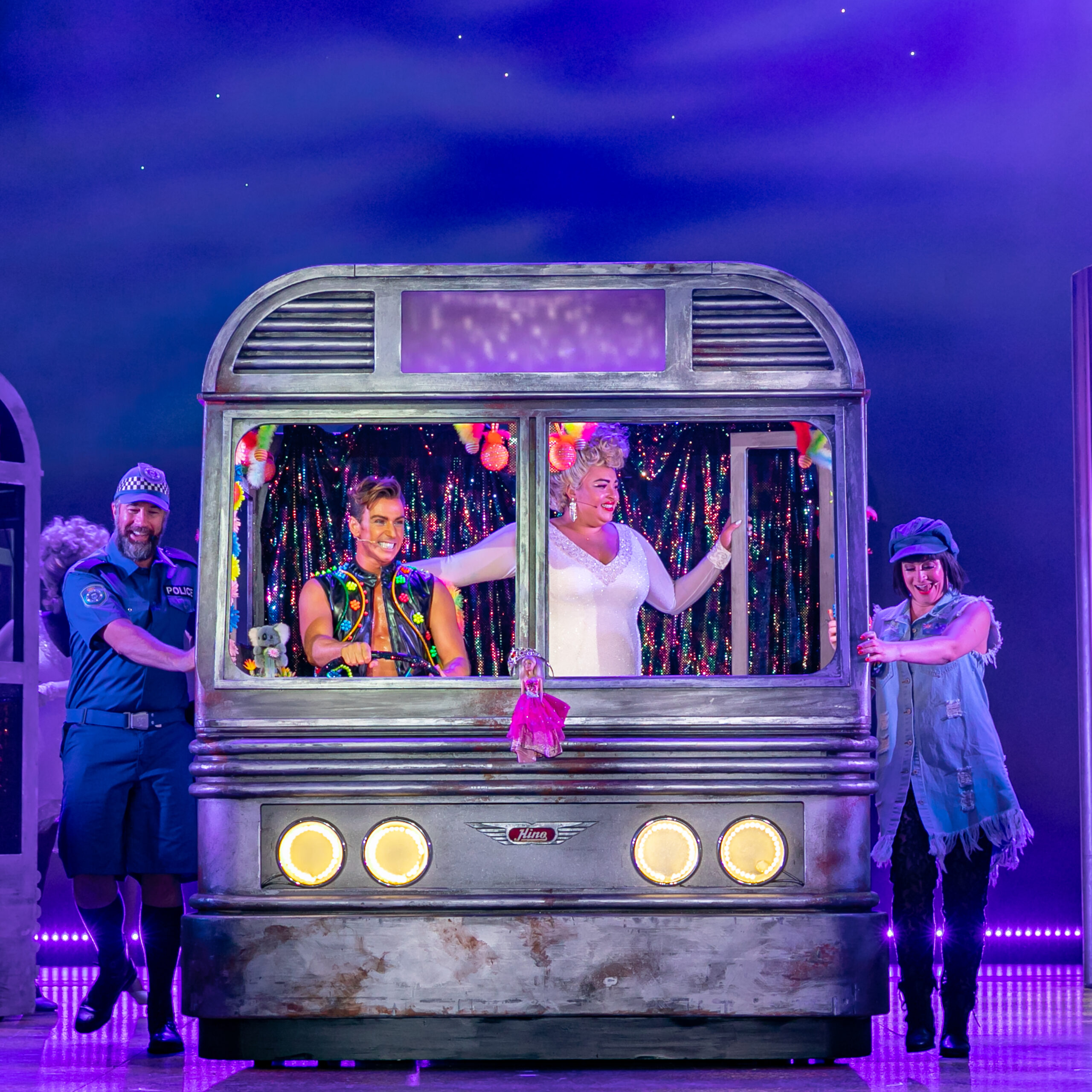 The Musical Director (Richard Atkinson) and his band take us on a musical journey and I instantly feel like I'm listening to every one of my favourite karaoke tunes. The opening number 'It's raining men' sets the bar high for the following numbers throughout the show. Songs include 'Girls just wanna have fun', 'Spinning around' and 'Shake your Groove thing'. 'True colours' sets an emotional scene after the girls receive some hurtful abuse from a crowd in the outback who disapprove of their performance. 'Pop Muzik' on the other hand, has the crowd in stitches with the 'ping pong popping scene.' The show is worth watching for this scene alone.
The three divas (Claudia Kariuki, Aiesha Pease, and Rosie Glossop) consistently belt out some sensational vocals. The musical arrangements are matched by some fantastic choreography (Tom Jackson Greaves) or should I say complicated armography! And there's lots of it! This is all complemented by the outstanding costume department (Charlie Cusick-Smith). Koala slippers, inflatable rubber rings, cowboy boots, feathers, sequins, headdresses, corsets, naked bottoms – you name it- it was there! At one point, I was convinced I'd been transported to Willy Wonka's Chocolate Factory when all performers arrived on stage as a bake-off creation!
If you're looking for a good sing-along, then this is the musical for you.
4 Stars congratulations cast and creative.
Showing at the Palace Theatre from now till Saturday 16th October 2021
Tickets: HERE
Reviewed by Katie Marie