When I think of the 80s I think of dirty rock, power ballads, and some of the most amazing music ever created in music history (Guns N Roses, Tears for Fears, Whitesnake, Van Halen, Queen, Def Leppard, Dire Straits, AC/DC, Genesis, Journey, Duran Duran, Tina Turner) honestly the list goes on. In fact for me one the best eras to live in apart from the 1950s and their music from that period.
Rock of Ages the music first began its life in Los Angeles in 2005, based on the book written by Chris D'Arienzo the production itself has won numerous awards and won the Best Theatre award in 2009. The story set in 1987 West Hollywood club the Bourbon Room is the seedy, sordid, vibrant heart of the Sunset Strip. The music venue has seen better days, but as run by chilled-out former rock impresario Dennis Dupree (Ross Dawes) and tended to by Dennis's mischievous assistant Lonny (Joe Gash, also the shows narrartor) it is the essence of rock and roll. When bright-eyed young hopeful Sherrie Christian (Rhiannon Chesterman) a small-town girl who wants to make it as an actress, arrives in town, she bumps into Drew, a Bourbon Room busboy with dreams of rock and roll stardom.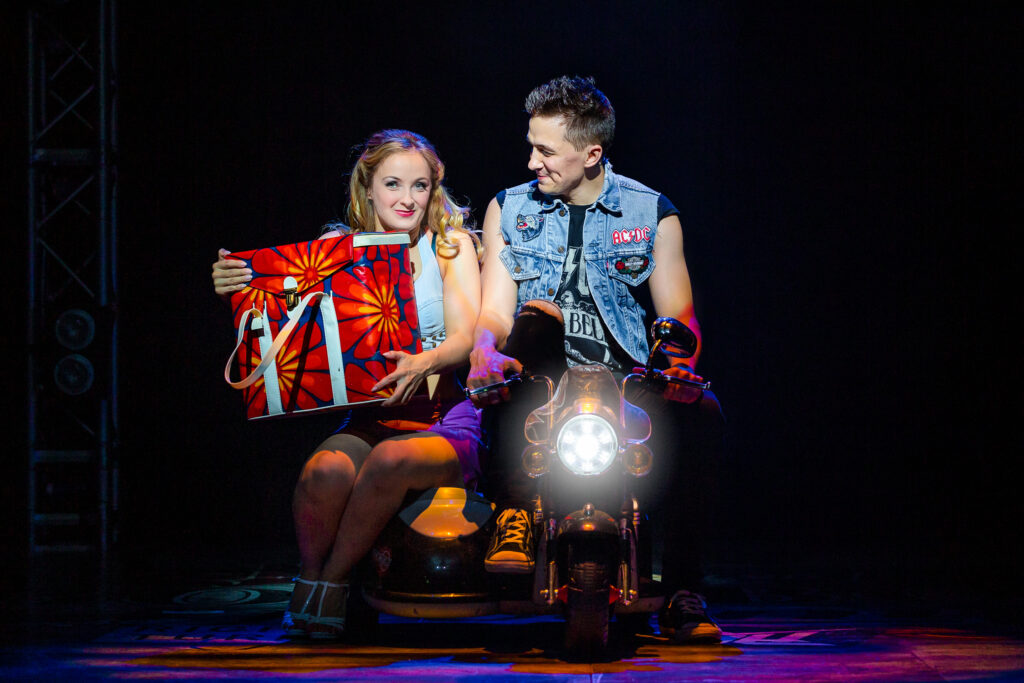 Love-struck Drew (Luke Walsh) convinces Dennis to hire Sherrie, and the stage seems set for their romance. But when the Mayor of West Hollywood, persuaded by a couple of scheming German real estate developers, announces his intention to demolish the Bourbon Room and the entire gritty Sunset Strip, the stakes are raised. Dennis convinces rock god Stacee Jaxx (Kevin Clifton) lead singer of megaband Arsenal, to play the band's last show at the Bourbon Room, hopeful that the money raised will stop the building from being demolished. But Stacee, a man of massive charisma and massive ego, leaves destruction in his wake, sleeping with Sherrie and getting knocked out by his own band before the concert is over. In the midst of violent anti-demolition protests, Sherrie flees to a nearby strip club and Drew falls into the clutches of a boy band.
Who can save the Bourbon Room, the young lovers, and the feuding Germans? Only Lonny, the "dramatic conjurer", knows for sure. Rock of Ages is a big, brash, energetic tribute to classic rock, to over-the-top ballads and fierce guitar, to the gritty glamour and rough energy of the Sunset Strip. This jukebox musical features '80s hits such as "We Built this City, I Wanna Rock, Don't Stop Believin, The Final Countdown, Cant fight this feeling, I wanna know what love is, Here I go Again"
Last night Claire and I attended the press night of Rock of Ages at the stunning Opera House in Deansgate in Manchester. Act one scene one out pops Lonny (Joe Cash) an upbeat, loud and outrageous narrator. Introducing all the characters and the plot lines, very funny and really reminded me of Russell Brand from the film version. Lonny adds an extra sparkle to most scenes in the story and keeps us guessing with full of surprises! Drew (Luke Walsh) who plays the love struck rocker has a stunning voice and has no problem hitting the high notes and especially holding them for a long period of time he makes it look effortless in songs like (Waiting for a girl like you, anyway you want it, I wanna Rock) this isn't the first time he has appeared in Rock of Ages and easy to see why.
Sherrie played by Rhiannon Chesterman (who I interviewed yesterday) plays a young starlet with strong and powerful rock chick with the most amazing figure I have ever seen. I love the duet between her and Stacee (Kevin Clifton) "I wanna know what love is" one of my favourite songs and these two completely do it justice!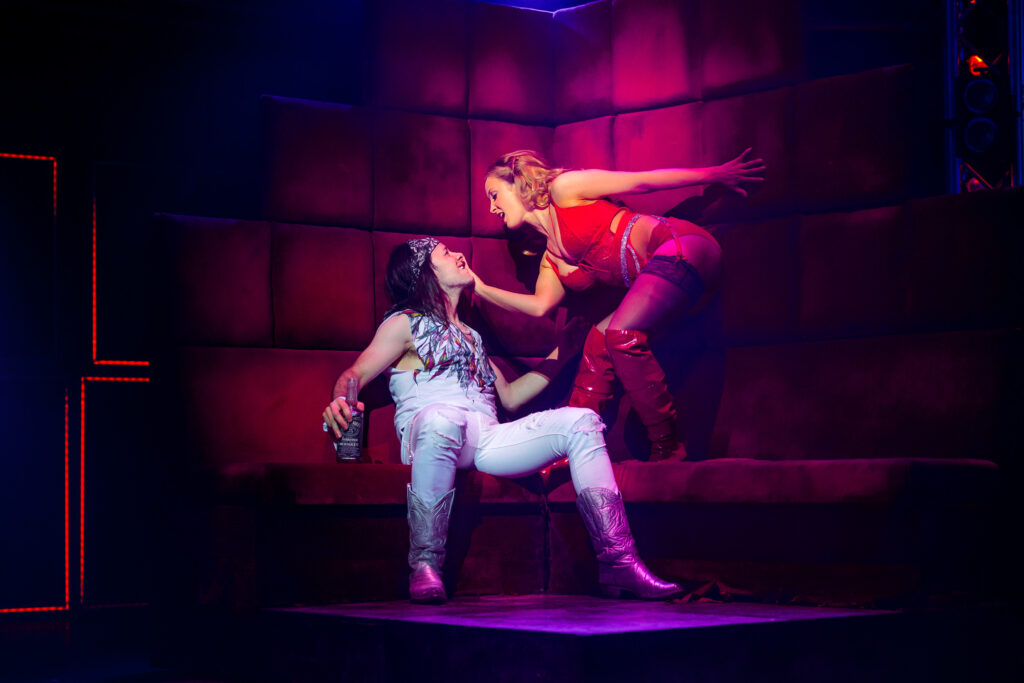 One of my favourite scene in the second half is between Lonny (Joe) and Dennis (Ross) when they declare their feelings to each other singing the classic rock anthem "I can't fight this feeling anymore" they run after each other around the Bourbon Bar and Dennis pops behind the bar and an dancer dressing liked him pops up and starts doing cartwheels and with Lonny pretending to be Dennis then they switch again. Honestly this scene is a real LOL scene for the audience and me well done boys!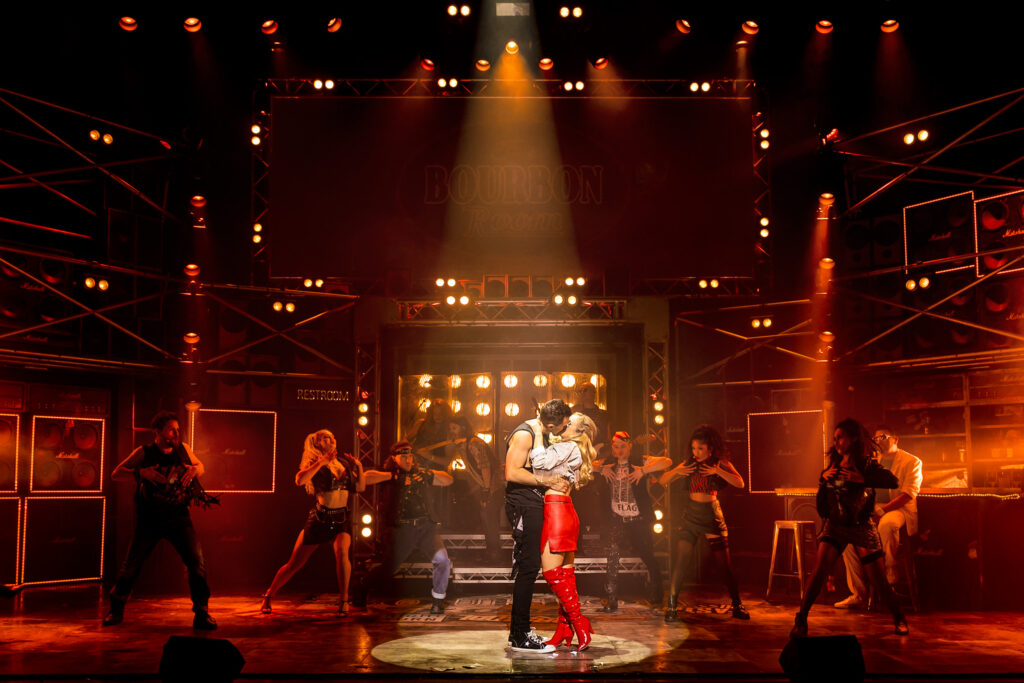 Feeling a bit under the weather before I came to the theatre last night, this production soon shook it out of me. A fantastic show full of dirty rock bangers, strong love ballads and hilarious characters. Great to see Nick Winston's choreography back to strong moves which fit perfectly with the music! Love it! Good Direction too!
4 stars from us congratulations cast and creative
Showing in Manchester at the Opera House from now until Saturday 9th October 2021
Go and book it now ROCKERS – HERE