The Play that Goes Wrong is a 2012 play by Henry Lewis, Jonathan Sayer, and Henry Shields of Mischief Theatre Company. It won Best New Comedy at the 2015 Laurence Olivier Awards. Since 2012 the production has won numerous awards from around the world and produced many sell-out world tours.
The Cornley Polytechnic Drama Society are putting on a 1920s murder mystery, but as the title suggests, everything that can go wrong… does! As the accident-prone thesps battle on against all the odds to reach their final curtain call, hilarious results ensue!
The script was written by the fictitious Susie H. K. Brideswell. During the performance, a play within a play, a plethora of disasters befall the cast, including doors sticking, props falling from the walls, and floors collapsing. Cast members are seen misplacing props, forgetting lines (in one scene, an actor repeats an earlier line of dialogue and causes the dialogue sequence triggered by that line to be repeated, ever more frenetically, several times), missing cues, breaking character, having to drink white spirit instead of whisky, mispronouncing words, stepping on fingers, being hidden in a grandfather clock, and being manhandled off stage, with one cast member being knocked unconscious and her replacement (and the group technician) refusing to yield when she returns.
From the moment we sat down the audience become part of the production. It's a stage manager's worst nightmare — and an audience's cue for laughter. Indeed, not since Bottom and the other "rude mechanicals" staged "the most lamentable comedy and the cruelest death of Pyramus and Thisbe" in honor of the royal nuptials in William Shakespeare's "A Midsummer Night's Dream" has a group of actors bungled the job to such risible effect.
Even before the play begins, the backstage crew is scurrying around like cruise ship workers trying to conceal a norovirus outbreak. The mantelpiece, among other crucial set pieces, has come undone. Trevor (Gabriel Paul), the beefy stage manager, seems more concerned with locating his Duran Duran CD box set than making sure the drawing room door opens. (Nigel Hook's scenic design engineers every catastrophe imaginable and a few that are unimaginable.)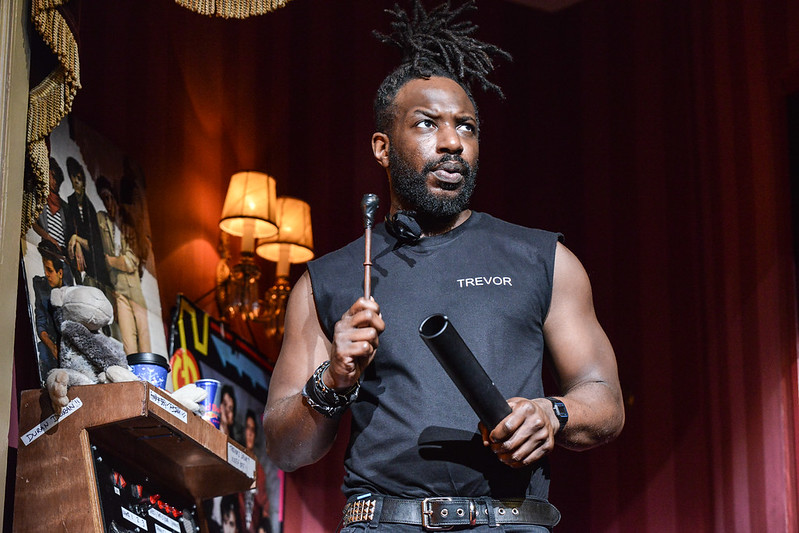 Chris (Tom Bulpett), the director of this hapless Cornley University Drama Society presentation, delivers a curtain speech in plummy tones that's meant to distract the audience from the chaos already engulfing the production. But his apology to those affected by the box-office mishap, which led ticket buyers to believe they would be seeing "Hamilton" instead of the hoary murder mystery that's about to get underway, tips us off that gremlins are running the show.
It's not just the scenic elements that won't cooperate. The ensemble compounds fiasco with ineptitude. Corpses refuse to lie still. Mispronunciations run rife. Acting styles, if you can dignify these bungling hams with that term, clash. Lines are accidentally repeated, trapping cast members in a loop.
The physical comedy requires the cast members to boomerang around the set with lunatic abandon. Climbing, leaping, slipping into enclosed spaces, dangling out of windows, smashing to the floor, ingeniously employing every limb to hold up wall hangings while answering a telephone — the performances are a composite of gymnastics, air-traffic control and over-the-top acting is hilarious and produces pure slapstick comedy.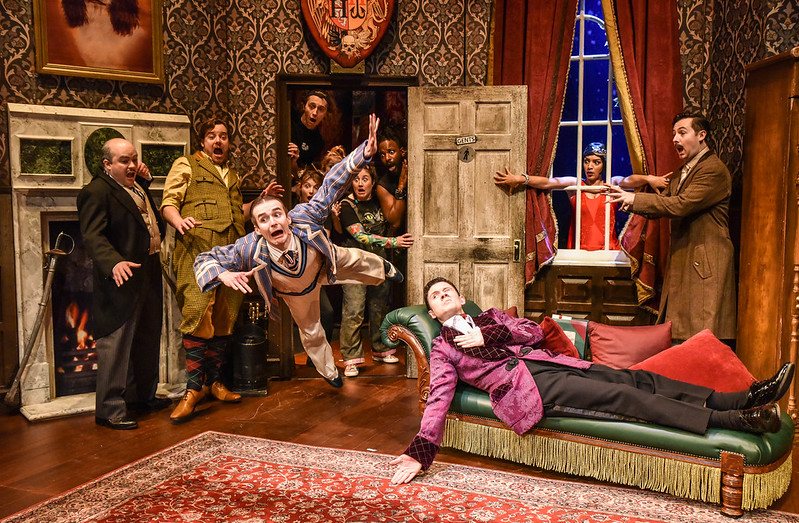 This production is not a subtle evening of delicate humour. It is a family-friendly, cartoonish cavalcade of mishaps and silliness. Ideal fare for those desperate for something to fill the panto-shaped gap and enjoy a simple evening of slapstick laughter in these dark and depressing times.
The Play that goes wrong is showing at the Lowry Theatre from Tuesday 17th August till Sunday 22nd August 2021
Tickets: HERE