Rocky Horror Show has been described as an adult pantomime. It has been running for nearly 50 years but remains refreshingly contemporary. The show premiered in 1973 and has become a cult institution. Written by Richard O'Brien and musical arrangements by Richard Hartley.
The show opens with the usherette (Suzy MacAdam) inviting us into the show singing 'Science Fiction Double Feature'. We meet a couple Brad Majors (Ore Oduba) and Janet Weiss (Haley Flaherty) coming from a friend's wedding. Brad proposes to Janet 'Damn It, Janet' and they decide to tell their college professor, as they met in his class. They are driving in a storm when they have a blowout. The show incorporates a narrator (Philip Franks) and he makes his first appearance to continue the story. The couple makes their way to a castle nearby to ask to use the telephone 'Over at the Frankenstein Place'. They are invited in by Riff Raff (Kristian Lavercombe) and his sister Magenta (Suzie McAdam), 'Time Warp' the couple begin to realise something very odd is going on and this is underlined by the entrance of transvestite Doctor Frank N Furter (Stephen Webb) 'Sweet Transvestite'.
Frank introduces the couple to his latest creation, Rocky (Ben Westhead) 'Sword of Damocles' a perfectly sculptured, scantily clad man, created to fulfill the needs of Frank 'I Can Make You a Man'. Next, the couple meets Eddie (Joe Allen), he is a rock and roller whose half of his brain has been used to make Rocky during his song 'Hot Patootie' Frank chases him with a chainsaw, and he is despatched, this understandably upsets his girlfriend, Columbia (Lauren Ingram) then as if nothing has happened Brad and Janet are led to separate bedrooms for the night.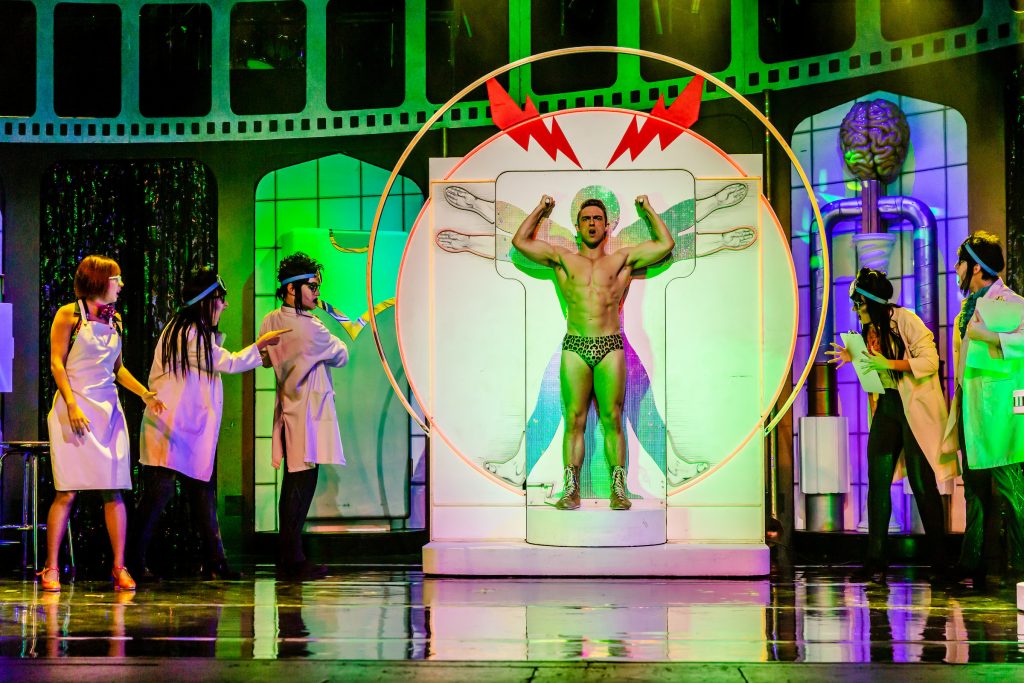 Opening in a bedroom scene where, as expected, not much sleeping is going on. Janet wakes thinking Brad has joined her only to realise it is Frank this is followed by Brad thinking he has been joined by Janet to then find out it was Frank. After accidentally finding out about Brad and Frank, Janet seduces Rocky 'Touch-A-Touch-A-Touch Me'. Brad finds out about Janet and Rocky 'Once In A While' Everything culminates in the arrival of Dr.Scott (Joe Allen).
He is searching for his missing nephew, Eddie 'Eddie's Teddy' and he also suspects the occupants of the castle of being aliens. It is a coincidence that Janet and Brad are there but Frank suspects it is a trap 'Planet, Schmanet, Janet'. Using a control beam he forces everyone to take part in a floorshow 'Flow show/Rose Tint My World' Riff Raff and Magenta have finally had enough of Frank's behaviour and declare they are going back to the planet of Transexual.
Frank is happy about this 'I'm Going Home' but he soon realises he won't be going anywhere, and Riff raff pulls a laser gun on Frank and a killing spree starts. 'Spaceship'. Brad, Janet, and Dr.Scott are allowed to leave before the spaceship takes off 'Super Heroes' The usherette reappears and brings the show to a close 'Science Fiction , Double Feature reprise'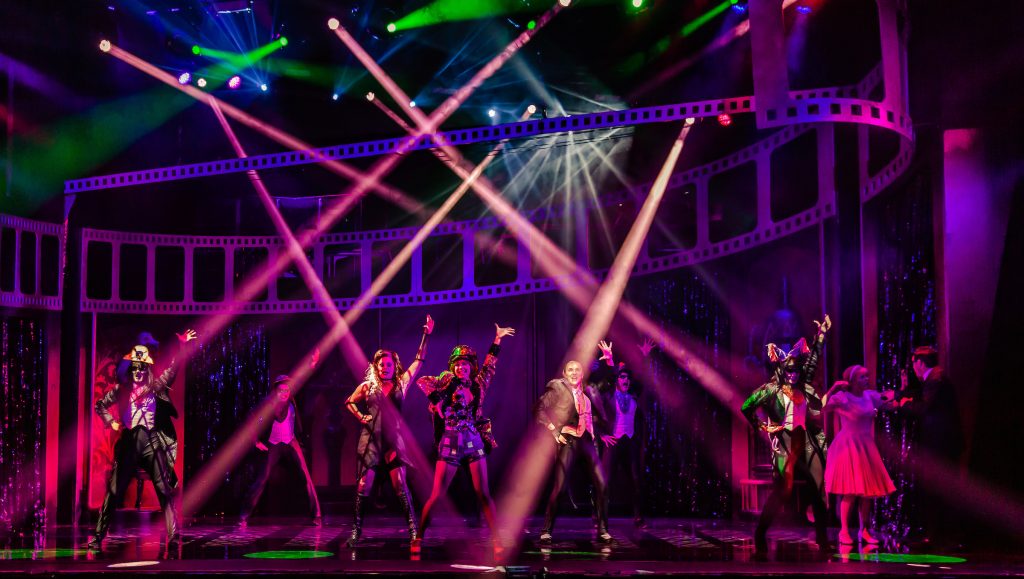 The great thing about this show is the audience participation. Many of the audience dress up as in last night as characters from the show wearing corsets, stockings and suspenders, wigs, and glittery top hats. On the weekend it will look like Mardi gras. It is also a tradition for the audience to shout out comments during the show, it may come as a shock to theatergoers who are not used to this type of behaviour, but it is hilarious.
Philip Franks, whom I remember from 'The Darling Buds of May' was excellent as the narrator and the audience certainly appreciated his up-to-date political quips. Kristian Lavercombe has made the part of Riff Raff his own and has appeared in over 1800 performances.
Ore Oduba (Brad) and Haley Flaherty (Janet) are very good together and Stephen Webb (Frank N Furter) plays a quite dark but effective Frank, which I liked very much. I consider Rocky Horror to be an ensemble piece and there are no weak links in this production.
I find it easy to understand why some members of the audience go time after time to enjoy this show.
It was a great night out and I laughed a lot, and I would be happy to 'do the time warp again'
The show is running in Manchester until Saturday 22nd January 2022 a fantastic cast and crew with plenty of laugh-out-loud moments and a brilliant audience. If you need to dust off the January blew this is your medicine
Tickets: HERE
Review by Susan Limbert