Waitress is a musical with music and lyrics by Sara Bareilles and a book by Jessie Nelson. Based on the 2007 film of the same name, written by Adrienne Shelly. It tells the story of Jenna Hunterson, a baker and waitress in an abusive relationship with her husband, Earl. After Jenna unexpectedly becomes pregnant, she begins an affair with her doctor, Dr. Jim Pomatter. Looking for ways out of her troubles, she sees a pie baking contest and its grand prize as her chance.
Waitress made its debut in August 2015 at the American Repertory Theatre in Cambridge, Massachusetts and became a huge hit, finally arriving to the United Kingdom from 2017-2019 playing at the Adelphi Theatre in London's West End.
Last we attended the Manchester leg of the tour, excited and nervous we didn't know what to expect. For me the marketing of the musical looked like a happy go lucky light show. How wrong was I! The story is deep and takes you through a whole range of emotions throughout the musical. The key to this show is its entirely relatable the language they use in the story even the part Jenna (Lucie Jones) finding out when she was pregnant and the fear on her face (I think most women have been through this)
The show opens up to Joe's diner where Jenna (Lucie Jones) Becky (Sandra Marvin) and Dawn (Evelyn Hoskins) working at the diner. Jenna's thoughts often got portrayed by dancers performing around her and how her thoughts would often inspire her to create new pies for the diner. Jenna has a beautiful powerful voice and you can really hear her emotion coming through especially on the power ballads like 'She used to be mine, You matter to me and Everything Changes' 
In parts the production is extremely funny, Becky with her sarcastic tone towards Cal (Christopher D. Hunt) is hilarious especially in the first half when he is telling her to 'Get back to work' she is dry, quick and very funny'. She brings a fresh look on the show confident and witty with a good voice too! Other stand out characters for me where Dawn (Evie Hoskins) and Ogie (George Crawford) the scene in the first half where Ogie is trying to woo Dawn is brilliant. They are both funny, quirky and there are some really Laugh Out Loud moments especially in the song 'Never getting rid of me and I love you like a table'  I hope I see these two working together in the future. A proper funny comedic duo well done both!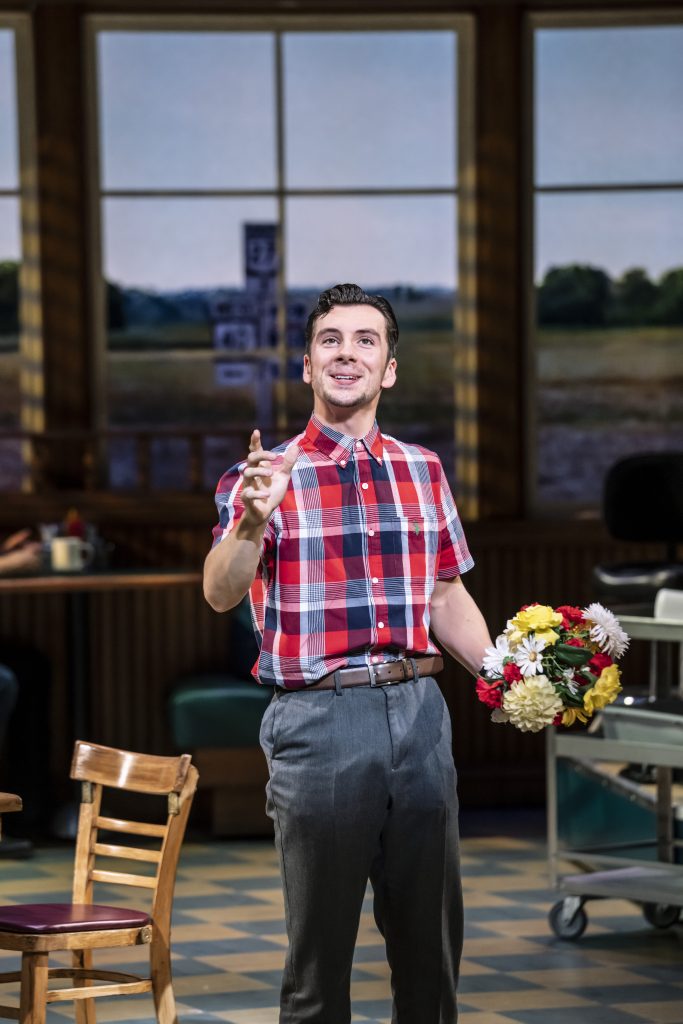 I loved the set and the lighting well done to Scott Pask the diner really gave me a scene of 50s outback America I loved it. The pink lighting when the mood changed or the sun went down behind the sets looks awesome and with a simple lighting change really changed the mood quickly, great work Ken Billington and his team.
Lovely to see Matt Jay-Willis in the production to, he shot to fame in the early noughties with the band 'Busted' who had plenty of number ones hits! He makes a great addition to the cast as Dr. Pomatter and plays a neurotic Doctor who falls in love with Jenna. Nice to hear that soft sweet voice I remember from Busted in the number 'You Matter to me'  again Jenna and Dr. Pomatter had some funny moments to especially in the second half in the Exam Room scenes!
One lady I have to mention was Nurse Norma (Scarlet Gabriel) her comedic timing was perfect especially when she caught Jenna and the Doc at it! HA HA makes me laugh now, thinking about her lines "I don't know what they did in Connecticut Doc but that shit don't fly around here" very funny!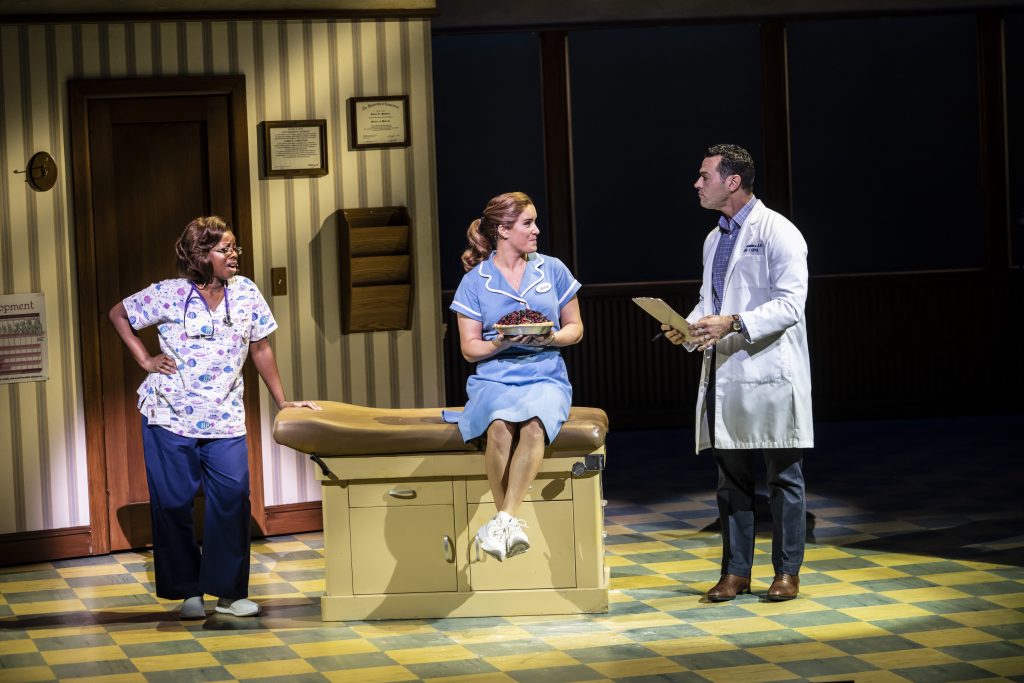 Another stand out character was Joe (Michael Starke) I remember him back in his Brookside days which he played Thomas 'Sinbad' Sweeney for 16 years! The part of Joe in Waitress a million miles away from Brookie! His caring father figure nature towards Jenna was heart-warming and I loved this deep southern American accent great to see you Michael!
Great to hear and see the Orchestra on the stage too! Nothing better to see and hear a live orchestra accompany a fantastic story.
All in all a brilliant story by Jessie Nelson with the added magic of Sara Bareilles music makes this production a heart-warming rollercoaster of emotions. Extremely funny and totally relatable, absolute gold!
5 stars from us congratulations cast and creative, standing ovation at the Manchester Opera House last night to. Thank you to ATG for having us.
Tickets available now till Saturday 20th November 2021
You must book this!
Tickets: HERE