One of the most notorious prisons in the world has been transformed into a high end cocktail bar!
Last night we attended the press night the new prison bar in Manchester Alcotraz Penitentiary, right in the city centre on Deansgate, Manchester its a perfect location for such a place and very easy to get to. We were greeted by one of the prison guards Casady with a strong Californian accent. He led up to the prison on the first floor, excited as to what led in front of us.
Casady welcomed us and led us past the warrens office down the jail-block and into the cells. The prison looks realistic with jailmate warning signs everywhere and the notorious 'mugshot' wall where prisoners are made to stand in front of height wall with their jail number and have there photograph taken for the prison records. Cant wait to do that later!! New facebook profile pic ha ha
Casady asked us about alcohol and if we had sneaked any in, he warned us that there would be strict penalties if the warren catches us with it !!! We were handed a Holy Bible book with goodies in it which we gave to our prison bar mixologist Josh; who made us some delicious be spoke delicious, contemporary and classic cocktails and delivered them to our cells! We were also given our orange prison jump suits with our own unique prison number definitely feel like i'm in 'Orange is the new Black'.
Janine and I were in the first cell near the bar perfect, with little storage prison boxes under our bed, our own loo and sink which look very prison like. The cells themselves can accommodate 50 inmates for public experiences and up to 100 for private venue hires. There will also be a Prison Commissary area, for lower priced seats, and these inmates have their own dedicated mixologist at their own bar nice!
We were given Prison record cards by Wilmott who worked in Security for the prison who also had a classic american Californian accent too. We had to state our offences, education, physical condition, our prison nickname and our last meal request and our preferred work options Canteen, Laundry, Library or Sanitation. Janine and I gave ourselves nicknames; I was Blonde Queen and Janine Shadow, our crimes stealing high end super cars (me) and Shadow (Janine) the jewelry thief! Wilmot came to discuss our answers with us and from then on called us by our prison names (nice touch)
Janine and I posed for our cell photos and had photos with the old school phones on the walls, Wilmott informed us one phone call and no international calls allowed ha ha
Josh came and brought us some delicious prison cocktails in steel cups with fruits on very tasty. The alarms suddenly ran and it was the warden on his inspection "Quick I shouted to Janine hide the alcohol"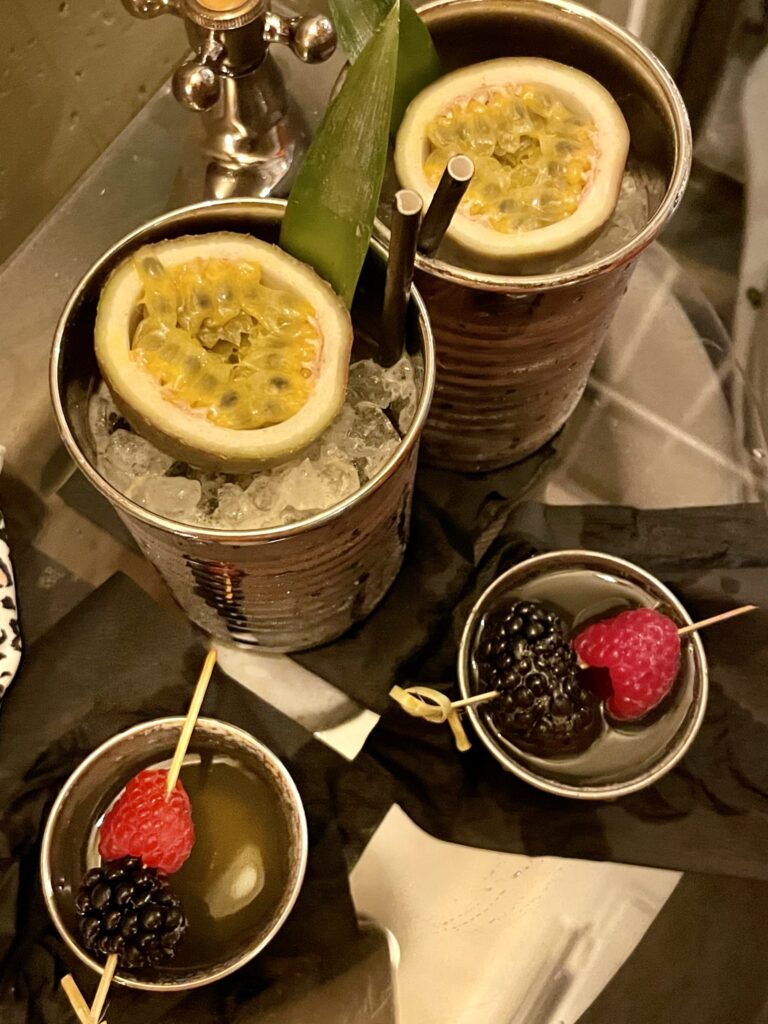 The warden dressed in black in a smart outfit stomped down to our cell block and introduced himself and went through the rules and regulations of the prison. Also picking out cell mates in other cells he wasn't happy with, I absolutely love the interactive experience of this. I whistled at him and told him I loved him and I got a good roasting and advised I would be taken to solitary confinement if I carried on LOL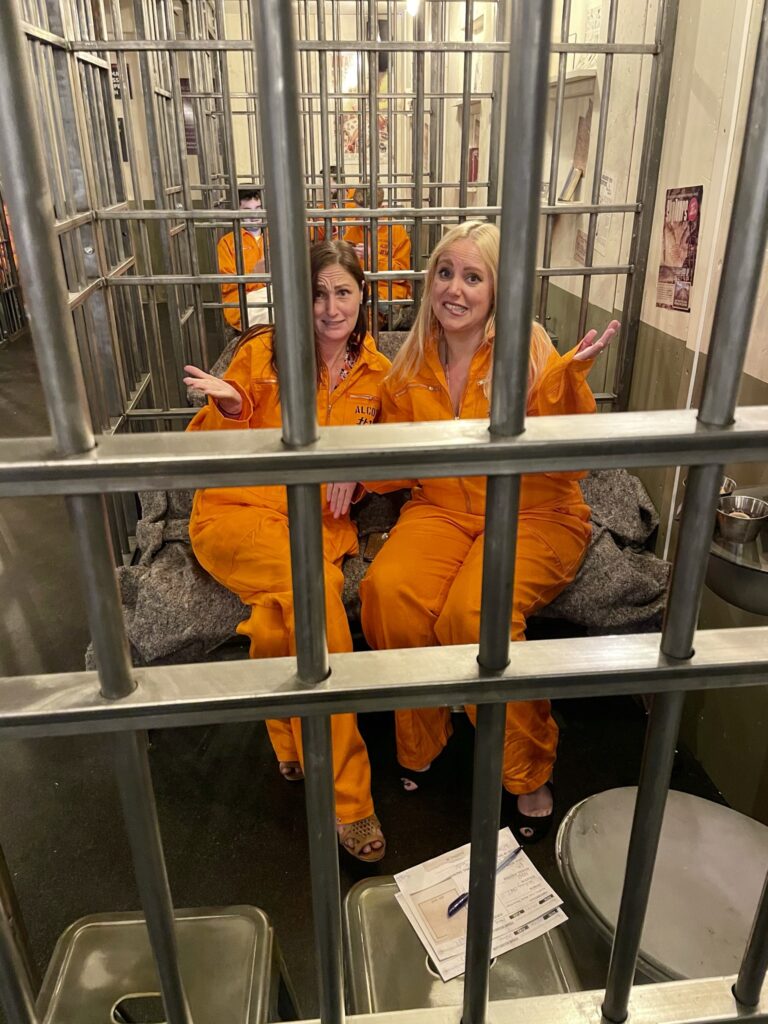 Wilmot approached us and asked us if we were up for 'being looked after by him' he wanted to know if we could smuggle liquor or food through my contacts. I advised him I could only get 50 x chicken wings and he advised he was would speak to his contacts (a dodgy cell mate) and we could arrange something. Later we got rushed into solitary confinement; where one of the bootlegged cell mates was in a dirty protest room ready to negotiate the chicken wing smuggle. We agreed on a 50 chicken wing smuggle by a contact of mine in return for a new pillow and 20 tog duvet ha ha *I don't know why I wanted a 20 tog duvet in Californian heat* oh well. Deal done shots necked and back to our cells we went.
The Warden then summoned us both to his office to present our prison record cards and discussed our crimes. Also offering a deal to grass on the smuggler in the prison; as he had later that day found tequila in one of the inmates cells, to which I replied 'Snitches get stitches' ha ha (I saw that on TV once) The warden asked for our phones and took our mugshot in front of the height wall after his intense interview with us.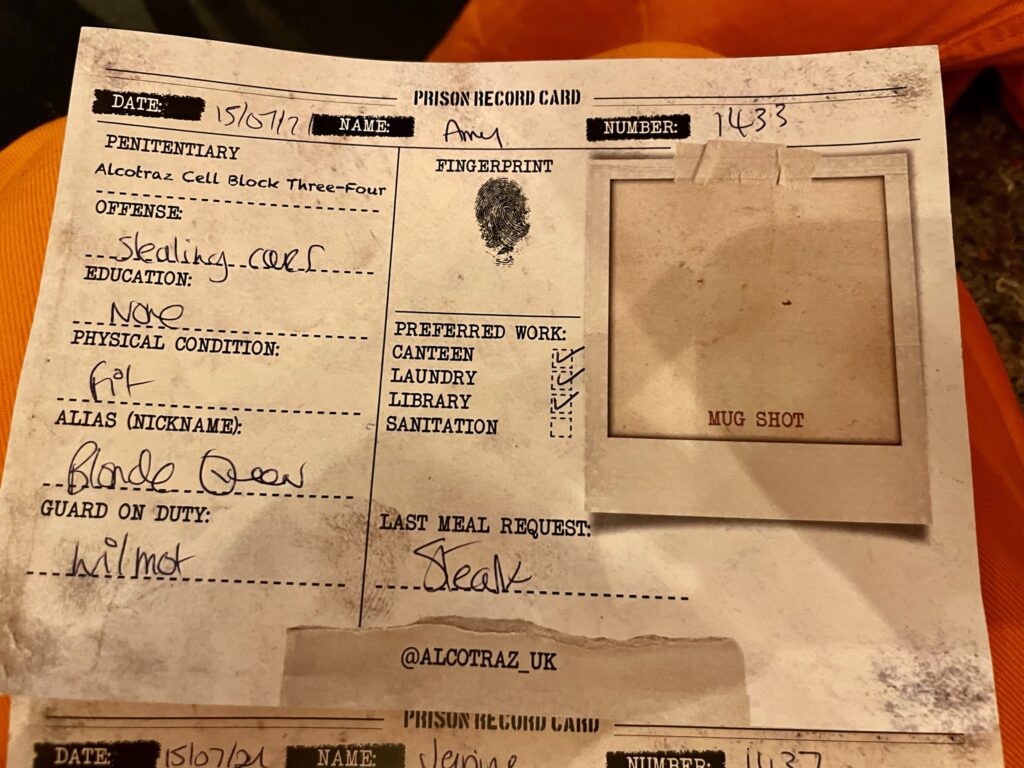 Overall I really enjoyed the interactive immersive cocktail experience. The actors were brilliant, lots of great photo opportunities and its interactive and loads of stuff for you to do. A great idea for hens/stags/work night out. Inventive Productions (the owners) also have prison bars in London and Brighton I would definitely recommend it and thank you to Mance Commmunications Lauren and James and Inventive Productions for looking after us.
Tickets start at £29.99 price includes all liqueurs, mixers, bitters and syrups. Please bring your own bottle of spirit to smuggle past the Warden with the help of the Guards of Alcotraz!
Their other locations include London, Brighton plus a special online experience.
Manchester Alcotraz Penitentiary opens to the public TODAY, book your tickets early as this will be a popular event.
Book: HERE