T. Rex are one of those classic rock bands that we will still be hearing their songs for centuries to come during weddings and rock venues around the world. Songs like 'Get it on, 20th Century Boy and Children of the Revolution' I remember hearing when I was growing up even though the band came out in the 1970's during the glam rock movement. The frontman Marc Bolan originally from Hackney in London died in a car crash at the age of 29 two weeks before his 30th birthday. Who knows what other magic tunes they could have produced if it wasn't for this awful tragedy.
Turning his music and story is a great way for a rock legend to live on. To show future generations what it was like in the 1970's. His music is played in many Hollywood movies which you may have already seen  Breakfast on Pluto, Death Proof, Lords of Dogtown, Billy Elliot, Jarhead, Moulin Rouge, Herbie: Fully Loaded, Breaking-Up, Hot Fuzz, Click, School of Rock , Scott Pilgrim vs. the World, Dallas Buyers Club and Wonderland. 
For me, the announcement of the tour coming to Manchester was a treat!
Auntie Julie and I attended the press night of 20th Century Boy last night, which is about Marc Bolan and his band T-Rex at the Opera House in Manchester. The curtain opens and Marc Bolan enters the stage played by George Maguire with a projection on the screen behind him. Mark begins to tell the story of his life. First of his death in a car crash when he was 29 and he looks back on his life starting from his childhood.
My Auntie grew up in the Trex/ Marc Bolan era so I looked to her to ask about if he actually looked like him, acted like him and most importantly sounded like him. She said he didn't really look much like the original Marc Bolan but he did sound like him. The story walked back through Marc Bolans life and went through the highs and lows. At Marc Bowlens peak him and his band TRex were selling 65,000 records per day in the early 1970's wow!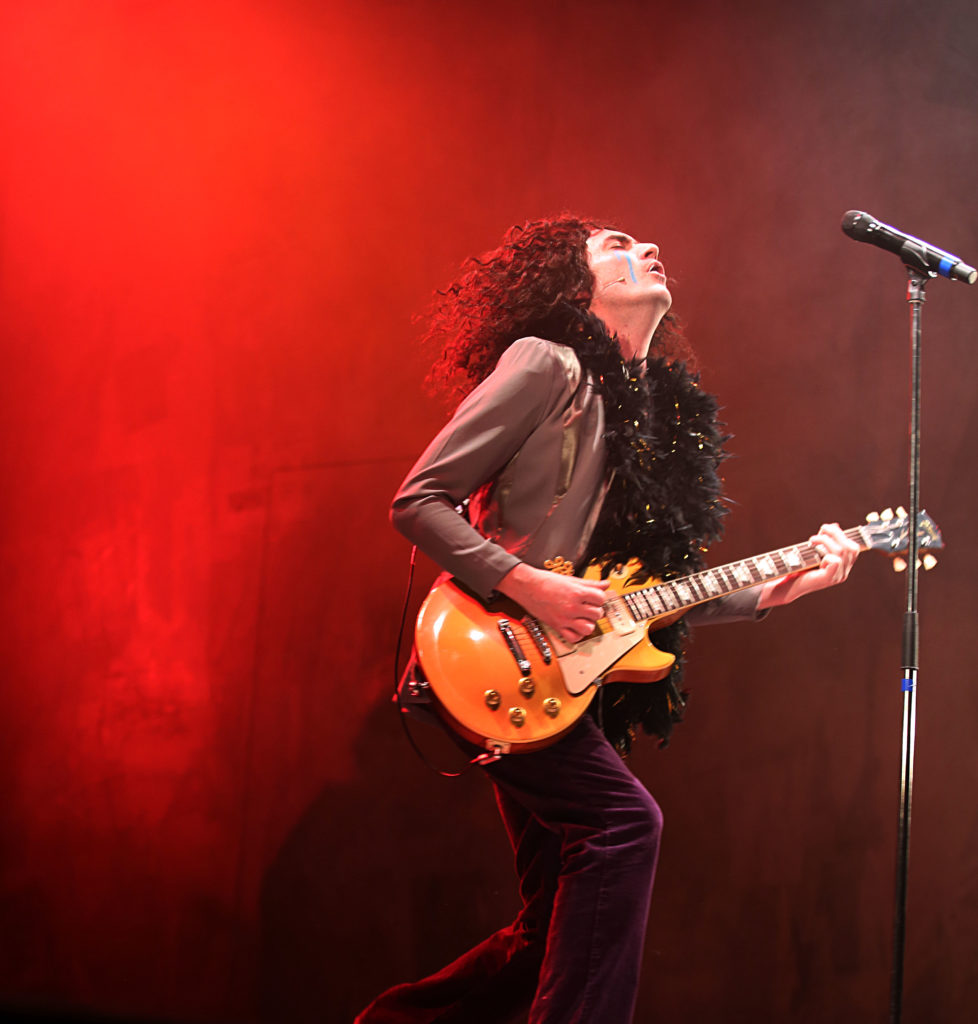 Credit: 20th Century Boy
For me personally, there was a couple of things about the production I was particularly disappointed with. I thought June Child played by Sarah Moss had a lovely sweet voice but I didn't think it worked well with Marc's voice played by George Maguire. This became more apparent when Marc did duets with Gloria Jones played by Ellena Vincent. Gloria had a much more powerful voice and complimented his voice better. Especially in the second half of the show.
At certain points in the production, they would project images of the real Marc Bolen and his band as we travelled through time. The lights shined on the screen and sometimes difficult to make out what the image on the projection actually was, because of this it made the led up to the next scene confusing. Also not using both sides of the backdrop was annoying because some viewers would have found this difficult to see.
The set timings weren't great either, at some points we were sat waiting for them to bring the sets (When they were only very simple anyway) I think looking at the set builds of productions like 'Bat out of hell' where they had very complicated sets but the actors came straight on stage as they were pulling them in is better. Or simpler set builds like 'Of Mice and Men' which I reviewed last week, again some of the actors dragged parts of the set on with them as they came in or sliding door which worked really well. I think this production could have done better.
Another frustration of mine is when they were telling the story they would only do part of the song. For example, when they were rehearsing with Tony Visconti played by Derek Hagen he would shout cut before the song had ended because it was part of the story. Frustrating when one of Marc Bolan's big hits started the intro then stopped. I could see my mums generation in the audience wanting them to play the song. Some of the audience was itching to get up and dance.
The highlight for me was the ending when they FINALLY played some of their hit records '20th Century Boy, Get it on & Metal Guru' the audience burst up from their seats to rock out. The band were behind the singers and the music was awesome.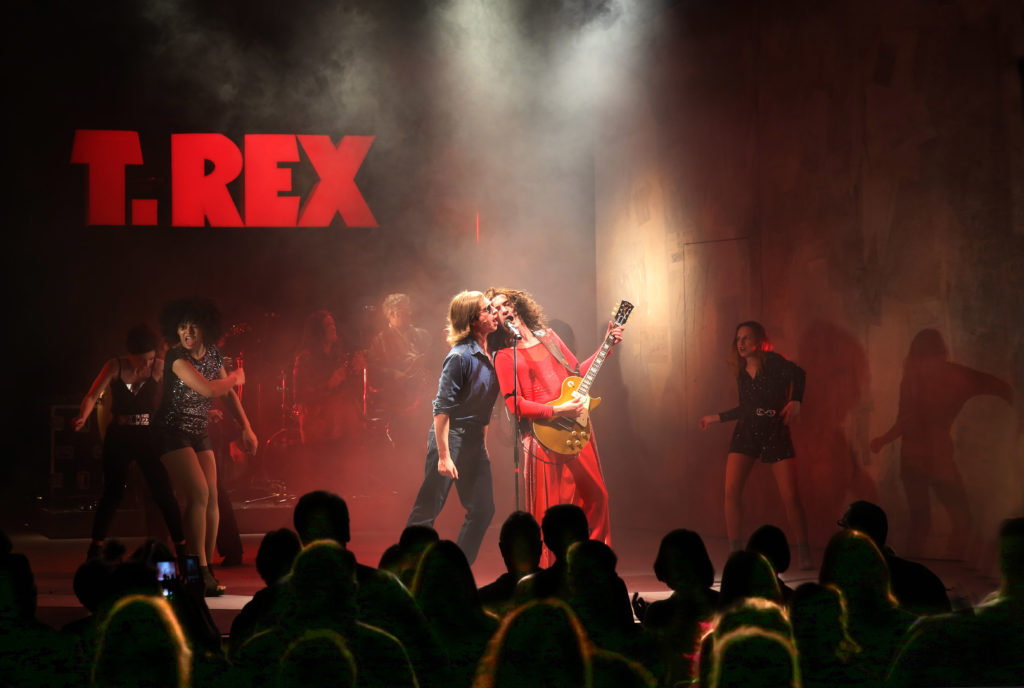 Credit: 20th Century Boy
If I am completely honest about the production the biggest let down for me was Marc Bolan played by George Maguire. I don't think he was a strong enough lead and did very little in terms of playing solos and actually rocking out without the band carrying him. The last song '20th Century Boy' which is the title of the production, he should have done some solo parts where he rocked out. The whole thing felt rushed and some parts weren't even playing just singing with the band were playing the rifts for him.
I think I wouldn't have been so dishearted about the production if it was just a song played in another musical, but because it was about Marc Bolan and his life the lead needed to be strong. Be able to play the guitar much better than he could. I think I have been spoilt by watching some amazing performances by other rock shows like http://www.backstageaccess.co.uk/a-night-of-classic-rock/ who had an amazing guitarist called Howie G (see below video) and http://www.backstageaccess.co.uk/a-night-of-buddy/ who had Alex Fobbester who played Buddy Holly. Both of these guitarists were amazing and I was expecting something like this especially when telling the story of Marc Bolan the founder of Glam Rock.
Here is an example of what I mean:-
Credit: The Classic Rock Show – (Howie G on the right)
Overall I think the production was OK, I did expect a lot better from the show. Especially because of the classic legendary songs that Marc Bolan and T Rex produced. I think its great that the show lives on because it educates a young generation to how it really was and it's important to know about this rock legend. However, I do think the story could be told in a better way, maybe through the eyes of his son? The production itself also needed improvements – Lighting (Ben M Rogers)  Directing (John Maher) and casting (Devvie O'Brien) could be a lot better. Especially the lead, sorry George you need to work on the guitar solos before I will really love you.
Highlights for me included the band (Michael Kantola) and musical arrangement (Ben Cullingworth & Alex Meadows) and Glorias Jones played by Ellena Vincent and the ensemble played by Amber Sylvia Edwards both ladies had stunning powerful voices. Well done!
If you like Marc Bolan/T-Rex then go and see this but hopefully, you won't be left disappointed like I was.
Tickets: Click here the production is in Manchester till Saturday 21st April 2018. Then continues with its UK tour.