I remember watching the 1967 film of Walt Disney's Jungle Book when I was a child growing up. I remember it with fondness as my mum would sing the classic songs from the film to me 'The Bare Necessities' and 'I want to be like you' even now I thinking about it I am smiling.  When I heard that the film had been turned it into a live production I was curious to see how they would do it.
Angie and I attended the press night of 'The Jungle Book' Live at the Lowry Theatre in Salford Quays. I was looking forward to travelling back to my childhood. The curtain raised to a young Mowgli played by Keziah Joseph was tucked up in bed and his mum giving him a kiss goodnight. The next scene finds puppet Mowgli meeting the wolves in the Jungle played by Grey played by Rachel Dawson, Leela played by Chipo Kureya and Samar played by Ruji James. Their outfits were brilliant and to try and look like wolves cubs they spent the entire production on crutches to try and look like they were walking on all fours. The wolves found a man-cub and were deciding what to do with him. They had a vote decided by Akela (leader of the wolf pack) played by Tripti Tripuraneni and jungle law says that they need to guardians in pops Baloo (a bear) played by Dyfrig Morris and Bagheera (a panther) played by Deborah Oyelade. To act as guardians to the young Mowgli. I thought the relationship between Baloo and Bagheera or 'Bagee' as Baloo called her was a nice. Their on-stage chemistry was good and the children in the audience laughed out loud a lot to them.
In comes the baddy Shere Khan (a Bengal Tiger) played by Lloyd Gorman fantastic outfit with 'Khan' written on the back of his jacket. Orange and black striped glitter! Shere Khan was trying to kill Mowgli to eat him and the wolves protected Mowgli from the Tiger.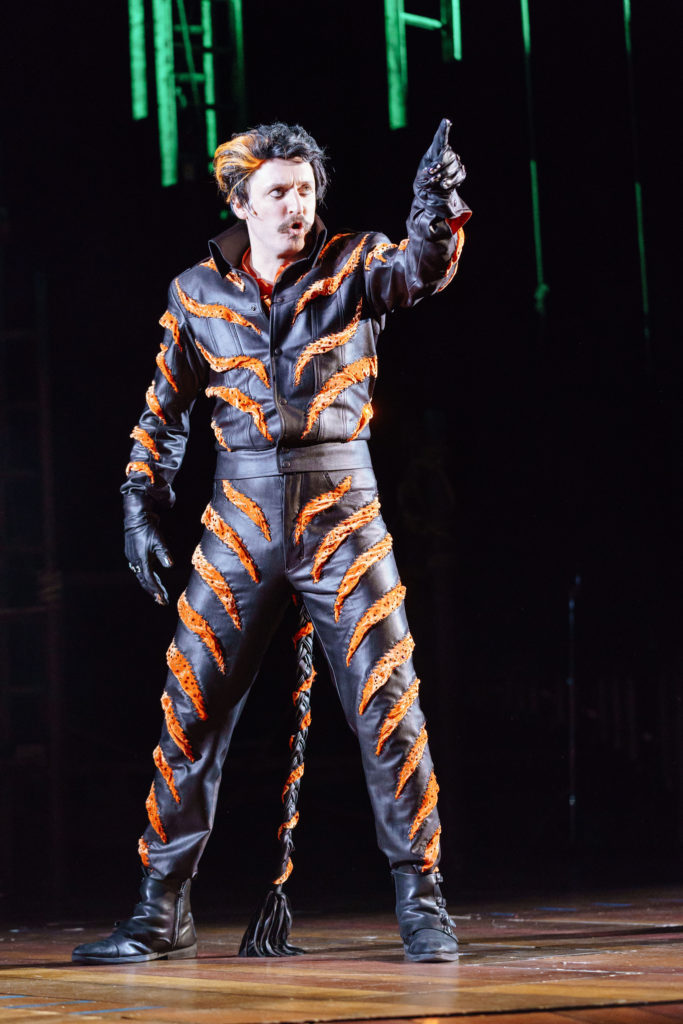 Credit: Manuel Harlan
I thought the set design was extremely clever a moving stage when the actors were running into different scenes. The Ladders too acted as a brilliant 'Jungle' the aminals could climb and sing on top of them. Great work Peter McKintosh! Awesome costumes too also by Peter!
I thought all the actors and actress had fantastic voices and all performed well together.
Other highlights for me were the Bandar-Log Monkeys they bounced on stage and ran into the audience sitting on peoples laps. They were hilarious and the children in the audience were screaming with laughter. Snicker played by Avita Jay, Larker played by Tripti Tripuraneni, Twitster played by Chipo Kureya and Mugger played by TJ Holmes. For me, the Monkeys were my favourite comedic part of the production! I loved the monkey ears too!
All in all a fantastic production for young children of all ages. Wonderful voices, acting, set, lighting and the live band was lovely too.
Definitely, to take the family to see this, they will love it! Also humour for the adults in the audience too.
Yes, Mowgli has a happy ending too! I loved the progression of Keziah Joseph from puppet to man and I loved her innocence and light-hearted spirit she brought to the production. Good casting Anki Carrol!
I also LOVED Kaas outfit (the Python) played by Rachel Dawson.
Credit: Manuel Harlan
Go and book this now! Especially as its just before a bank holiday! It's on until Sunday 6th May 2018 then it continues with its last date if the UK tour in Blackpool.
Tickets: here