Curtis James Jackson III aka 50 Cent was a big star in the early 2000's I remember his music because I used to play his music over and over "In DA Club' in the early 2000's. To date he has sold over 30 million albums worldwide. First signed to 'Shady Records' and discovered by Eminem also under the management of Dr Dre an extremely successful rapper. Having two mega stars like this to back you will certainly put you ahead of the game. Eminem and Dr Dre helped 50 Cent produce his first major album "Get Rich or Die Tryin'" a reference to him being shot at close range nine times in his home town of South Jamaica. Allegedly by attacker, Darryl Baum, Mike Tyson's close friend and bodyguard, who was killed three weeks later.
In the early 2000's 50 cent Jackson became one of the world's best selling rappers and rose to prominence with East Coast hip hop group G-Unit. 50 Cent is not only a musician; but an actor who currently produces a stars in a Television series called 'Power' which is currently in its 5th season, which airs on Starz and Netflix in the United Kingdom. The song 'Big Rich Town' is awesome!
Friday night Emma and I attended the Manchester date of 50 Cents tour. The arena was filled with a buzz eagerly awaiting the arrival of 50 Cent. He launches on stage with ahead of schedule with his songs 'What Up Gangsta' and then 'I Get Money' the crowd to to their feet to greet him. To the stage setting behind him is epic showing classic music videos from his tracks. A hold host of Nostalgic feelings comes flying back from the early 2000's. He then sings the cool track 'P.I.M.P.' and 'Many Men (Wish Death)'. The crowd are buzzing and copying his signature one handed gesture to the crowd.
He then continues through his back catalogue of hits '21 Questions' and 'Hate It or Love It', then to 'Ayo Technology' which the crowd loved! This was the collaboration track he did with Justin Timberlake shot in London, England in 2007.
It was nice to see 50 mention the people that helped make it; Dr Dre and Eminem. He then followed up with a snippet of Dr. Dre's 'The Next Episode' and then a nice tribute to the legendary Bob Marley by singing 'Is this Love'. Finishing with two of his biggest hits Candy shop and 'In DA Club' which got the audience going wild. The glitter canons were a nice effect which shot out from the stage on the track 'In DA Club'.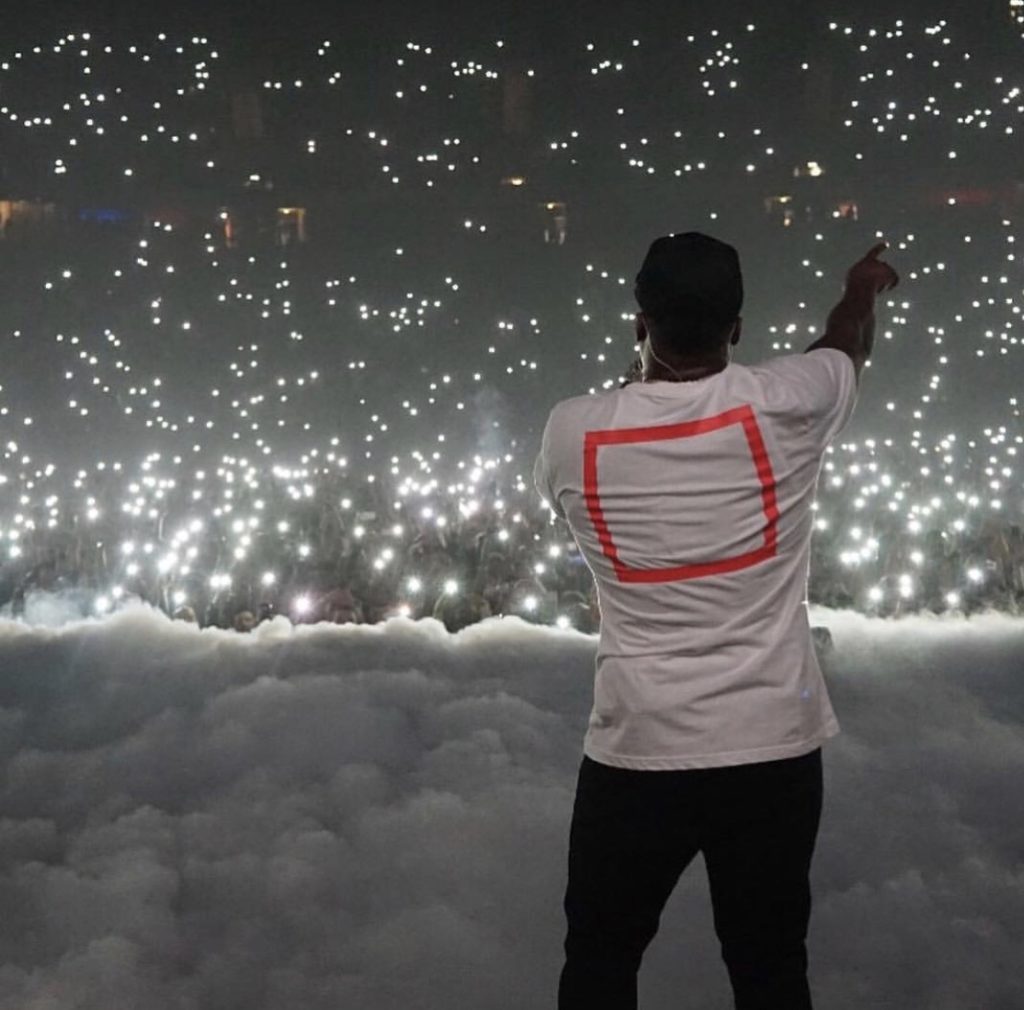 50 then came out to a short encore of  'Patiently Waiting'. The only thing that stopped this show being amazing was 50 cent was barely on an hour. Which was a shame considering with fees some of the audience would have paid up to £75 per ticket. I thought his performance and band were awesome though including the guitar solos and the tributes and mentions he made to artists that inspire him and have clearly had an influence on his music. All in all I really enjoyed the gig and would go and see him again.
Thanks to Hush PR and MJR Group 🙂