In 2005 an unknown musical made its debut in Los Angeles at King King, a club on Hollywood Boulevard. Formed from a book by Chris D'Arienzo the production now is the 28th longest-running show in Broadway History. Nominated for 5 Tony Awards and won a Theatre World award in 2009.
In 2012 it was adapted for film, which was made in Hollywood starring Tom Cruise, Mary J Blige, Alec Baldwin, and Catherine Zeta-Jones.
Set in the 1980's it told the story of the songs of Journey, Bon Jovi, Def Leppard, and other artists underscore a tale of big dreams in Hollywood. Soon after hopping off a bus from the Midwest, aspiring singer Sherrie Christian played by Danielle Hope immediately finds herself in trouble. Coming to her rescue is Drew played by Luke Walsh, a bar-back at the legendary club the Bourbon Room. With stars in their eyes, the young lovers chase their dreams, but a misunderstanding involving rock god Stacee Jaxx played by Sam Ferriday threatens to tear them apart.
Last night Kieran and I attended the Rock of Ages press night at the Opera House in Manchester with blowup guitars ready to rock! The stage opened with a burst of song and those awesome guitars rockin' out. The story was told by Lonny played Lucas Rush; Clever and quick-witted gave the production something special. Picking out an audience member 'Sharon' out at the beginning and referencing her all the way through the production. Give it a sense of realism. I love audience interaction in productions because it is usually very unexpected and unpredictable. This certainly was!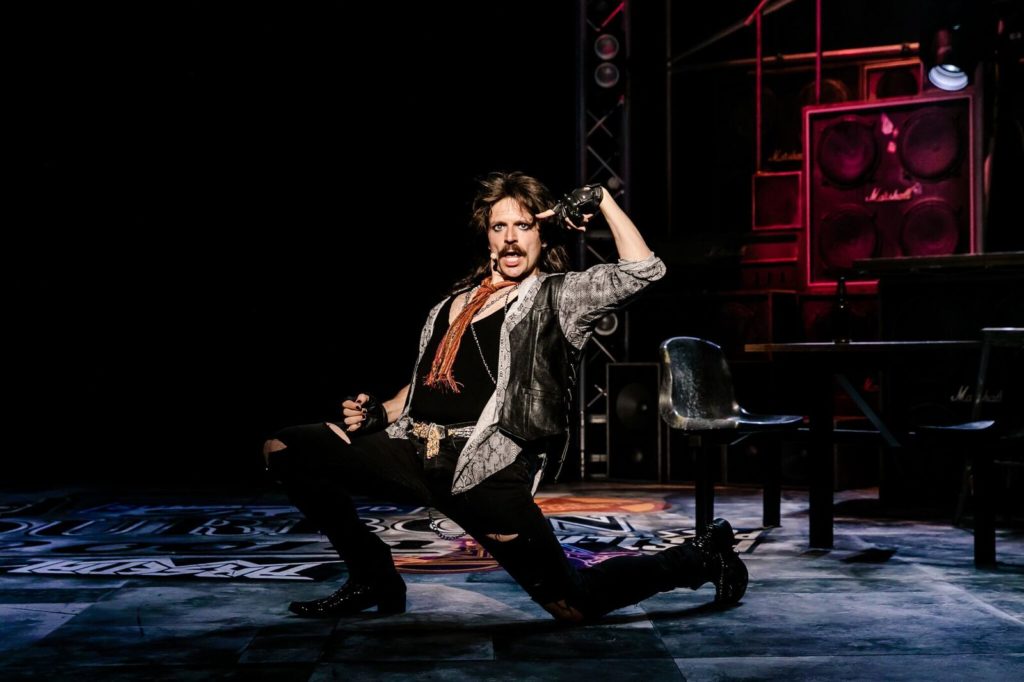 Credit: Richard Davenport
You can tell Nick Winston's direction and choreography a mile off because of its high adrenalin and fast-paced. The cast has to be extremely fit to be able to star in one of his productions. The mix of glam rock Hollywood sets and stunning voices really made this production outstanding. Never predictable and always offered a little bit more especially as act one was just about to close. Luca's narration was absolutely hilarious and had the audience crying with laughter. He said before it closes 'We had one more big song before you can have a drink and a wee' honestly he was really funny. Together with the funny characters like Franz and Hertz the German developers played by Andrew Carthy and Vas Constanti. Franz's dance with Regina played by Rhiannon Chesterman for the song 'Hit me with your best shot' was hysterical in his leotard jumping around the stage.
Of course with every good production, there must be a love story. Sherrie and Drew were the young kids in Hollywood trying to make it big as thousands do; played by Danielle Hope and Luke Walsh. Together both with powerful voice's performed some really beautiful 80's power ballads together. I particularly enjoyed 'Waiting for a girl like you' which is one of my favourite songs by Foreigner. Together they sound lovely the right element of power and harmonies together. I bet these two have a history you can't sing like that together and not! I also loved 'the search of over' which they both sing together too.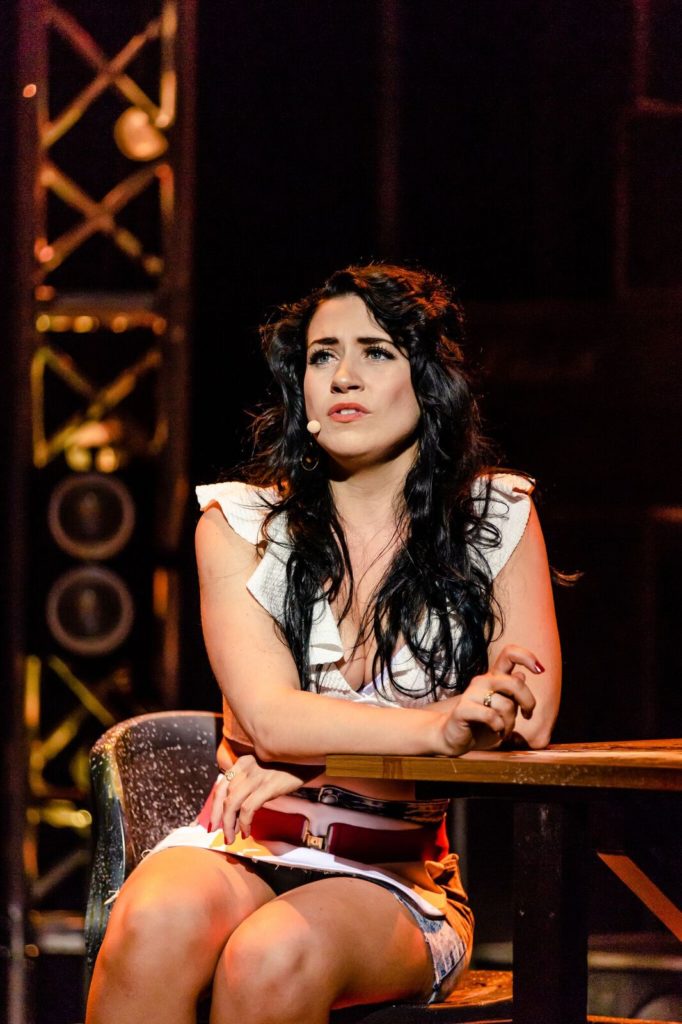 Credit: Richard Davenport
How can I not mention one of my favorite characters Dennis played by Kevin Kennedy who I interviewed a few weeks ago. He played the perfect owner of the historic Bourbon Room club. Carefree and passionate about this club and music. Someone said to me on my way out 'Who knew Curly Watts could sing' well lady he can! I loved his and Lonny's song in the second half 'I can't fight this feeling' awesome rock voices and equally hilarious with their dance moves! Good backflip Kevin 😉
Other highlights for me included 2002 winner of ITV's Pop Idol Justice Charlier sang played by Zoe Birkett. A beautiful very powerful voice as she sang 'Harden by heart/ Shadows of the night' with Sherrie. I would have liked to see her do more solo performances as she has an incredible voice.
I must mention Drew's solos again a lovely innocent voice perfect for the those big 80's ballad numbers. I loved him performing 'I wanna rock and the search is over'.
The stars of this show were without a doubt were Lucas Rush and Zoe Birkett. Both excel in their parts! Particularly, Lucas who he had the audience constantly laughing at his comments and sarcasm. He's ones of those people who you need in your everyday life!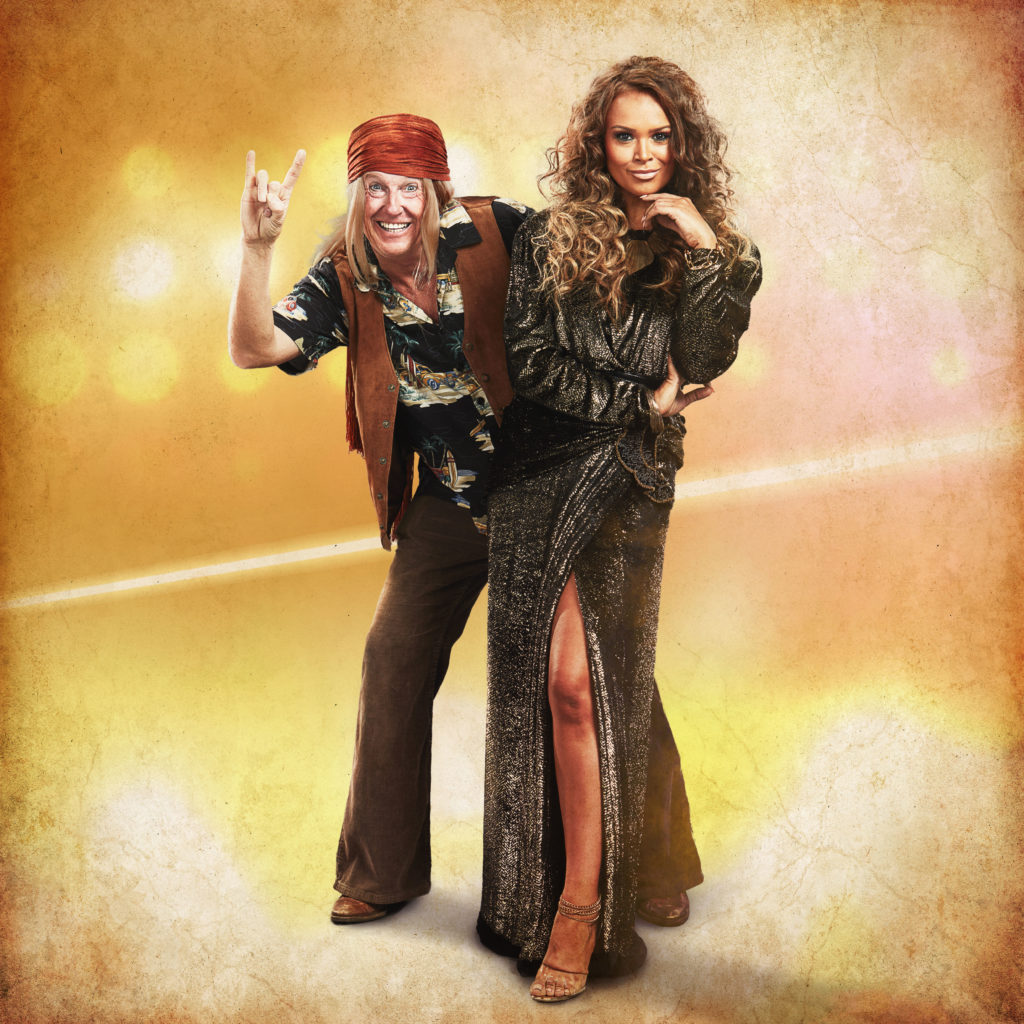 The 80's would have been proud of this jukebox musical cramming in hit after his and of course rocking out with the awesome band playing some massive guitar rock 80's hits by Twisted Sister, Bon Jovi, Foreigner, Whitesnake, Starship, Poison, Survivor and Journey and many more.
A fantastic night out which is not to be missed, this production will completely transform you back to the 1980's with bigger hair, leather, hotpants, and big ballad numbers. Not forgetting the added bonus of it being absolutely hysterical. Don't forget your air guitars though as you will be strumming them in your seat.
Well done to Barney Ashworth and his band for playing us some awesome hits!
Go and see this now!
Tickets: here
It's on in at the Opera House Manchester from now till Saturday 29th September 2018
Oh and don't forget to rock out!
Credit: Richard Davenport