Who doesn't love the 2001 smash hit legally blonde?? I had reservations about going to see this, would it live up to film? Would it be as funny! Well, read on!
Last night Catherine and I went to find out! From the very outset the scene was set this was going to be a colourful affair. The show starts with 'Oh my god' which is pure sugar! Where Elle thinks her boyfriend Warner is going to propose. In the end, he doesn't saying she is more Marilyn than Jackie and breaks the relationship off. Her plan to win him back takes her on a journey to apply for Harvard and in typical Elle Woods style, it's nothing but pink and fun.
Elle Woods is played by Lucie Jones who was from X- Factor and Eurovision. Her vocals are stunning and does the role justice. She takes us on the journey from bubbly at the start to a force to be reckoned with at the end after a rather interesting court case. When at Harvard she meets Professor Callaghan played by Bill Ward (Coronation Street) and his assistant Emmett played by David Barrat. They both had really convincing accents and didn't falter. Emmett is eventually a love interest for Elle after she takes him from drab to fab. On the other hand, Callaghan is the bad egg for Elle. Bill Ward played this character amazingly and in the end he got an outstanding boo from the audience. Elle in need of comfort at the salon meets Paulette. Played by Rita Simmons (Eastenders). She has a voice!! Wow! The ditzy beautician from the film was an integral and key part of the film and the actress in the film is well remembered for the role.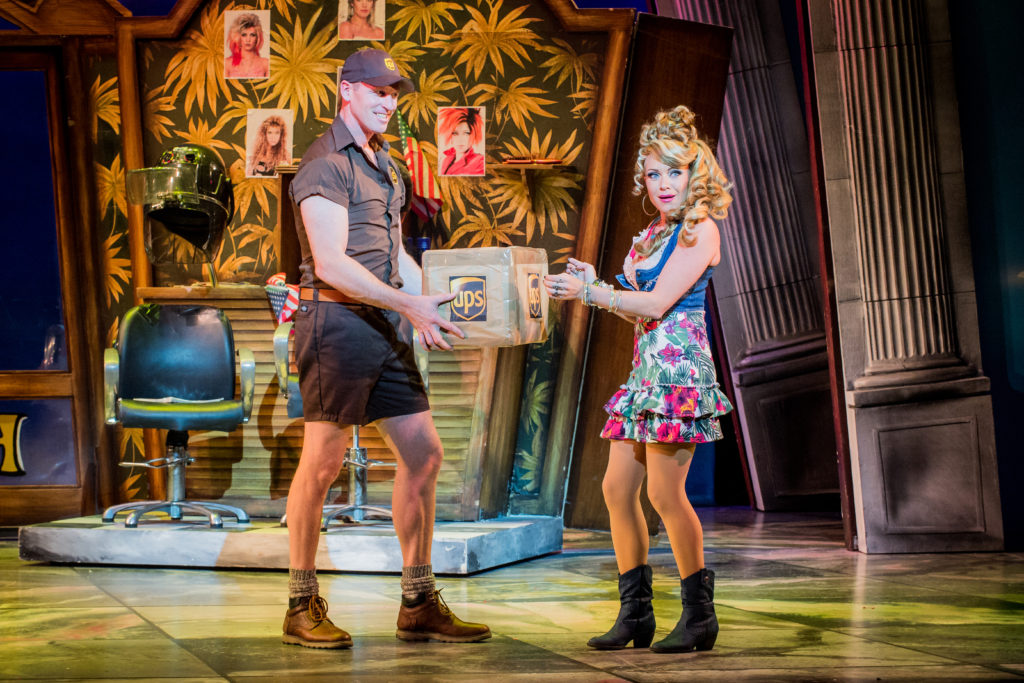 Credit: Robert Workman
Well, Simmons definitely gave it all and she owned the part. The bend and snap song made everyone laugh and involved that UPS guy and he was a real charmer!! The play definitely lived up the film in my opinion. The choreography was amazing and kept you watching the show. The songs were also great and there was a real mix of serious and fun songs! Our personal favourite was 'Gay or European' which had us nearly crying. The costumes were great! As expected the majority of Elles clothes were pink but the rest of the cast's costumes were well put together.
The stage looked great and I enjoyed the variety of different sets they used as it defiantly added to the show!! This is the last week of the production and I would really recommend that you go and see it!! Full of crazy moments that will make you wonder what you are seeing on stage (in a good way!) 5 stars from me!! Oh my god!!! Go see it!! We also LOVED the dogs Bruiser and Rufus very comical and well behaved!
Tickets: here
It is on until Saturday 30th June 2018 before continuing with the UK tour
Review by Emma Lowe