Set in 1933 in the great depression. Annie, an orphan from New York City who is taken in by America's richest billionaire Oliver Warbucks. Annie who at the beginning of the story is living in an orphanage which is run by Miss Hannigan a cruel alcoholic who forces the orphans to clean the building daily. With half of a locket as her only possession, she remains optimistic that her parents, who left her on the doorstep as a baby will return for her. An opportunity comes up for an orphan to live with Warbucks for a week in order to improve his public image. The two really hit it off, however, Annie was still on the quest to find her real parents. After the ups and downs of life, Annie finds her true home.
Last night Katie and I attended the press night of Annie on the opening day night at the Opera House in Manchester fresh from the west end. A fun packed celebrity night filled with TV stars and even rock royalty! Yes, you guessed it Brian May from Queen turned up to watch his wife on stage Anita Dobson who played Miss Hannigan.
Curtains opened and children burst onto the stage with song, dancing around their orphanage hoping for a better life. The set looked amazing bright like a jigsaw and with old school lamps on the set. The set reminded me of musical 'Matilda' I saw last year with 3D moving parts. The children in the audience giggled with anticipation as the young actresses danced and around the set. We meet Annie for the first time Taziva-Faye Katsanda a very confident little girl with a beautiful powerful voice. Singing 'Hard Knock Life' the choreography was amazing very polished and strict routines which are very high intensity. This is the work of Nick Winston, he is my favourite seen previously in Rock of Ages, Cats and other west end successful productions.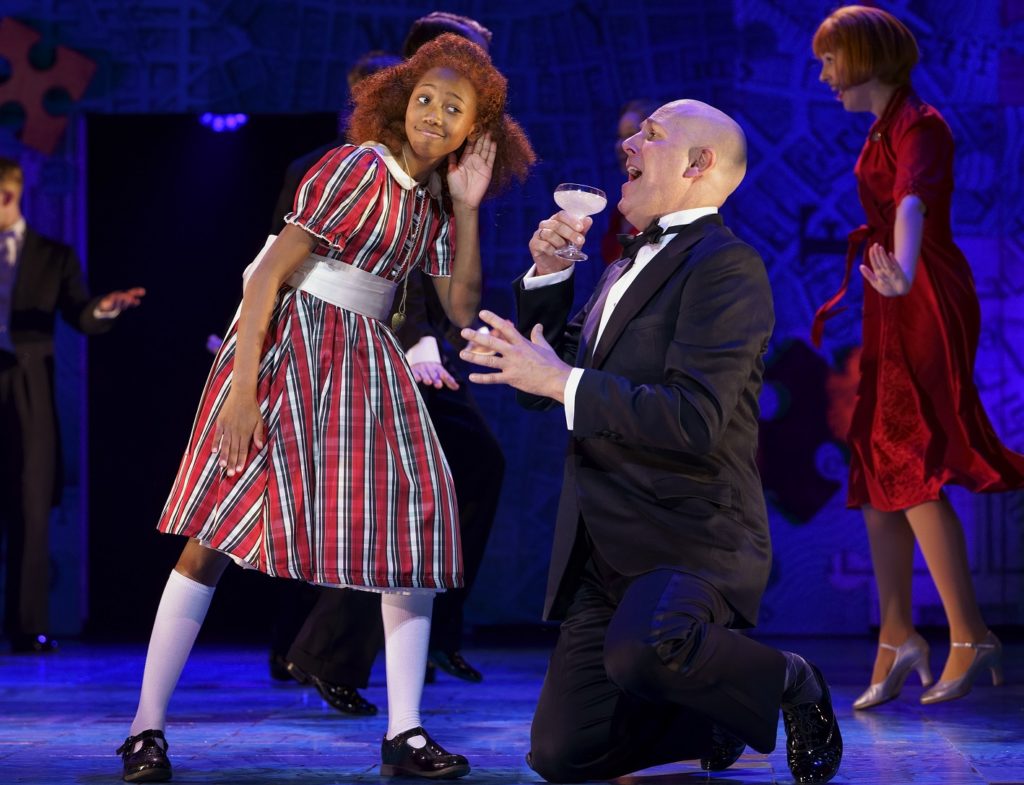 Credit: Paul Coltas
Taziva then sang 'Tomorrow' the classic Annie song and dancing around the stage. Again a beautiful powerful voice at such a young age! She has a big career in front of her.
Enter the grand Anita Dobson. Anita who at 69 years old looks incredible and very fit. She walked into a big cheer from the Manchester crowd as a mark of respect. Anita who already has had a long career in the theatre and onscreen; one of her most famous roles in Eastenders playing Angie Watts for several years.
Anita is toned and has good stamina; she had lots of singing and dancing scenes perfectly in time and kept up with the actors and actresses who were half her age! Well done Anita! She played a fantastic role as Miss Hannigan a mean and cruel owner of an orphanage and a perfect baddy. Her high pitched witch crackle made the children laugh out loud.
Other highlights for me were Rooster played by Richard Meek very funny and charismatic complimented Anita as a good baddy, especially in the second half. The children were growling at him in the audience. One of my favourite scenes was 'Easy Street' with Anita, Richard and Lilly played by Jenny Hayner.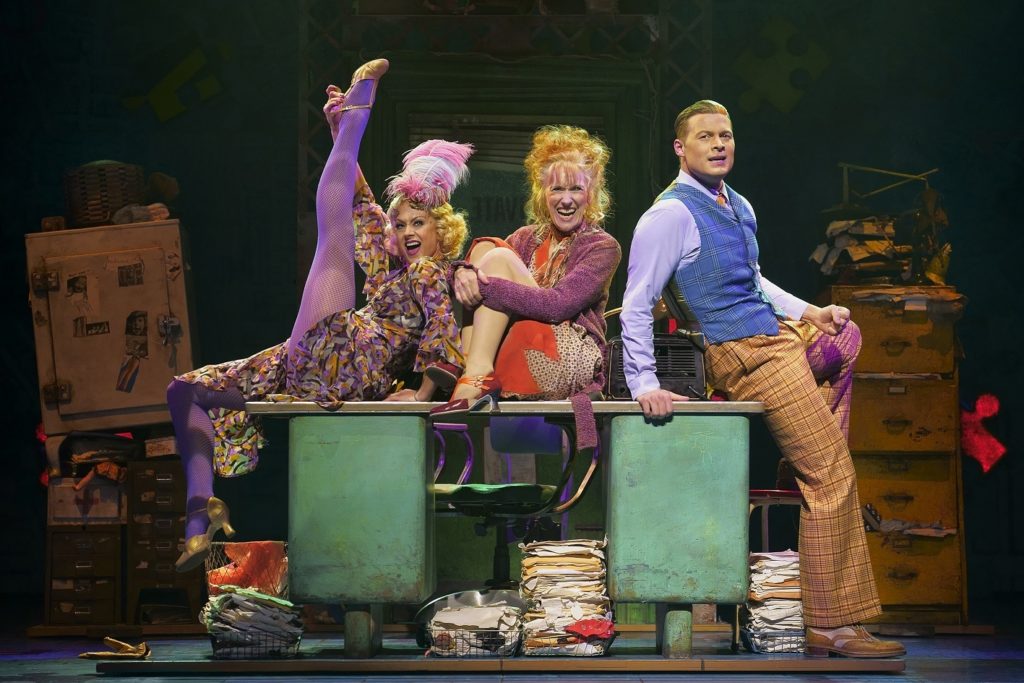 Credit: Paul Coltas
One of my other favourite really likeable characters was the other lead Daddy Warbucks played by Alex Bourne a believable rich billionaire, who had some really lovely scenes with Annie. Especially the dancing ones. He made the perfect father and again very well cast to complement Annie.
I have to credit Sandy the dog, well behaved and lovely to have a real dog in the production.
All in all fantastic sets, wonderful music by the orchestra. Well done to Stephen Hill and team. An extremely strong cast and crew and very well directed by Nikolai Foster, who has a long successful career as an artistic director. I loved your work in for an 'Officer and a Gentleman' which I saw last year.
A standing ovation at the end and Anita Dobson came out to announce they were raising funds for Great Ormond Street children's hospital; for a new brain scanner and for us to donate. A lovely idea to a worthy cause.
Thoroughly enjoyed the evening and very powerful performances with beautiful harmonies from Annie, and the cast.
If you have children they must go! They will love it. A 5 star from us, congratulations to the cast and creative.
Go and see this! A perfect family fun night out with plenty of laughs and giggles.
Tickets: HERE
On from now until Saturday 16th March 2019, be quick before it leaves!
Thanks to ATG team for another lovely press night.