Back in 1997 The Full Monty film made its debut in the cinema, made with a small budget of only $3.5 million however made a staggering $250 million at the box office wow! Written by Simon Beaufoy an award-winning writer who has won awards for Slumdog Millionaire and wrote for movies like The Hunger Games and other Hollywood movies. With an all star cast the movie has been turned into a play and is now on tour in the UK.
Last night Natalie and I attended a celebrity-filled first night of the Full Monty at the Opera House in Manchester. Excited by the fact that the ex-cast member Rupert Hill (ex corrie cast) was now the director, who is a really pleasant person who used to live near me. I was interested to see his spin on Simon's fantastic script. I was in for an interesting night, plus the fact I had an awful day and looking forward to seeing some 'bums of steel' ha ha.
If you don't know the story here is a quick summary.
After losing his job at a steel factory, Gaz (Gary Lucy) learns that his wife wants to sue him for missed child support payments. Desperate for money, Gaz and his friend Dave (Kai Owen) decide to create their own male strip-tease act. The two friends recruit four more men, including their former foreman (Andrew Dunn) and a security guard (Louis Emerick). The group promises that their show will succeed because they are willing to go "the Full Monty": completely naked.
The scene opens to Gaz and Dave on the rob, taking steel in the old warehouse they used to work in before they got made redundant. A funny opening scene because you can see the close relationship between the two lead cast members. Gaz ends up getting stuck on one the steel bars as they are trying to manoeuvre it and the audience laughs out loud.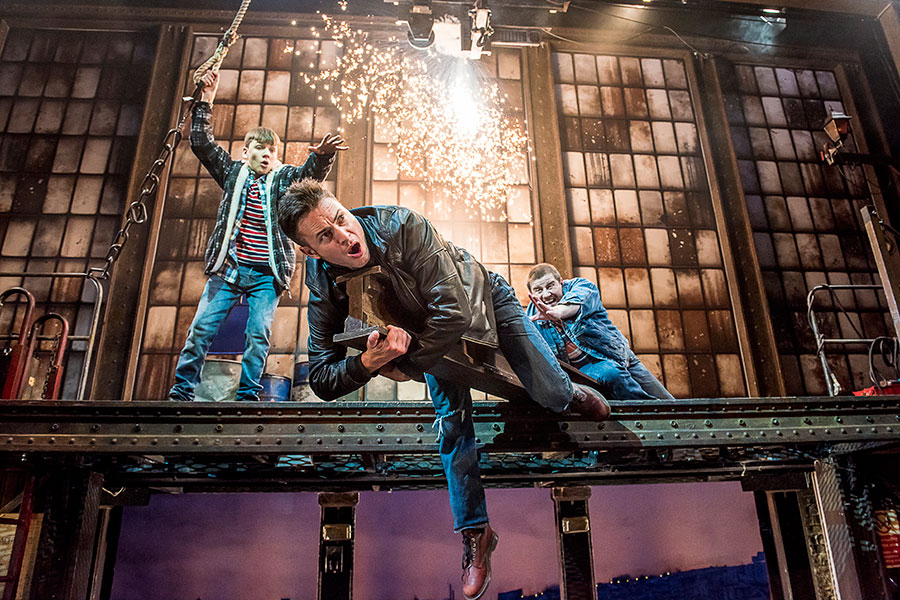 The play had many highlights and it was clear to me that the cast themselves had a good relationship between them, often laughing at each others jokes through out the play. The casting for the production was brilliant and characters were exactly like the film, well done Marc Frankum!
Highlights for me included the lineup in the jobcentre, when they are all queuing in a row and the song 'Hot Stuff' comes on the radio. They begin thrusting and dancing especially Louis Emerick and Kai Owen you guys got some moves!
One of my favourite characters was Dave played by Kai Owen his speeches about his weight were hilarious especially in the second half. Simon's text in the script are really funny because his words are easy to relate to . At some point in our lives we have all felt like this character Dave about our weight.
They say you should write what you know about. Simon was born in Yorkshire and this play is set in Sheffield in the 1970s. His words were completely fitting and the characters he created; most villages in the 1970's would have had similar versions of these in the mid 70s. I must give credit to the ladies in this production, the 'weeing scene' was laugh out loud funny. The girls reminded me of the girls from 'Rita, Sue and Bob too' (an 80's movie) just by their clothes and the way acted. Always with a fag in their mouths acting up. Great work Liz Carney, Keeley Fitgerald, Bryonie Pritchard and Amy Thomson!
Even though the play is a tongue and cheek production it does cover some serious issues like sexuality, body image, employment, mental health and separation. Which does produce some heart felt moments in the show.
The only negative point I have to mention is lead cast members accent in the play. Gaz (Gary Lucy) went off quite a lot from his northern Sheffield accent. Sometimes he even sounded Australian. A good actor though and very confident in his part. The northern accent just needs a tweak.
I would have liked more at the end of the play in terms of more of a dance. The iconic ending was tastefully directed by Rupert. It would have been nice for another song at the end, the Manchester audience were gaging for another dance at the end. The music by Hot Chocolate, Donna Summer and Tom Jones really gets in you in the mood!
I also must mention Gaz's son Nathan (Fraser Kelly) fantastic young actor with a great career ahead of him. Very believable in his character and his long monologues.
Also the scene with Guy (James Redmond) and Lomper (Joe Gill) quite emotional and touching scene between the characters talking about Lomper's coming out and dealing with it.
If you want a fun night out with plenty of northern laughs and a dance then this is the show for you! Go and see it before it leaves.
Its on from now till Saturday 23rd Feb 2019.
Tickets: HERE
Check out my interview here with cast member James Redmond who plays Guy :-