Everyone enjoys a good Pantomime. Mum and I have been going for years, I was always lucky enough for my parents to deeply appreciate the arts and mum would always save up and take me to the theatre as a little girl.
This year's Panto is Cinderella in Manchester! I met the all-star cast in October this year, check out my videos interviews: here the cast line up is fantastic and after meeting the cast I was even more excited about going to the press night last night. The stars of the show were Coronation Street's Connor McIntyre (Pat Phelan) and TV presenter and fellow Corrie star Micheal (Les Dennis). After a successful four year on ITV1's Coronation Street, Where Pat killed off Michael, they were reunited for this panto, which was Les Dennis wife's idea they told me in October. 'Phelina and Michaela' were born an extension of there character names from Corrie. I couldn't wait to see them in drag!
Last night mum and I attended the press night in Manchester at my favourite theatre the Opera House, a packed out theatre on all three levels mum and I were like little children excited!
We were greeted with a crystalised Cinderella stage all Christmasy. Out popped the Fairy Godmother played by good friend Hayley-Ria Christian looking beautiful in a white dress and glitter pumps. Embraced with song and spoke to the children in the audience. A lovely opening.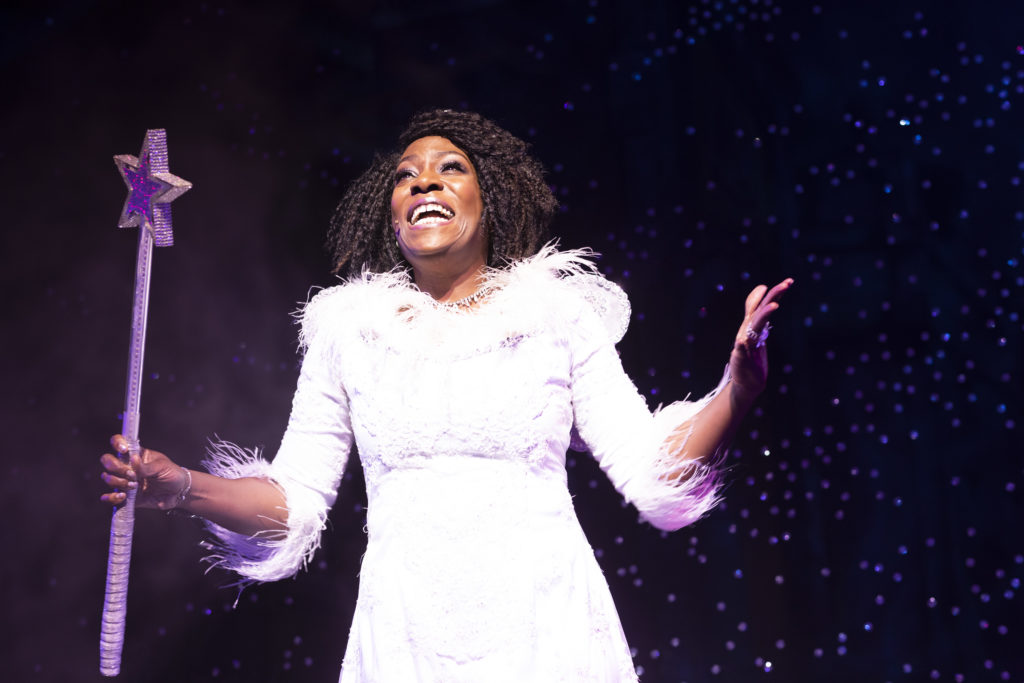 After this we met Buttons played by Ben Nickless little did we know he would turn out to be one of the main stars of the show! A friendly, hilarious comedian as well a perfect 'Buttons' who could relate to the audience in a very grounding way. He quickly mastered the audience interaction and got the children of the audience shouting to his requests. I loved his character especially when he picked people out of the audience made jokes and sprayed them with a water gun haha!
Time to meet the Ugly Sisters! They looked fantastic in there dresses an extension of their fun characters greeted to big cheer from the audience roars and claps. Well done Mike Coltman and his team, who have over 30 years experience in costume design they look wonderful!!! I particularly enjoyed the Greg's special meal deal at the top of this article with the can of Fosters and McCoy's crisps dresses honestly I cried with laughter. (See photo above)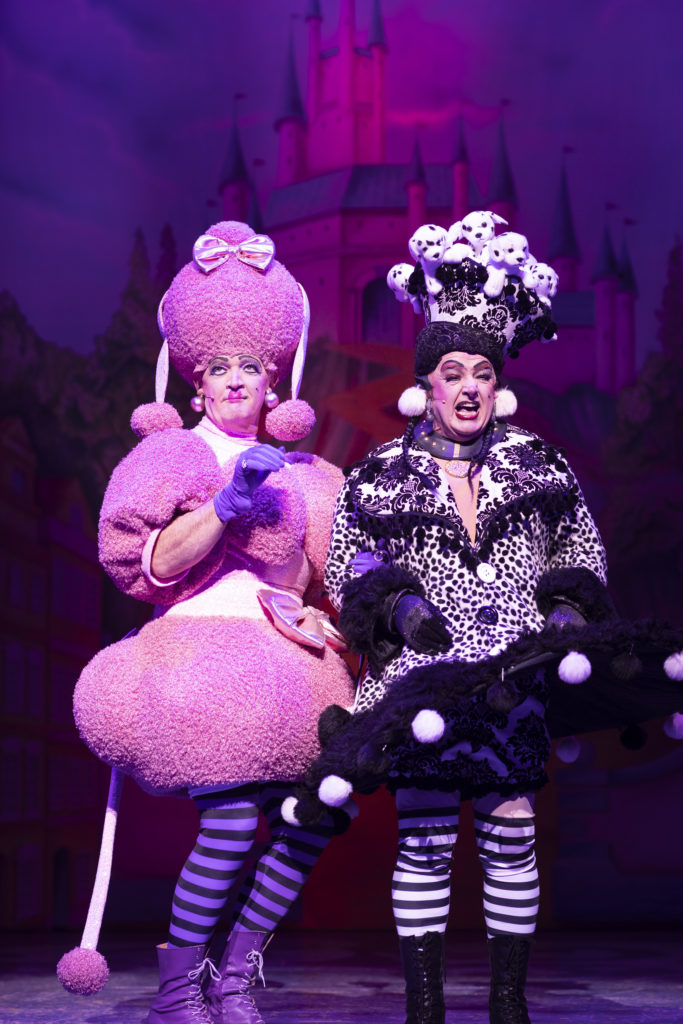 A magical moment for me and the audience was just before the first half finishes the scene 'To the Ball' beautiful magical horse-drawn carriage, which flew high above the audience with Cinderella in. The glitter cart came over the audience and the horses looked real! The children in the audience gasped with excitement! Plus I  have NO idea how they did this! Well done to The Twins FX it looked magical and a real highlight for me and the audience!! Actually, a really beautiful scene to watch!
Another highlight for me was Princes Charming sung 'unchained melody' played by Gareth Gates which he released as a cover back in 2002, which reached number one in the UK charts. He still has a lovely voice! He was runner-up in Pop Idol in 2002.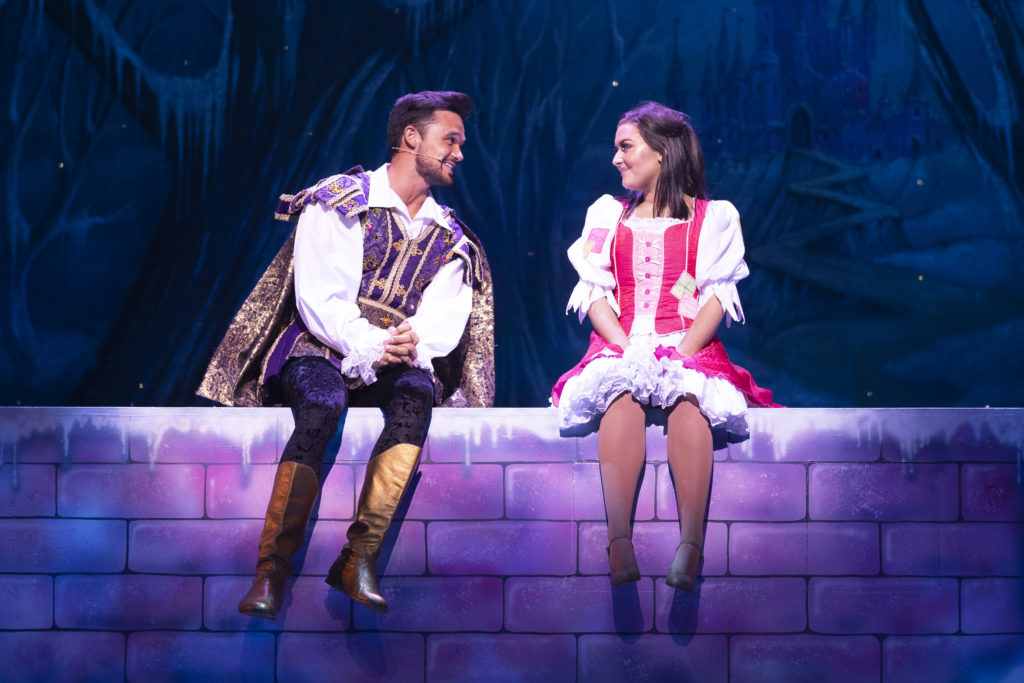 My favourite highlight was in the second half near the end when Connor, Les, Gareth and Ben did an laugh out loud sketch. This comedy sketch alone is worth the ticket price. Mum and I were howelling with laughter!
Ben Nickless who plays Buttons brought his own comedy to the show with Manchester digs, hilarious celebrities impressions (His Elvis face, I am smiling thinking of it!) his funny voices and dance moves is a show all on his own. Put together with the ugly sisters and Gareth really makes special performances throughout the night and all told hilarious jokes about their careers in Corrie, Pop Idol and Family Fortunes plus extras about Manchester. A truly fantastic script well done Alan McHugh and additional pieces by Ben and Les!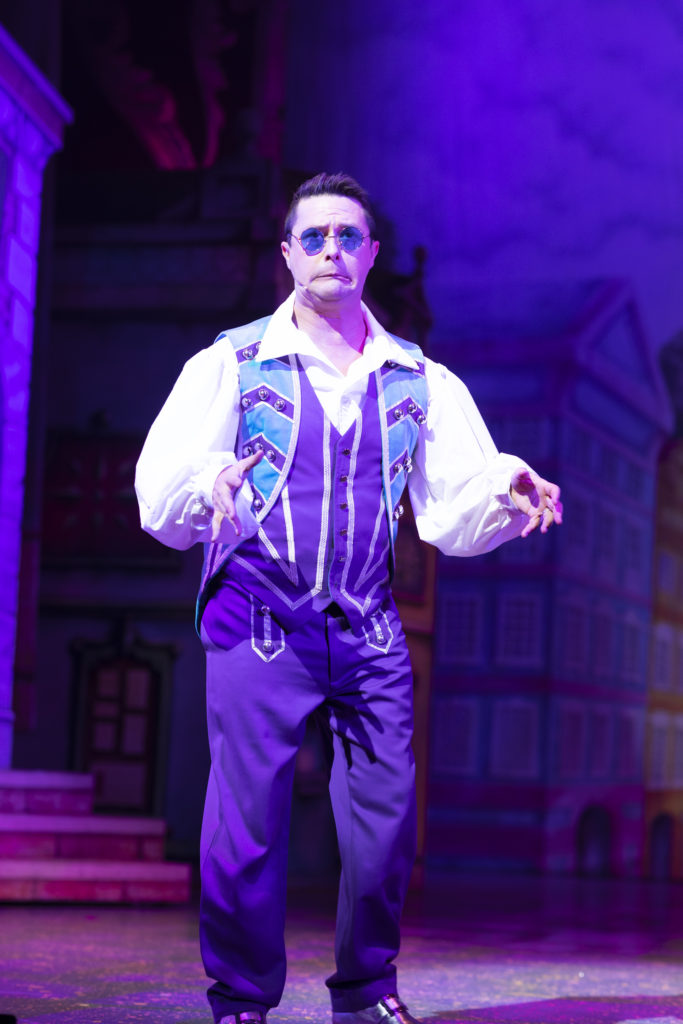 We also loved Cinderella herself played by Shannon Flynn who is stunning with a lovely voice.
Congratulations to Qdos Entertainment an all-star cast, fantastic script, costumes, music and special effects and lovely music conducted by Steve Price and his orchestra.
Ben if you go on tour next year as a stand up I am BOOKING it!!!
A 5 star from us, the BEST pantomime we have EVER seen! Connor and Les, you have big futures ahead of you these roles were perfect!
If you want to get into the festive spirit early get and book this now! Suitable for all ages and some howelling performances that will make you cry with laughter. I swear its taken years off me!
Tickets are available from now until Saturday 30th December get them here
Thank you to Alison and her team at ATG who hosted another wonderful press night.
Review by Amy Parkinson