Last night Kieran and I attended the press night of Doctor Dolittle at the Lowry Theatre in Salford Quays. The Story of Doctor Dolittle is about a man who talks with the animals (played by Rex Harrison in the 1967 film). Not succeeding well as a real Doctor – largely because he prefers animals to even the best of people, Doctor Doolittle becomes an animal doctor. His pet parrot convinces him to learn the animal languages and he becomes a great success. In order to fund an expedition to find the Giant Pink Sea Snail Doctor Doolittle joins a circus but this leads him to help a love-sick seal return to her freedom – an act that loses him his. The circus animals help him to escape and he sets off on an adventure aboard "The Flounder". The travellers end up on a floating island eventually meeting the snail who gives his friends a lift home – he himself not returning to avoid re-imprisonment. But when his friends clear his name he is able to convince the giant lunar moth to give him the ride he needs to rejoin them.
The curtains opened and out popped Polynesia the Parrot puppeteer-ed by Vicky Entwistle and others. She looked completely different from her Coronation Street days, where she played outspoken Janice Battersby. Slim, short blonde hair with a lovely voice too. Mark Williams plays the lead as Doctor Dolittle who has an extensive acting career which includes Arthur Wesley in the Harry Potter films, roles in the Fast Show and The Borrower. He does make a fun Doctor Dolittle however like Rex Harrison in the film, singing isn't his strong point but he carries it off with charm. He is a likeable character and it easy to grow fond of him.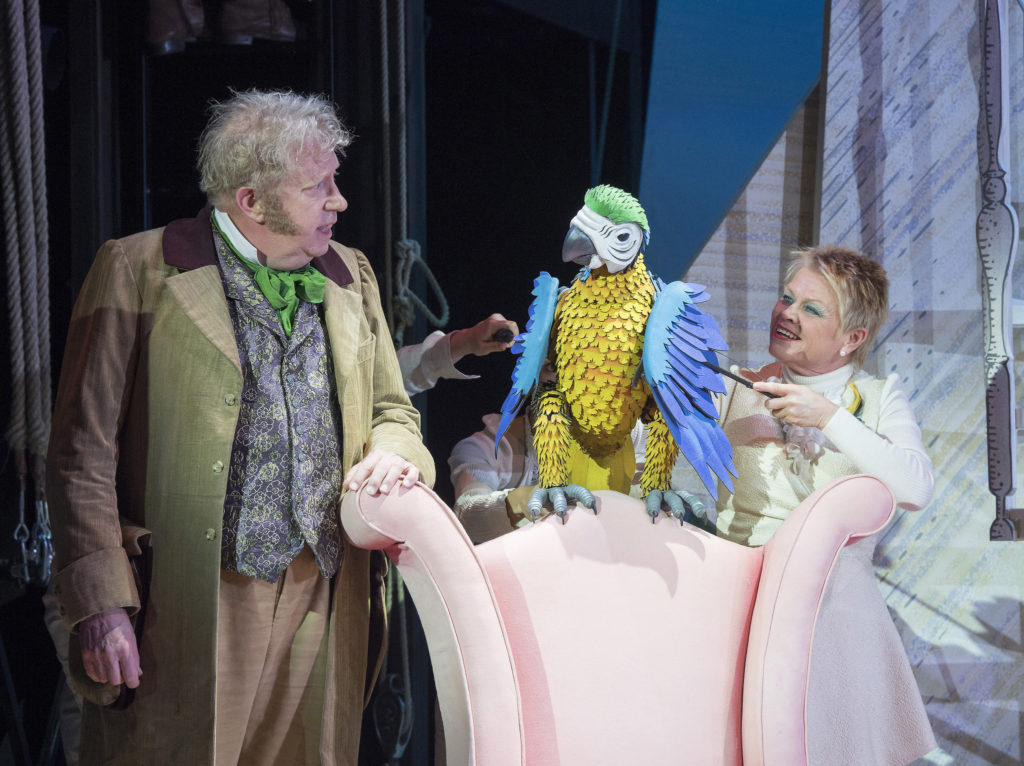 Credit: Millennium Forum
Highlights for me include Emma Fairfax played by Mollie Melia-Redgrave has a stunning voice and reminds me of the Mary Poppins actress Julie Andrews kind of posh well-spoken character and Matthew Mugg played by Patrick Sullivan who plays her love interest; has a delightful glimpse of Irish charm and makes us believe that true love does exist again. Brian Capron doubles-up as Albert Blossom and Straight Arrow (Remember Richard Hillman in Corrie, that's him!) and so does Adele Anderson as Lady Bellowes and Poison Arrow and both are good. Although Adele's voice is very weak and sometimes at parts out of tune.
The stars of the show for me are the hard working puppeteers with a cast of twenty-five which includes dogs, cats, squirrels, birds, seals, cows, pigs, dodos and unicorns and smaller animals it is clear that ensemble and Jimmy Grimes the puppetry director have had long periods of rehearsal time especially when they are perfectly timed to the orchestra directed by Mike Dixon. There's also a giant pink sea snail that completely fills the stage, a flying giant moth that flies towards the audience and of course a Pushmi Pullyou! The puppetry is of similarity as to the Lion King and Warhorse standard, just as good and cleverly choreographed to perfection. The children in the audience smiled and laughed as the animal puppets came out especially the giant pink sea snail which completely fills the stage! As well as a flying giant moth that flies towards the audience, with Doctor Dolittle in his grasp.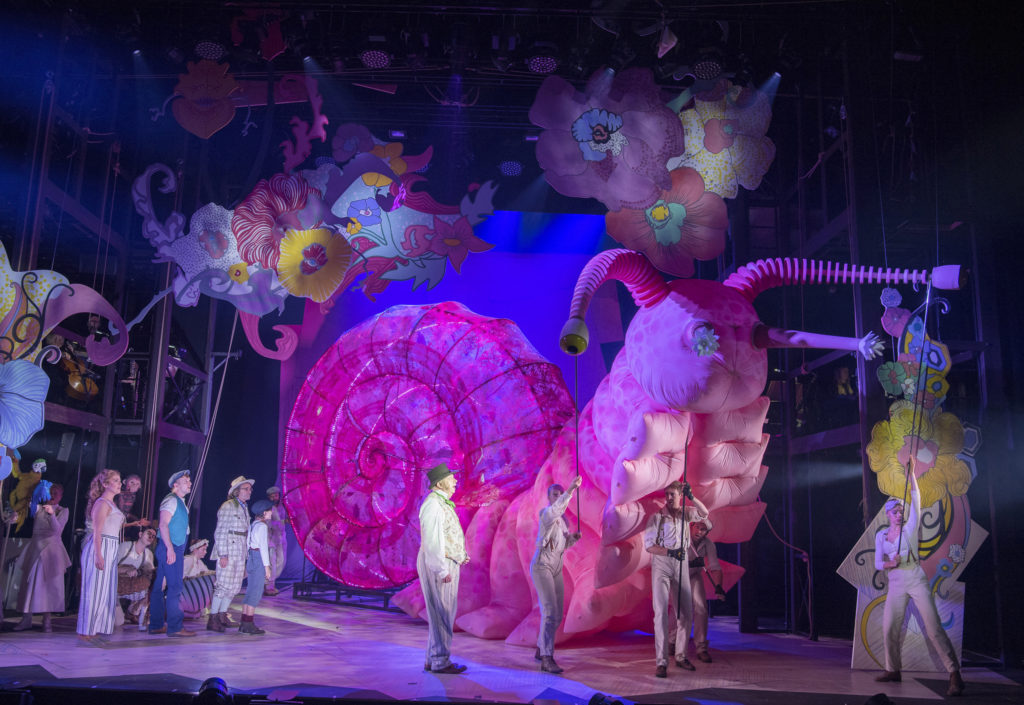 Credit: Millennium Forum
The musical is coming up to its 50th anniversary since the film was released for me even with the updated version as a musical it still lacked flow within it. The action stops suddenly at points for a nice ballad a few times without the plot being moved along, kind of a stop-start feel. However the stage, set, puppets and the ensemble really make this musical a treat for children to watch especially in the last few final scenes with the giant puppets.
A clear message to the audience about loving all animals and treating them as our family as we share this planet with them. I must admit I walked out of the theatre suddenly wanted to adopt a kitten or puppy ha ha.
Congratulations to Nick Barnes who designed the puppets and Jimmy Grimes who directed them a dream team of mastery of puppetry!
A nice treat before and after Christmas for you and your family. Tickets are on sale from now until Saturday 5th January 2019. Get your tickets: here
Thank you to Victoria and Nicky and their team from the lowry who hosted a wonderful press night.
Review by Amy Parkinson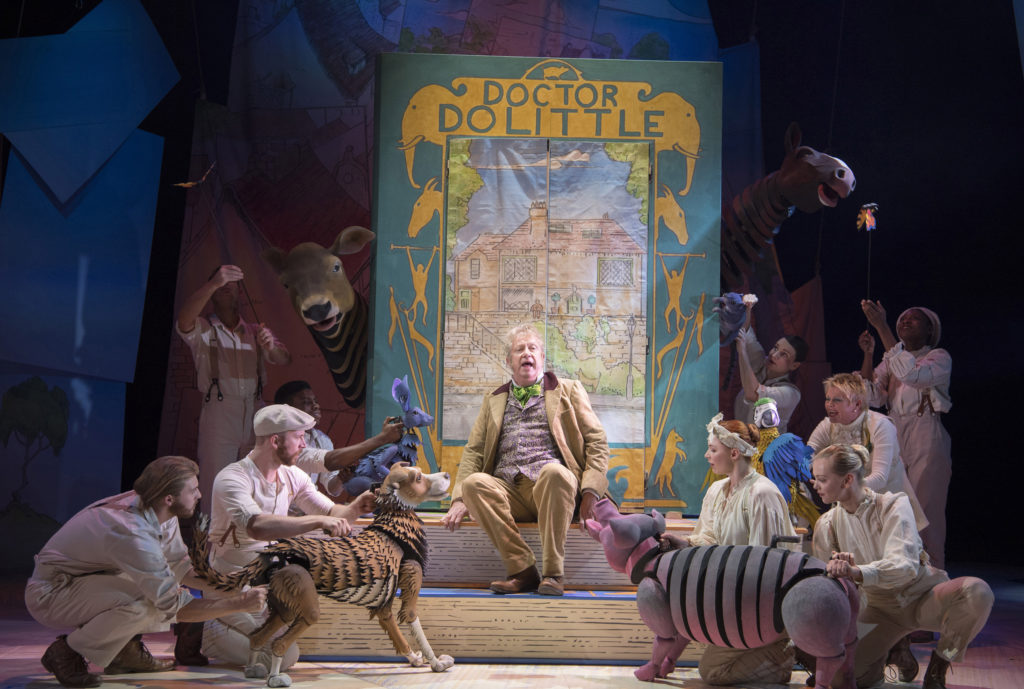 Credit: Millennium Forum