Wow, what a night! We were greeted with a fabulous blue carpet press night last night! Lovely giant smiles from (Alison and Chloe) and little cupcakes at the Palace Theatre in Manchester. Having our photos taken by a professional photographer (Phil Tragen) and mingling with Manchester's finest, TV stars, Radio presenters and Manchester's up and coming creative talent!
Janine and I had been looking forward to this press night for a while now. The reviews in the media had been good and we were ready for some easy viewing and uplifting Abba songs.
On a hot summers night, the curtain opened to a young Sophie Sheridan played by Lucy May Barker pondering who her father is. Living with her mother Donna Sheridan played by Shona White on a small Greek island called Skopelos. Sophie comes up with a plan to find out who her Dad is; as her mum won't talk about it. Sneaking a peek in her mother's old diaries, she discovers three possible fathers: Sam, Bill, and Harry. She secretly invites all three to the wedding, convinced that she'll know her father when she sees him. But when all three turn up, it may not be as clear as she thought! From then on its a magical story told through Abba's biggest hits leading up to the wedding including the Hen &  Stag do and a surprise discovery for Donna!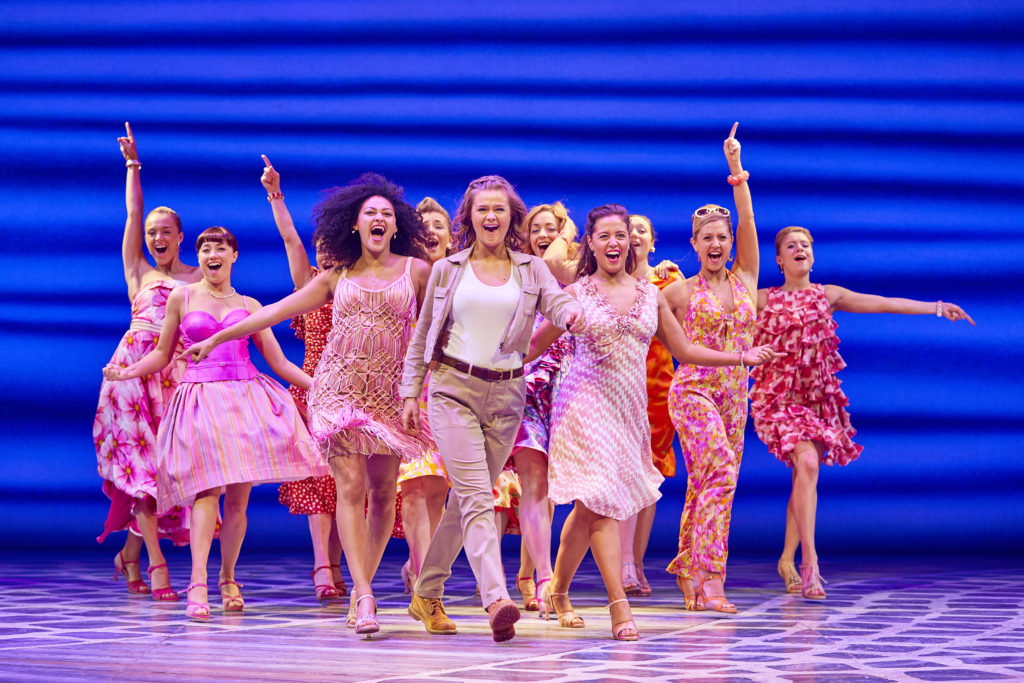 Credit: Brinkhoff M+Âgenburg
The show for me was bright, colourful and plenty of hilarious humour. I thought Sophie and Donna had wonderful and powerful voices. It took Sophie a little bit of time to fully come out of her self, in the beginning, her beautiful innocent voice was so sweet, I didn't think she would be able to reach the notes especially in some of the more challenging Abba songs. She did! That and more. Let's face it Abba songs aren't the easiest to sing. Especially the song 'Lay all your love on me' with her duet with Sky played by Phillip Ryan. Sophie really showed off her vocal range.
For me, the main highlight of the show was Donna Sheridan's part played by Shona White. Again one of the most difficult parts of the movie, this character this part is played in the Hollywood movie by Meryl Streep. Shona surpassed my expectations with her large vocal range and at times stole the show! With songs like 'Voulez-Vous'. Shona herself has an impressive history of theatre acting and singing she is even an associate of the Royal Academy of Music, London and winning an award 'Ronald White Prize for Acting through Song' Shona was perfect for this part! One of my favourite songs included 'Super Trooper' at the end where Shona, Rosie played by Nicky Swift and Tanya played by Helen Anker. Took to the stage in their bright 1970's Abba outfits and got the audience dancing. I loved their outfits plus then men too joining them were fantastic. Sam Carmichael played by Tamlyn Henderson, Harry Bright played by Daniel Crowder and Bill Austin played by Matthew Rutherford. Joined the ladies in matching outfits dancing to 'Mamma Mia, Dancing Queen, Waterloo and Super Tropper' had the audience dancing on their feet together the rest of the cast.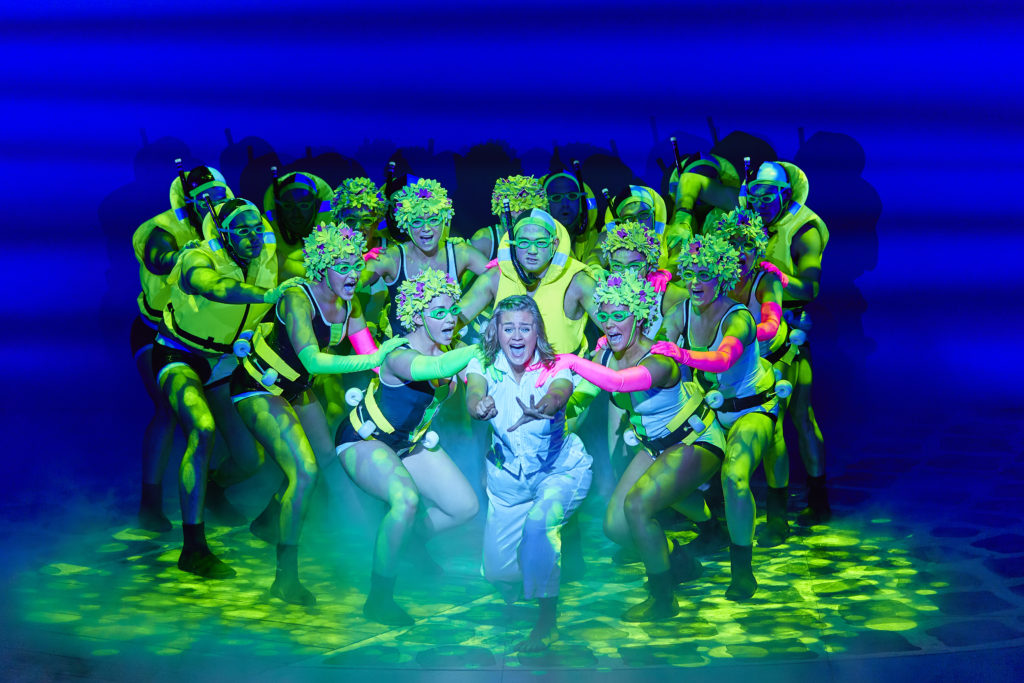 Credit: Brinkhoff M+Âgenburg
I must also give out a special mention to Tanya played by Helen Anker. Wow, what figure! Gorgeous. She made Janine and I literally Laugh out Loud with her scene with Pepper played Matt Jordan-Pidge singing 'Does your mother Know' where he tries to seduce her! Where she knocks him back! Such a funny scene. One of our favourites!
I must also say the boys in this scene are wonderful dancers too, very fit! Melt…. lol
I must admit the scene where the men dance in diving flippers is also hilarious and incredibly difficult to dance in. Well done boys!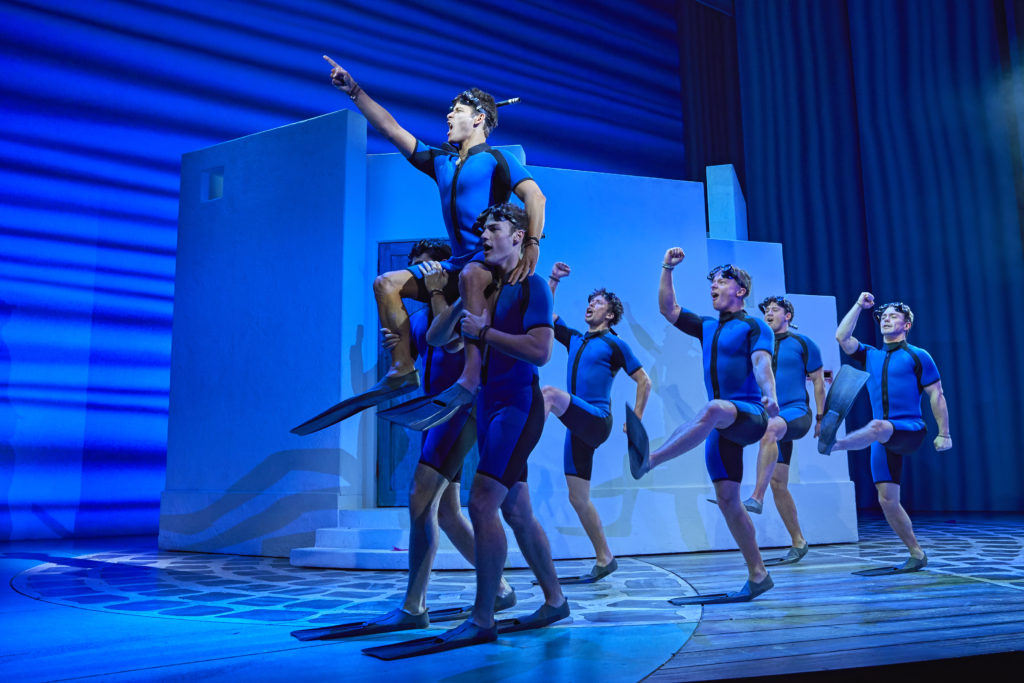 Credit: Brinkhoff M+Âgenburg
Scenes with just Shona and Lucy May were also lovely. Together they both have beautiful voices and complimented each other beautifully, very believable as a mother and daughter. Especially the song 'Slipping through my fingers'.
All in all, a very well cast, uplifting, fun and well-choreographed production.
Mamma Mia the musical itself has been seen in over 50 countries in all 6 continents and estimated to have been viewed by over 60 million people. Abba is big business!
A highly recommend seeing this cast of Mamma Mia, good chemistry, hilarious scenes and some beautiful singers especially Shona White who steals the show.
Hurry though its only in Manchester till Saturday 14th July 2018
Get your Dancing Queen tickets now! Its a 5 star from us! Congratulations and thanks to ATG for a wonderful press night!
Tickets: here
Review by Amy Parkinson
Artist Guestlist included: