As a young teenager back in the 90s, it was the era for boybands. They were everywhere on the radio, on the television and even more importantly in my teenage magazines like Smash Hits, Sugar and Bliss. Full page photos of my teen idols Take That, Backstreet Boys and the Spice Girls. A fun time to grow up without the distraction of mobile phones and social approval.
Take That a boyband formed in Manchester by Nigel Martin Smith five young boys from all parts of the UK form to make UK chart history. With 12 number ones and multiple awards behind them. Singing songs about love, romance and all the nice things that teenagers like to hear. A great time to be alive!
Last night Kieran and I attended the opening night of 'The Band' showing at the Lowry Theatre in Salford Quays. A new musical written by the musical genius Tim Firth a man behind the award-winning  Calender Girls, co-writer of Kinky Boots and a long list of television/ film credits to his name.
I was looking forward to being taken back to the nostalgic route to my teenage years. The musical starts its journey with five teenage girls in the early '90s in school at 16 years old. Listening and learning Take That's songs, dances, living breathing and enjoying everything that is too support a boyband. The girls decide to go and see the band for real at a gig, which they love.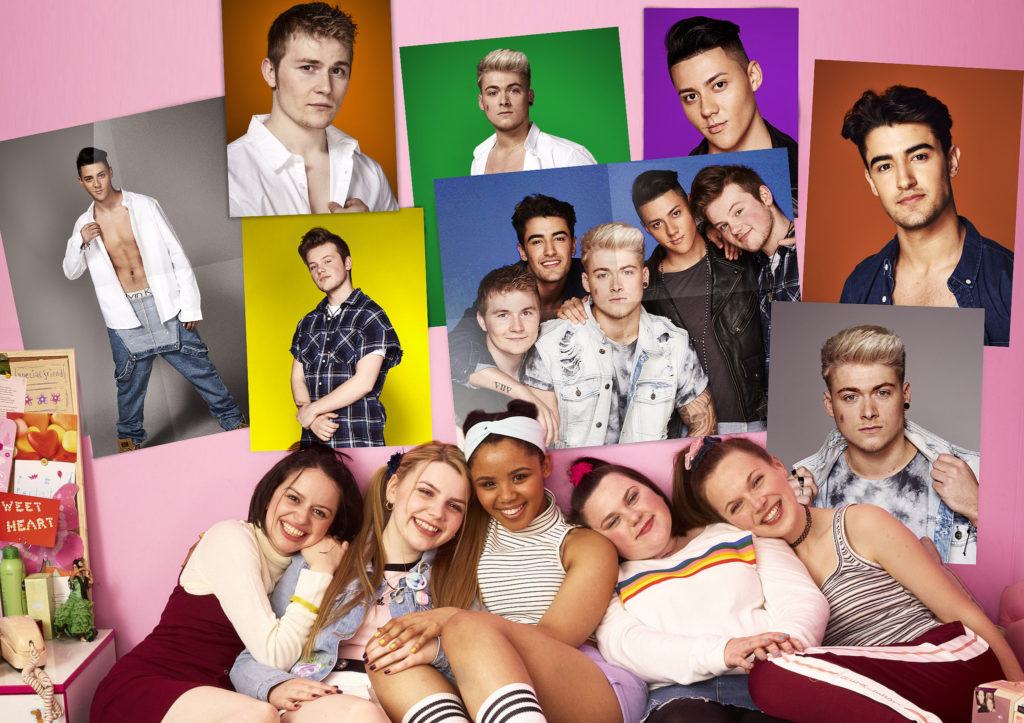 Credit:  Matt Crockett
Skip forward twenty-five years and the girls are now ladies and have all grown up apart from one.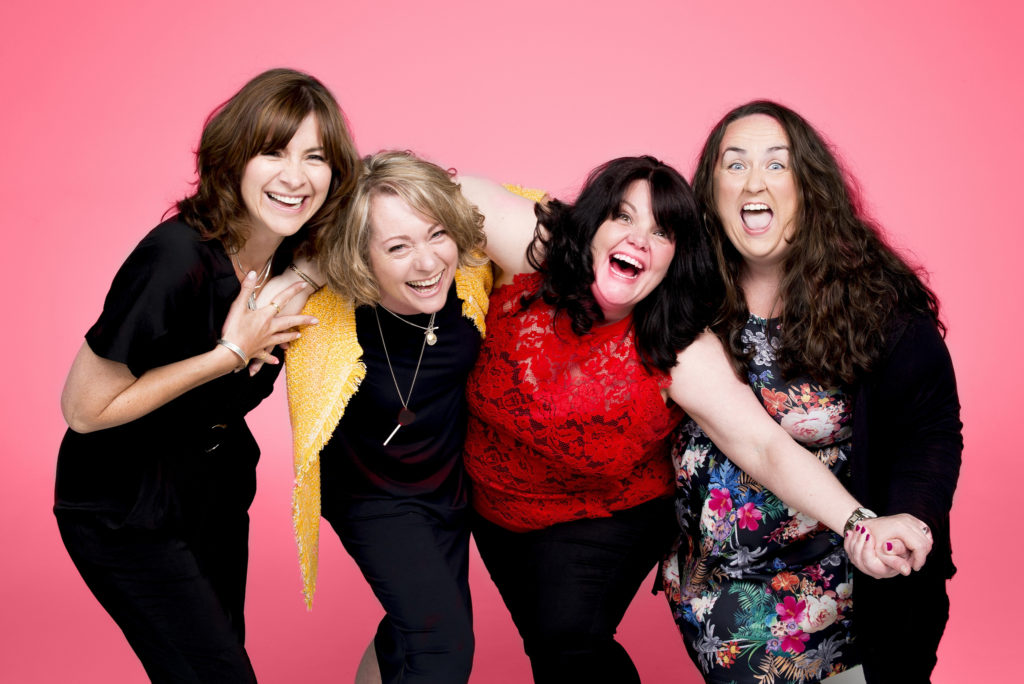 Credit:  Matt Crockett
We now meet the ladies in their early 40s. The story sees them reunite for a gig in Berlin. A special friendship reunited for the love of the boyband. The ups and down of teenage life, adulthood and a tragic circumstance. The plot line for the musical is strong and it's nice to see the girls evolve into women. Throughout the story, the scenes have a young version of Take That performing the bands original songs. The boys are AJ Bentley, Curtis T Johns, Nick Carsberg, Yazdan Qafoui and Harry Fabulous Brown. The boys were formed on BBC reality show 'Let it Shine' originally called Five to Five.  The ladies were also cast in the show for the roles in the production. 
The show is a feel-good jam-packed with Take That hits, the set design is fantastic very clever in particularly the aircraft scene in the second half. The plane doubles up as a stage and plane. Very quick and easy to access and looks brilliant. Well done Jon Bausor!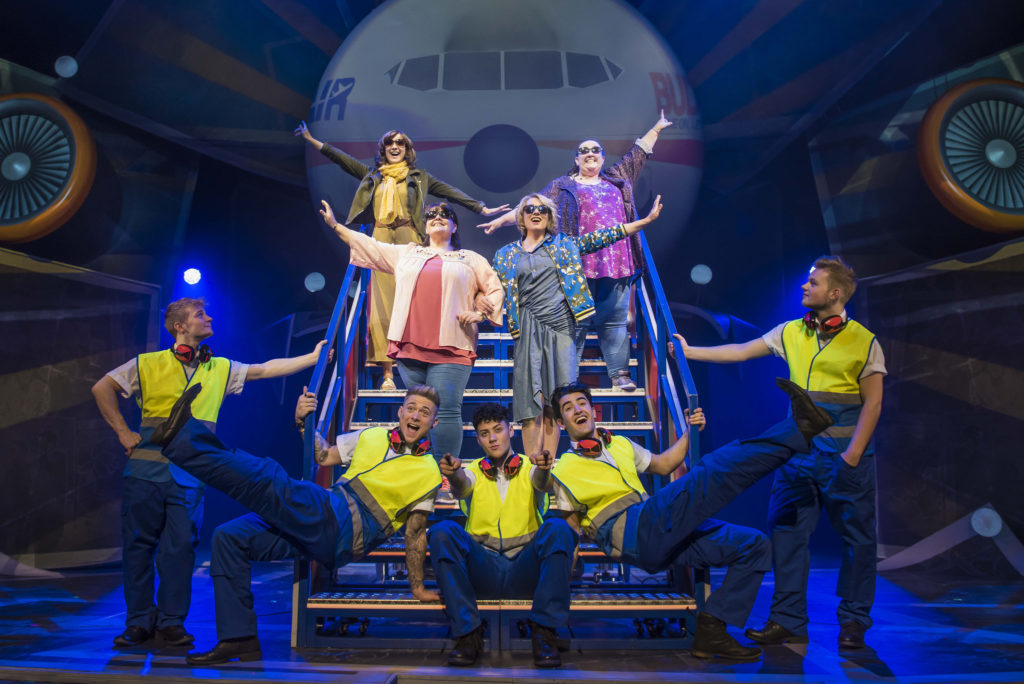 Credit:  Matt Crockett
The show also highlights the fact that its ok to be yourself. Particularly as we follow younger girls to women the changed in 25 years can be quite shocking. A younger wannabe Olympic diver Claire played by Sarah Kate Howarth comes out 25 years later from a size 10 to a size 25 shocking the other ladies. The older Claire played by Alison Fitzjohn takes it all in her stride and makes jokes about herself and her light humour is incredibly funny; also highlighting deeper issues that it really is ok to be yourself. Alison, I loved your character! Typical of Tim Firth's warm writing skills. 
If you want a walk down nostalgia lane with happy Take That hits like ' A million love songs, back for good, could it be magic, pray, relight my fire and never forget' you will love this production. 
Produced by David Pugh and Dafydd Rogers, with Gary Barlow, Howard Donald, Mark Owen and Robbie Williams. A fantastic bunch of talented people who know what the audience wants and how to deliver it. 
A 5 star from us congratulations cast and creative! Go and book this now. 
It's on at the Lowry theatre from now until Saturday 26th January 2019.  Tickets: here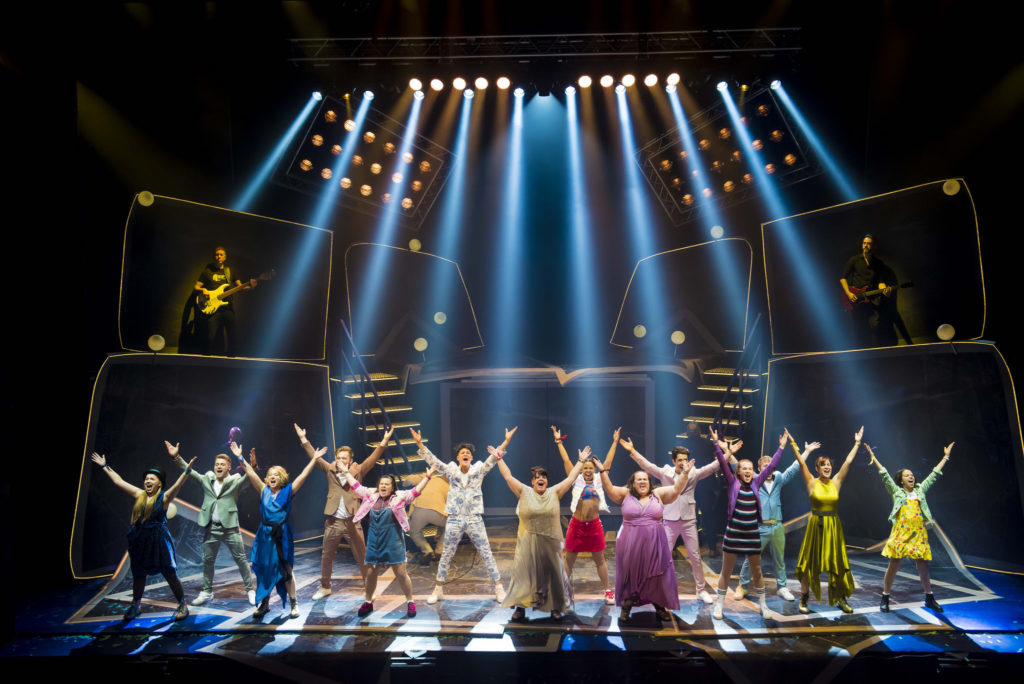 Credit:  Matt Crockett
You need to add a widget, row, or prebuilt layout before you'll see anything here. 🙂