Its been 43 years since the dawn of the famous Rocky Horror Show. Since its small debut in a upstairs theatre in London in 1973. Since then Richard O'Brien's show has been on tour in over 30 countries and translated in over 20 languages. I remember going to see it when I was 16 on a school trip. Jason Donovan played the lead Frank N Furter and did a brilliant job. (Back then though I didn't get all of the sexual references!)
On a cold January night Katie and I made our way to the press night at the Opera House in Manchester. Greeted by a whole host of Coronation Street stars out to support Beverley Callard who plays the narrator.
If you not sure of the plot here is the summery.
The Rocky Horror Show tells the story of Brad and his fiancée Janet, two squeaky clean college kids who meet Dr Frank'n'Furter by chance when their car breaks down outside his house whilst on their way to visit their favourite college professor. What follows is a delightfully naughty tale, combining science-fiction, horror, comedy and music, with some of its famous numbers such as Sweet Transvestite, Dammit Janet and of course, The Time-Warp.
As with Rocky Horror Productions, audience participation is key and is dressing up. Plenty of the audience members did dress up and participate despite it being a chilly four degrees outside.They had full outfits on including fishnets, bravo Manchester!
Exclusive to Manchester only Beverley Callard did a fanatsic job at narration even when heckling got personal; she battered the comments away with class and humour, she was perfect for the Manchester audience.
Brad and Janet were played by Ben Adams and Joanne Clifton a perfect pair who you can see have on stage chemistry. I remember seeing this couple in Flashdance and commented on how they worked well together then. Both have very distinct voices and powerful, but marry up together well in the joint vocal performances.
In enter, the almighty Frank N Further played by the very naughty Stephen Webb. In a grand cape and fabulous outfit! In a dramatic style performance which had the audience gagging for Time Warp to be played! Frank N Further is a powerful character and seeks to turn an innocent couple into his wild pets. Together with Riff Raff played by Kristian Lavercombe, Magenta played by Laura Harrison and very fit Rocky himself played by athlete turned actor Callum Evans. Are all swayed by Frank N Further's naughty and sexual spell of admiration and pure wickedness? Also breaking down the transvestite's barriers and showing its ok to be who you are and to be accepted. Which the concept is way ahead of its time considering Richard wrote the production in the early seventies.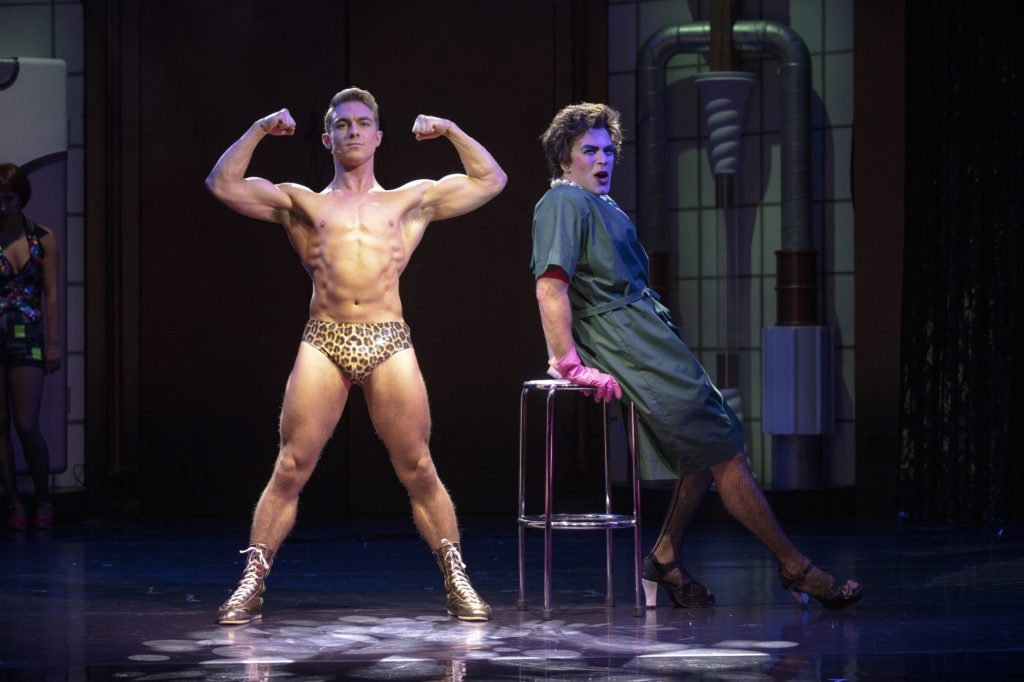 For me personally I really enjoyed the production although their isnt much of a plot line and random outbursts of song appear plus space stuff! However the Manchester audience thrived in this environment, receiving a well deserved standing ovation at the end; as well as plenty of participation from the audience. Exactly how Richard descibed his hit as 'an alternative panto'.
If you want to beat the January blues hard you must see this. Turning any week day into a naughty Friday night. Do dress up if you dare it really does make you feel like you are part of the production.
May I suggest you read up on the callouts if you want to know what to say – here
For a dose of delicious naughtiness with a very talented cast get your tickets now – here
Running from now until Saturday 26th January 2019.
Thank you to Alison and her team for hosting a wonderful press night to.