I am always grateful to my mum and Grandma for bringing me up with music in my life. Weather it was my Grandma Wistasion taking my mum to see musicals or mum taking me to see music gigs or simply just playing in it the house constantly I am grateful. Grateful for the music education she gave me and its something special I will be passing on to my children (When I have them ha ha)
Last night mum and I attended the Classic Rock Show at the Lowry Theatre last night. We have seen them before and absolutely loved it! Mainly because there is a very special and extremely talented guitarist called Howie G. Talented in the fact that this guy can play anything! I mean anything like Clapton, Dire Straits, Led Zeppelin, Queen some of the most difficult rock songs this guy makes it look very easy. What's even magical about him is he uses an exact copy of the original guitars which the bands use. So he sounds exactly the same.
The Classic Rock Show is songs from the bands A through to Z of wild amazing, hip thrusting rock songs. From Bands like Led Zeppelin, Dire Straits, AC/DC, Queen, ZZ Top, Meat Loaf, Elo, David Bowie, The Eagles, Eric, Clapton, Fleetwood Mac and many more just to name a few. Together with a very talented band and singers, they play you the greatest hits. What more could you ask for on a Sunday night in the theatre?!
The band entered with one of Led Zeppelins massive hits 'Whole Lotta Love' I remember this tune from the intro to the TV show 'Top of the Pops' when I was growing up. The newest member of the band 'Chris' came out singing this song. Which the band played behind him rocking out. Chris has a lovely dirty rustic voice which was perfect for Led Zeppelin. A great start to the show, I could see the audience already wanting to dance.
Later on, the band played one of my favourite Eagles songs 'Hotel California' as soon as you hear the first few chords the back of hairs on my neck stand up. It's such a beautiful song. Howie and the band play it beautifully. Howie has the double guitar too which the original band member Don Felder has on the original record. Not an easy guitar to play either!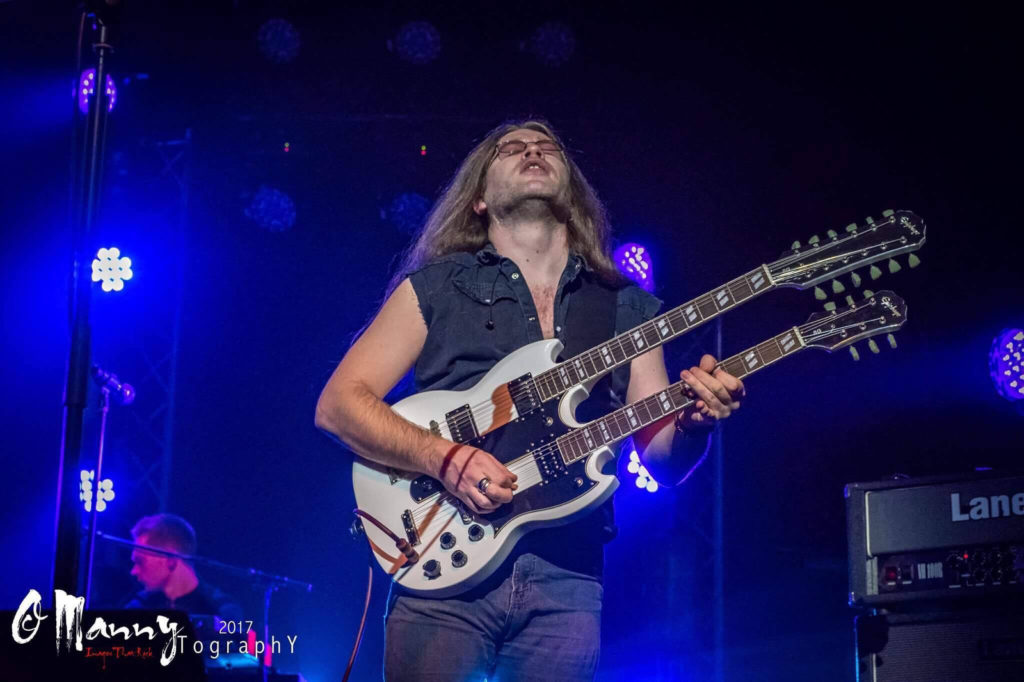 Credit: Manny Photography from https://www.howieg.co.uk
In the second half there comes some interesting surprises. The band introduces each other and surprising two of the other band members felt familiar to me. Alex Thomas who was one of the lead singers has been on the tour in the past playing David Bowie, he sounds and looks exactly the same. Even my mum saying during 'Lets Dance' Gosh that boys looks like him! That's why ha! I saw him in 2017 ago on his tour 'Life on Mars' here is my review – http://www.backstageaccess.co.uk/a-night-of-music-and-stagecraft/ 
Another familiar band member was Emily Gervers who was one of the lead vocalists in the band. She performed some of Fleetwood Macs songs. I have seen her on tour too with the official tribute band 'Rumours of Fleetwood Mac' as endorsed by Mick Fleetwood himself. She was excellent, very confident and sounded very much like the original Stevie Nicks. Emily sung 'Sara' and some of other Fleetwood Mac hits, she has a beautiful voice and breath taking to listen too.
What I loved about the show is on a large screen behind them they had the original band playing and then they played the song live. Amazing to see how the guitars matched the original bands behind them. The sound was perfect to the original band using the same or similar guitars.
One of the best nights ever celebrating everything from the last five decades with some extremely talented musicians. The had new band members and new songs this time from when I last saw them back in 2017. My review then: http://www.backstageaccess.co.uk/a-night-of-classic-rock/ 
If you want a hip swinging, jumping out of your seat and swinging your head from side to side in madness this is the concert for you to really let go! Believe me your mental health needs this boost especially in cold winter months.
Thank you for playing my favorite song too by Dire Straits 'Money for Nothing' the riff is aawweeesssome!! Howie G that riff!
Go and book this rock sensation now! Currently on their UK tour don't miss them coming to a town near you.
Lovely to see the band come out after and sign peoples albums for them.
5 Stars congratulations from us!
Tickets: http://www.theclassicrockshow.com/ 
Review by Amy Parkinson