I have been lucky enough to have been brought up with some of the best rock music of all time. Led Zeppelin, Dire Straits, AC/DC, Queen, ZZ Top, Meat Loaf, Elo, David Bowie, The Eagles, Eric, Clapton, Fleetwood Mac and the Rolling Stones just to name drop a few music legends. Dirty rock which are pure classics in the Rock and Roll Hall of Fame!
Last night Claire and I attended The Classic Rock Show at The Lowry Theatre in Salford Quays a packed house for a Sunday night. The band leapt on stage lights blaring Guitars flashing and eight bands members ready to give you an up forgettable night. The band hand changed to when I last saw them in 2019 with new additions, new flavours and new sounds. Jesse Smith had the perfect high vocals for the first song AC/DC Back in Black I absolutely loved his version and pretty much set the tone for the entire night.
Set List
Back in Black( AC/DC cover)
American Girl (Tom Petty cover)
Black Velvet (Alannah Myles cover)
Highway Star (Deep Purple cover)
Don't Believe a Word (Thin Lizzy cover)
The Spirit of Radio (Rush cover)
Get Back (The Beatles cover)
Gimme Shelter (The Rolling Stones cover)
Hot for Teacher (Van Halen cover)
Gimme All Your Lovin'(ZZ Top cover)
Kashmir(Led Zeppelin cover)
Money for Nothing (Dire Straits cover)
Hotel California (Eagles cover)
Love, Reign O'er Me (The Who cover)
Bat Out of Hell (Meat Loaf cover)
Love in an Elevator (Aerosmith cover)
More Than a Feeling (Boston cover)
Highway to Hell (AC/DC cover)
Free Bird (Lynyrd Skynyrd cover)
Encore:
Bohemian Rhapsody (Queen cover)
Won't Get Fooled Again (The Who cover)
A new band member who I had not seen before Jess Harwood came on singing Black Velvet great version, but I felt she held back on her vocals a bit. Yes a very talented young lady, she needed to 'let go' a bit more and feel the music.
My favourite band member for 'letting go' was Peter Thorn – Guitar and Vocals. Wow he shut his eyes while playing his many guitars and you see that made was made for this type of music. Pure dirty rock, loved watching him perform. Especially on the Meat loaf and Queen songs wow!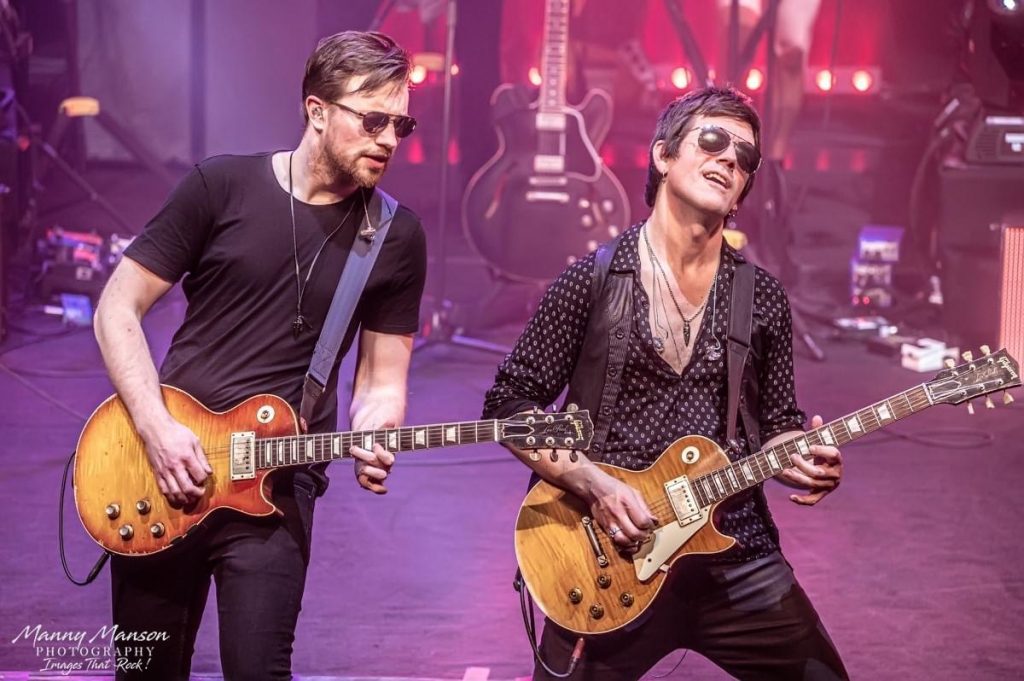 What I loved about the show is on a large screen behind them they had the original band playing and then they played the song live. Amazing to see how the guitars matched the original bands behind them. The sound was perfect to the original band using the same or similar guitars.
As we know the rock legend Meatloaf died on the 20th January 2022 after leaving a legacy of pure hits behind him. A rock legend who has changed music forever. In the second act the band sang one of Meatloaf's biggest hits and musicals 'Bat out of Hell' the band also made a nice fitting tribute to him.
If you want a hip swinging, jumping out of your seat and swinging your head from side to side in madness this is the concert for you to really let go! Believe me your mental health needs this boost especially in cold winter months.
I also loved the new Californian edition to the band Rudy Cardenas brought brilliant vocals and a edge to the songs.
Thank you for playing my favourite song too by Dire Straits 'Money for Nothing' the riff is aawweeesssome!!
Go and book this rock sensation now! Currently on their UK tour don't miss them coming to a town near you.
Tickets: HERE