If you have never heard of the name Berry Gordy you need to learn it. A name was who responsible for some of the greatest music in our living period. In the 1960s a record producer from Detriot, Michigan who believed in a dream turning an $800 family loan into a $61 million empire the founder of Motown Records. He was responsible for producing acts like Diana Ross and the Supremes, Stevie Wonder, the Four Tops, and the Jackson 5, Marvin Gaye, the Marvelettes, and the Miracles and many more.
Motown played an important role in the racial integration of popular music as an African American-owned label that achieved significant crossover success. In the 1960s, Motown and its subsidiary labels (including Tamla Motown, the brand used outside the US) were the most successful proponents of what came to be known as the Motown Sound, a style of soul music with a distinct pop influence. Motown was the most successful record label of soul music net worth totalling $61 million. During the 1960s, Motown achieved spectacular success for a small label: 79 records in the top ten of the Billboard Hot 100 between 1960 and 1969.
Such a story has to be told because it changed the face of musical history forever.
Last night Angie and I attended the press night of Motown the musical. Which has been on tour starting on Broadway in 2013. A packed theatre at the Machester Opera House; the curtains open to a burst of song to new bands competing for contact with a record label, a musical battle between The Temptations and The Four Tops, both bands dancing around one another in order to be chosen by the big record giants.
An era of racial inequality Berry Gordy has to battle with Radio stations to get his 'coloured music' played. He said its 'just music, not white or black'. During the time of Martin Luther King Jr assassination, even when Barry got his records played by the radio stations crowds still had to be segregated depending if they were white or black. Shots fired at some of the live performances making artists apprehensive to even perform. It seems more to me that Berry Gordy and Smokey Robinson were not only extremely talented producers, writers and singings but are history makers, who have made the world a better place and has changed music forever.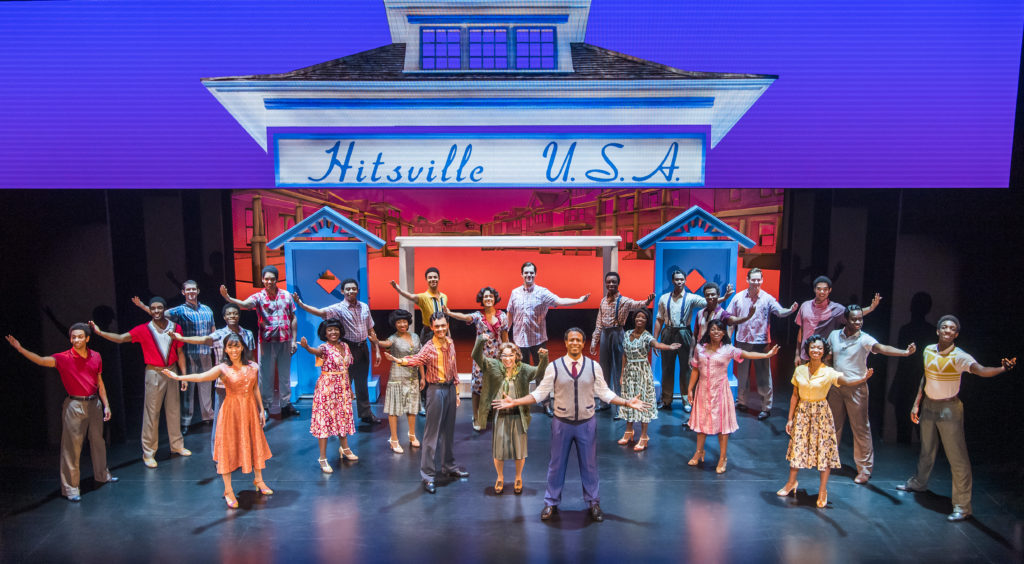 Credit: Tristram Kenton
Highlights for me including Berry Gordy played by Edward Baruwa very believable his character and fantasic vocal range. I particularly enjoyed the duet performance between him and Diana Ross played by Karis Anderson their ballet together was truly magnificent and with both large vocal ranges.
A basic but effective set design with large projected images with brightly coloured lights to create a glittery Las Vegas show stage and other shows. I loved the moving projections to when the groups came on in the second half very realistic and looked great.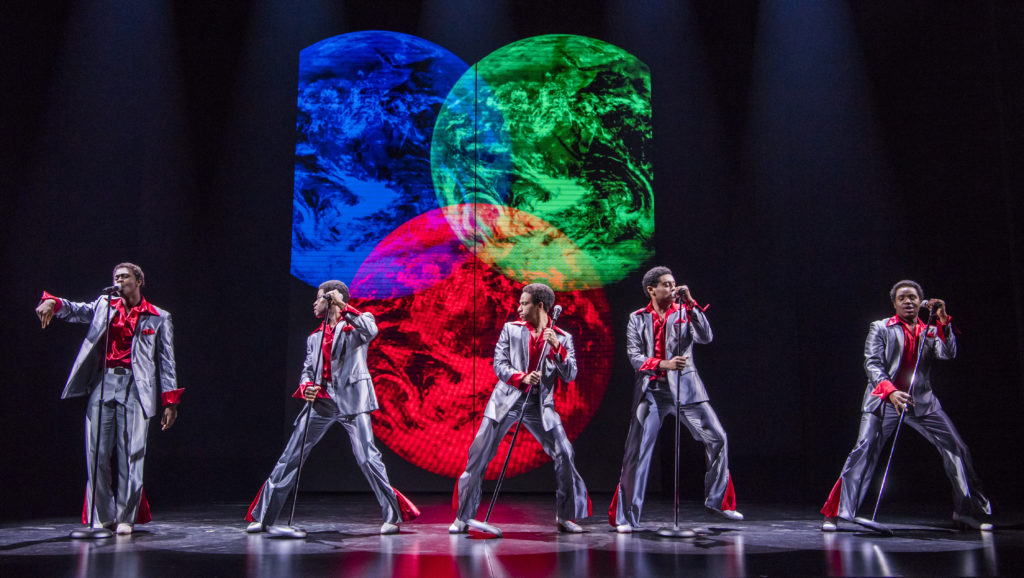 Big cheers from the audience as Smokey Robinson came on played by Nathan Lewis and Marvin Gaye played by Shak Gabbison-Williams again large vocal ranges and sound very similar to the real artists. Especially Shak playing Marvin Gaye.
Some absolute classic songs came on Ain't No Mountain High Enough, I'll Be There, Dancing In The Street, Stop! In The Name Of Love, My Girl and I Heard It through the Grapevine which made me literally want to dance on stage and shake my bum! You forget these songs which are still currently played in movies, television and in the arts these songs are still current today. Forgetting that it was over four decades ago they were produced. Timeless classics!
We loved this production and had us singing and toe-tapping away throughout the entire time. If you like big showstopping soul Motown tunes and want to be educated about one of the most influential music aras of all time this is for you.
A standing ovation at the end to! A truly fantasic show stopping cast and crew. Well done to the musical director Griff Johnson who played the show stopping tunes with his band.
I loved the end of the musical where they show the real artists above on projection at the 25-year reunion. Quite emotional seeing them all hug the real Berry Gordy and watching the cast mimic this scene on stage. Clever Charles Randolph -Wright the director of the production. I must say the choreography was show-stopping to well done Patrica Wilcox and Warren Adams!
An iconic journey back into time with some amazing jukebox tunes performed by a very talented team.
Its on until 23rd March at the Manchester Opera House. A 5 star from us congratulations!
Get your glad rags on and head on over!
Tickets: HERE