Shrek the movie originally came out in 2001 produced by DreamWorks Animation then went on to become a highly successful franchise. With the first film grossed $484.4 million dollars at the worldwide box office against its $60 million production budget. Not surprising that they made it into a musical due to its fun nature, strong characters, and a clear money spinner.
The story opens with Shrek and his family peeping out of an animated book. The children in the audience thought this was highly funny. The animations behind the Shrek family looked great too. Disappointed that they didn't use a young Shrek to reflect a 7-year-old character, because I think that would have been better from a child's perspective. The story starts with a surprise when fairy tale creatures are sent to live in his swamp by Lord Farquaad. The fairytale characters outfits are brilliant, the child next to me 'lit up' when he saw them. It was nice for the children because they would have recognised them from storybooks. Characters like Pinocchio, The Three Pigs, Red Riding hood and Peter Pan were characters which the children could relate too.
In comes, Donkey called 'Donkey' played by Marcus Ayton (see photo below) Absolutely hilarious and with his dancing, donkey noises, and personality. This character was a real highlight for me in the musical. A definite close second to Eddie Murphy (who played the original in the animated film) He would definitely be someone I would have a laugh with while touring!
Shrek and Donkey are sent on a quest by Lord Farquaad to rescue Princess Fiona in the tower where she is locked up and guarded by a dragon (see photo below)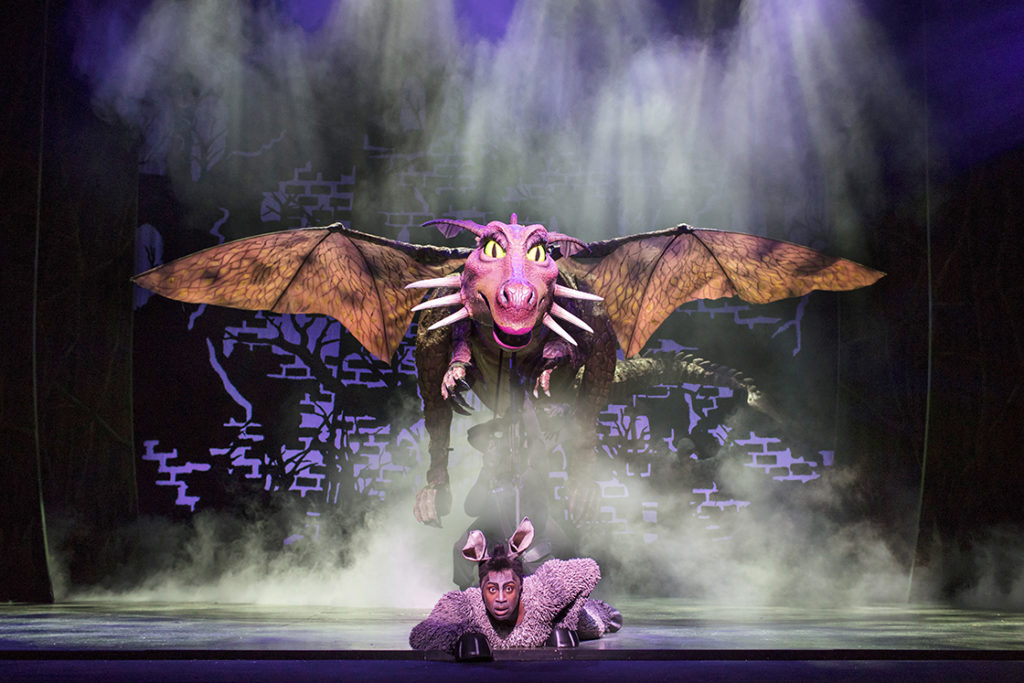 Credit: Helen Maybanks
The Dragon played by Lucinda Shaw greets Shrek and Donkey with anger. The dragon itself powered by four people looked realistic but not too scary for the children in the audience. Lucinda's vocals were stunning and had a really powerful dramatic voice, which made the character stand out.
We meet Princess Fiona for the first time played by Laura Main. Also, very funny character and I think the children related to her very well. I think it would have been better to show the younger version of her as they did in the film. Instead, they used some puppets to show her childlike side and relieve her boredom stuck in the castle. Wasn't a big fan of the puppet dolls, I think they looked freaky and didn't really fit it and I think made the character look chemically imbalanced. She even joked about having bipolar, which I didn't find funny or seem appropriate. However, Laura had a lovely voice and Princess Fiona and Shrek's character vocals complemented each other well.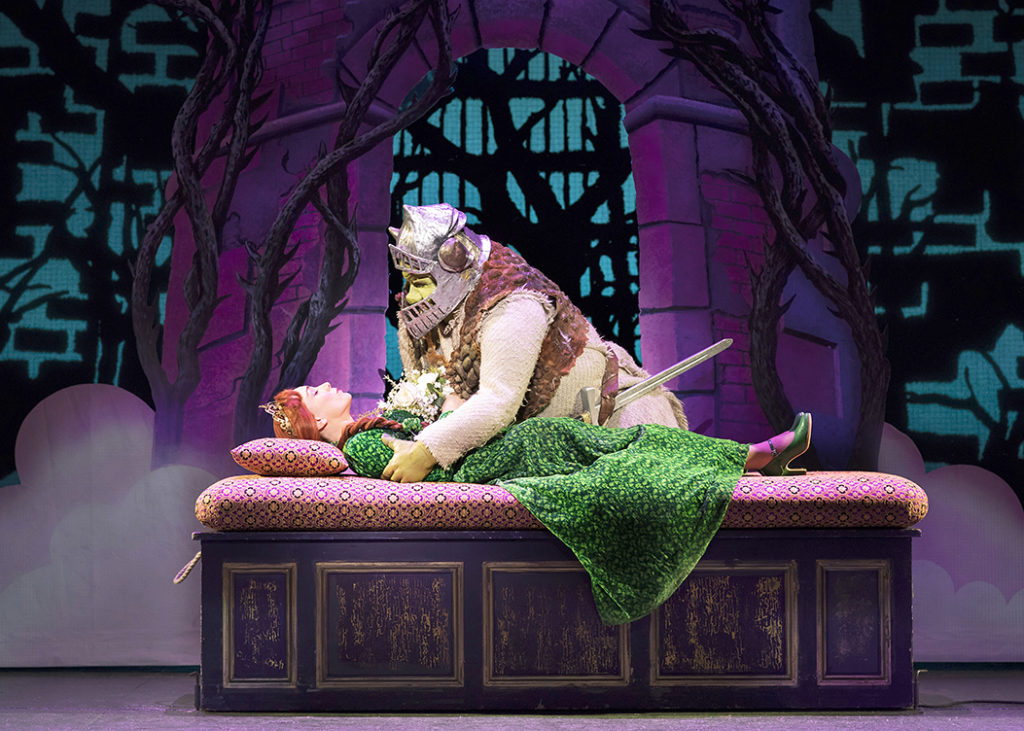 Credit: Helen Maybanks
Lord Farquaad played by Samuel Holmes (See photo below) OMG this man had Emma and I crying with laughter. His facial expressions and timings on particular jokes were hilarious and for me, my favourite character in the entire production. Standing, dancing and moving on your knees for that amount of time must have hurt, ouch! Credit to you young Samuel. You clearly have a gift when it comes to getting the reaction you want from the audience. The scene near the end when ride in on an electric horse with prebuilt legs was amazing, I couldn't cope! Looking at your bio 'collecting a Lifetime Achievement Award for Comedy at the British Comedy Awards'. You are clearly a gifted actor who was perfect for Lord Farquaad's part! Great casting David Grindrod.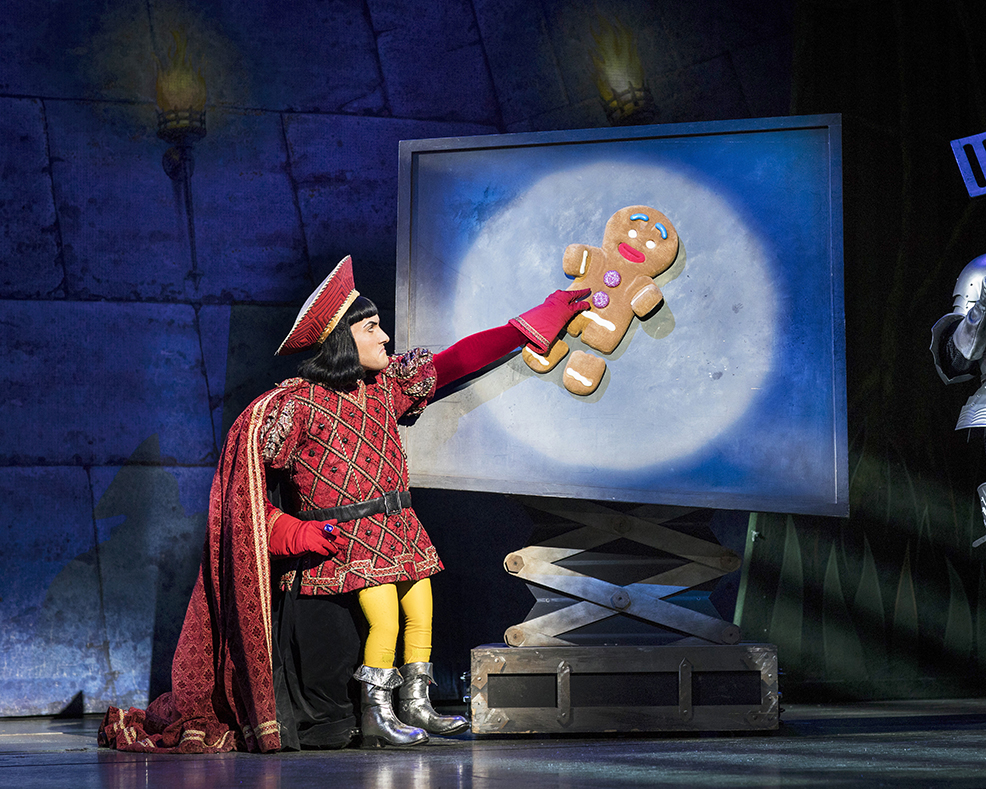 Credit: Helen Maybanks
As Shrek and Princess Fiona spend more time together, they end up falling in love. To the dismay of Lord Farquaad who needs to marry Princess Fiona to become King. The scene where Lord Farquaad looks at Princess Fiona and Shrek, when he discovers they are in love is really funny. His comedic timing is perfect, looking at one to the other with a simple raised brow.
After a happy ending Fiona's curse is broken by kissing Shrek. Who is her first true love, Princess Fiona then becomes an Ogre herself, happy with her Shrek.
For me, highlights of the show were the characters Donkey, The Dragon and Lord Farquaad. Very talented actors and actresses and really made the production for me! Shrek's character played by Steffan Harri had a lovely strong voice and credit to you jumping, dancing and singing in the heavy suit and facial mask you must been hot, well done! oooo I must mention the Gingerbread man played by Jemma Revell very funny and loved the part of this character. (Especially playing the trumpet in the last act, yes I did notice ha ha )
Definitely take the family to see this production, humour for adults and children too. A perfect way to beat the January blues! A very talented cast, crew, and orchestra.
It's on in Manchester until Sunday 28th January 2018 the continues on a UK tour. Go and see it. Tickets £20.00 – £64.50.
Tickets – http://www.atgtickets.com/shows/shrek/palace-theatre-manchester/
UK Tour – https://shrekthemusical.co.uk/buy-tickets/