We all know of the iconic story of Williams Shakespeare's famous play Romeo and Juliet published in 1597. Have we ever wondered what would happen if Juliet decided not to kill herself with a dagger and woke up and decided to carry on with her life?
& Juliet is the irreverent and fun-loving new West End musical that asks: What if she decided to choose her own fate? This is Juliet's story now. So don't tell her how it ends…
Soaring with pop anthems including …Baby One More Time, Everybody (Backstreet's Back), Love Me Like You Do and Can't Feel My Face, & Juliet is a riotous blast of fun and glorious music that proves when it comes to love, there's always life after Romeo…
This week we met for an exclusive preview of 'and Juliet' for the launch in Manchester with cast members  Oliver Tompsett (Shakespeare) Miriam-Teak Lee (Juliet) Cassidy Janson (Anne Hathaway) and Jordan Luke Gage (Romeo)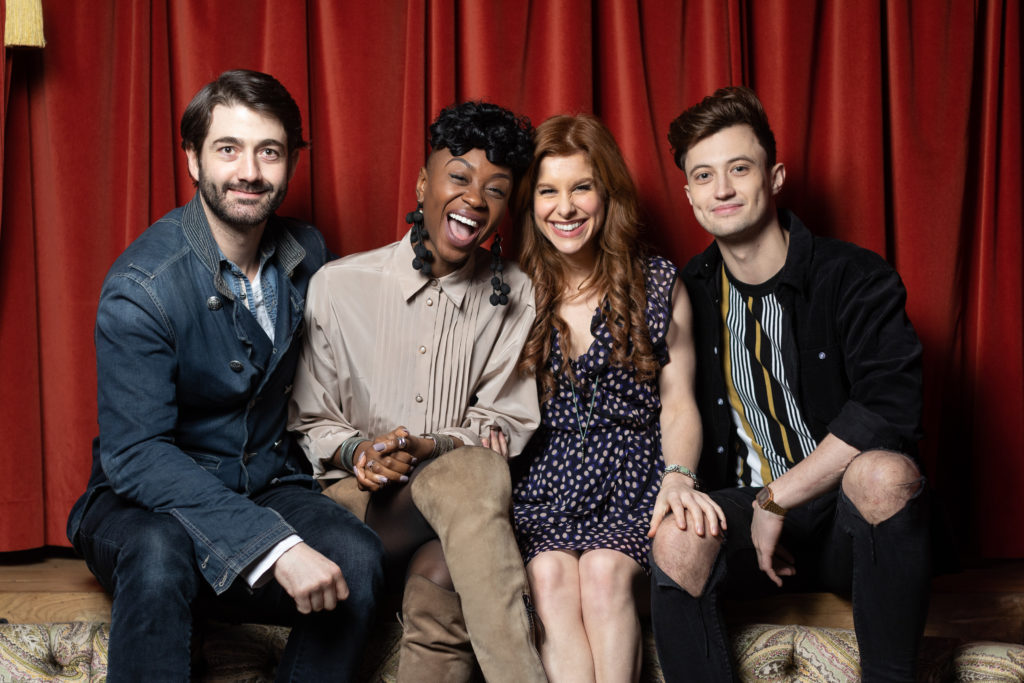 We caught up with the lovely Director (Luke Sheppard) the Choreographer (Jennifer Weber) to hear their take on the action-packed pop musical.
We also spoke to Shakespeare himself (Oliver Tompsett) and Juliet (Miriam-Teak Lee). 
Early bird tickets are available to book before 31st March and save over 37%.
'And Juliet starts on 10 September – 12 October 2019, tickets start from £13. See ticket link below:- 
Tickets: HERE
Check out the interviews below:-
Check out more in detail interview with the lead Miriam -Teak Lee who played Juliet:-
& Juliet Syndicated interview with Miriam-Teak Lee (Juliet)
How is the classic story of Romeo & Juliet reimagined in & Juliet and how where does it start in terms of the original play?
& Juliet reimagines the ending to Romeo and Juliet and asks, what if this was just the beginning for Juliet. & Juliet is a play within a play so it starts with Shakespeare (Oliver Tompsett) telling his fellow actors the ending to his new play Romeo and Juliet, when Anne Hathaway, Shakespeare's wife (Cassidy Janson) hears, she asks why don't we rewrite that ending… and continue on. She explains that Juliet is still young and has her whole life ahead of her, so why would she kill herself because of one boyfriend. So as she takes the quill and begins to write, we see Juliet at Romeo's tomb, distraught and contemplating with the dagger. At which point she sings "Hit Me Baby One More Time" as she looks to the stars to "give her a sign".
Juliet sounds like a strong, independent character and a really inspiring role model to women. What does it feel like to play such an exciting lead role in a brand new musical?
It feels incredible to play such a strong character. I genuinely believe that Juliet has always had strength but that isn't necessarily explored in depth in the original Romeo and Juliet, so it is amazing to be able to tell a story that puts a magnifying glass on Juliet's inner power and journey to self discovery. It's important that young girls have someone to look up to, to be influenced by, and I really feel that Juliet could really be the inspiration that they need. To know that they can do anything they put their mind to, that they can be in the driving seat of their own life and that there is no limit to their greatness!
Performing in Hamilton must have been an incredible experience. Was this your West End debut and how did this role help prepare you for playing Juliet?
My actual first West End Debut was playing Claire DeLoone in Leonard Bernstein's On The Town at Regent's Park Open Air Theatre in Summer 2017. And I was awarded Best Actress in a Musical for that role at The Stage Debut Awards which was incredible. So that role, coupled with being a cover of all the Schuyler Sisters in Hamilton really did prepare me for playing Juliet. It taught me about constantly being aware of all the actors on stage, using my initiative when things went wrong, bouncing off people's energy, staying true to my character but allowing myself to discover new nuances and relationships, even in the moments when I'm not speaking or singing. And it taught me that the power of whatever you feel on that stage is whatever the audience feel, so never deprive them of the truth.
The musical features an incredible score from prolific songwriter Max Martin. What is your favourite track to perform on stage and why?
With the public performances we have been doing recently, I have been performing Roar quite a lot and that is such a powerful moment in the show for Juliet. I love performing that song because it is the pinnacle moment for Juliet in her search for self discovery. She literally realises in real time the kind of person she used to be, how she used to "bite her tongue and hold her breath" constantly trying to please others, and this is a moment where she says I am going to do as I please and you are all going to watch me succeed! It's such an empowering moment in the show and the audience will feel that too!
What can you tell us about what your costume style in & Juliet?
I LOVE the costume designs by Paloma Young, I cannot wait for everyone to see them. It's a very clever mix of Renaissance and modern day. We have included use of the tight bodices with corsets but shorter skirts and a sporty flare. It's iconic!
How much choreography can we expect to see in & Juliet and what kind of dance genres have the creative team drawn upon to create a fresh new musical style?
There is so much choreography in this show by the incredible Jennifer Weber! There is definitely a hip hop/commercial/new age style to the choreography that works so effortlessly with Luke Sheppard's brilliant direction to further the story, to transport us and to absolutely engulf us in this world of wonder!
Why do you think Manchester audiences in particular will love the musical?
Manchester is the home of music, seeing so many great artists go there and perform there. I think Manchester will receive the show incredibly and we can't wait for them to see it first!
What three words would you use to describe & Juliet?
Revolutionary! Spectacle! Inspiring!
Shakespeare and pop music are a unique combination! How do the two blend together?
It combines the greatest pop writer of the 16th/17th century with one of the greatest pop writers of the 20th/21st century. So I think it's a pretty iconic blend and one that will stick in people's minds for years to come!
Finally, what can audiences expect when they come and see & Juliet?
They can expect to see a whole new outlook on Juliet Capulet, they can expect to have an incredible night, they can expect to laugh their socks off and go on a journey filled with all their favourite songs, sung in a completely different way with a whole new meaning. It's a show not to be missed!