We took our seats at the Palace Theatre in Manchester last night. There was already a great atmosphere as large numbers of Take That fans took their seats to watch the Greatest Days Musical. And it's the fans that Tim Firth (Book writer and Co-Director) and Stacey Haynes (Co-Director) have chosen to focus on in this fantastic new musical.
Best friends, Debbie (Mary Moore), Claire (Mari McGinlay/Jamie-Rose Monk), Heather (Kitty Harris/Rachel Marwood), Rachel (Emilie Cunliffe/Kym Marsh), and Zoe (Hannah Brown/Holly Ashton) take us along on their incredibly fun and sentimental journey full of surprises.
Reminiscent of the 90's Pop culture icons, the Spice Girls, the teenage girls enter the stage with a bang, full of energy and giggles as they gossip about their favourite boy band in the whole wide world.
Debbie is full of life and can't believe her luck when she wins tickets to go and watch the band. Rachel starts daydreaming over marrying all five boys but declares she can't dance. Fun-loving Debbie willingly reassures her that "anyone can dance!" Meanwhile, bookworm Zoe is more interested in completing her homework, Claire can't wait to become the next Olympic Diver, and Heather is all about boys and more boys! Lead by Debbie, the girls make a defiant pact that they'll stay friends forever whilst wearing their colourful friendship bracelets.
The girls are all wonderful in their own right, and really do come alive on the stage together. They epitomise every crazy, obsessed boyband fan, including me! These scenes really did take me back and memories of queuing up with friends for autographs and choreographing dance routines with my sisters for my parents to watch in the living room came flooding back.
We are taken from the past to the present where we are introduced to the adult versions of the girls. Adult Rachel is played by real life mum and daughter (Kym Marsh/Emilie Cunliffe) who vows to get the girls back together again but not everything goes to plan. There are some big surprises along the way…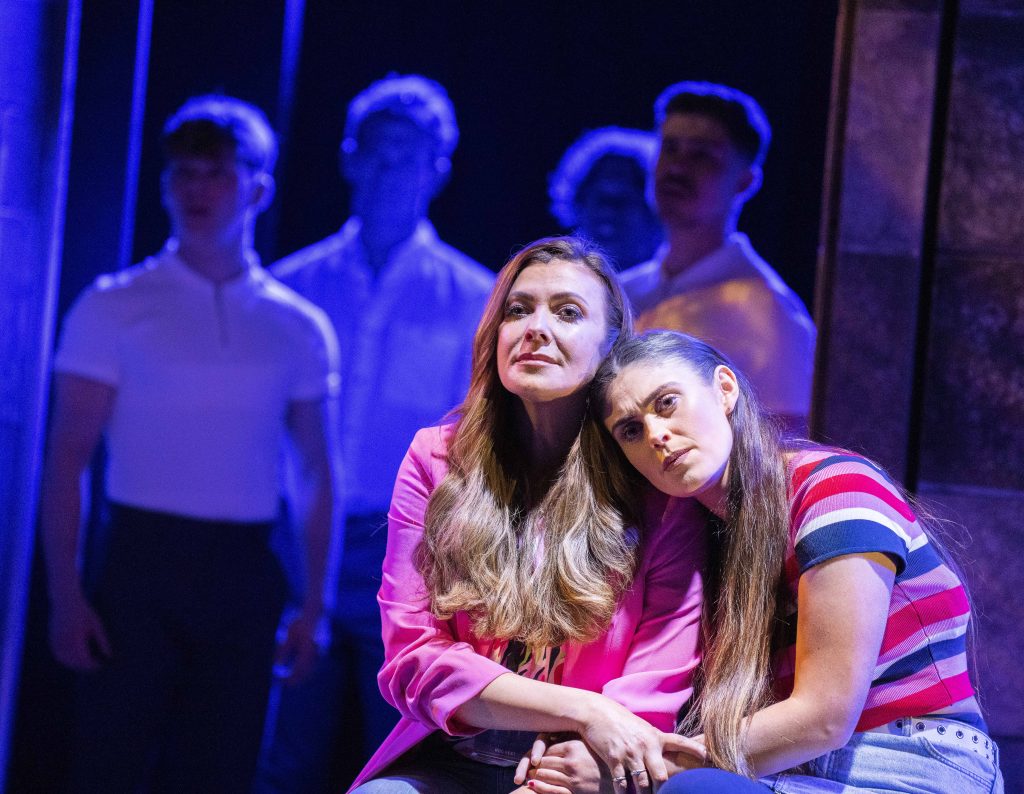 Rachel's partner, Jeff (Christopher D Hunt) and Dave (Alan Stocks) the care taker, bus driver, prison warden…the list goes on, are firm favourites with the audience. Chris and Alan deliver their lines with perfect comedic timing.
The songs and music (Gary Barlow) are beautifully intertwined as each scene plays out. The boys sing a total of 18 songs, including 'Back for Good', 'It only takes a minute' and 'Rule the world.' The 90s boy bands knew how to dance, and the routines do not disappoint. The choreography (Aaron Renfree) is absolutely exceptional.
The vocals and choreography are executed perfectly by 5 piece boyband members Kalifa Burton, Jamie Corner, Archie Durrant, Regan Gascoigne and Alexandra O'Reilly. And the all-white outfits, trench coats and baggy combats are bang on the 90's trends (Lucy Osborne -set and costume design).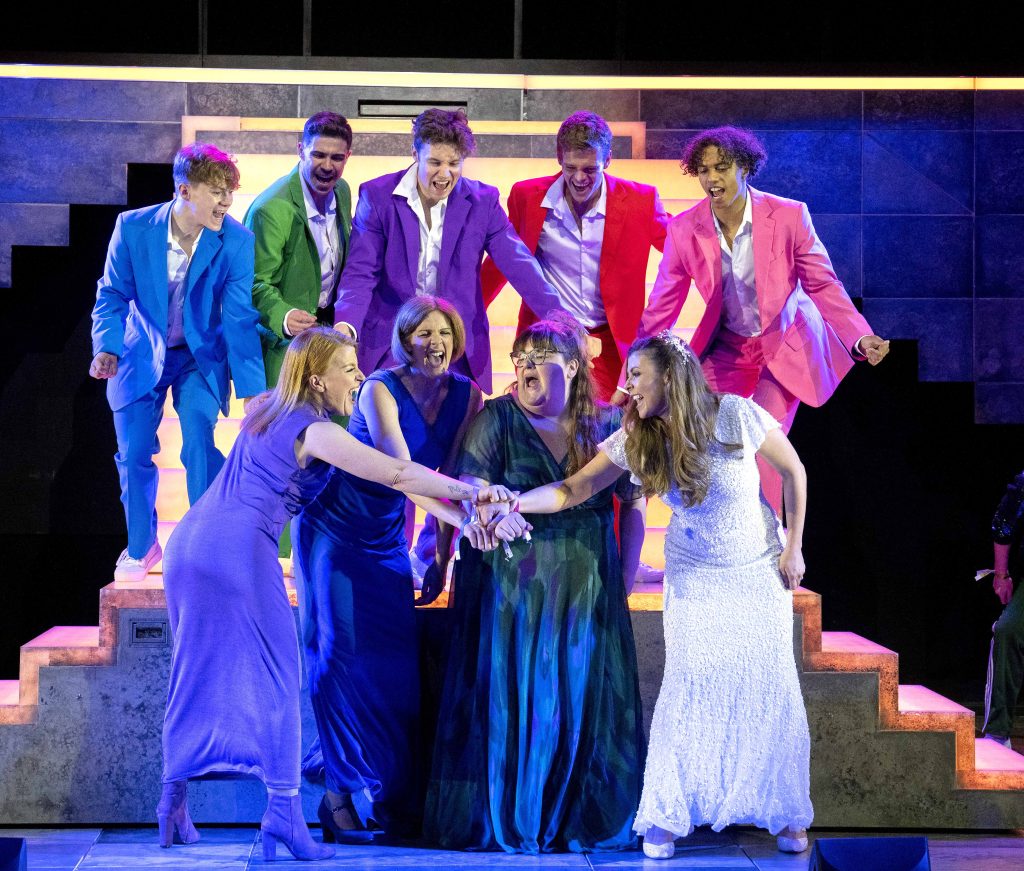 The storyline is hilarious, heartwarming and will make you feel incredibly nostalgic. I challenge you not to shed a tear!
It's running until Saturday the 27th of May at the Palace Theatre Manchester, so make sure you grab a ticket whilst you still can, I promise you you won't regret it. Brilliant show!
Thank you to the Palace for a wonderful night
Tickets: HERE
Review by Katie Marie