We took our seats in the beautiful and intimate Quays theatre at The Lowry, for the first run of Waldo's Circus of Magic & Terror in Manchester (running Thur 20th April – Sat 22nd April).
Presented by Extraordinary Bodies, Waldo's Circus of Magic & Terror tells the story of a passionate troupe of outcasts, acrobats and aerialists determined to continue their show. Set in 1993 Brandenburg, the Nazis are burning books and suspending civil rights. Hitler's dictatorship is becoming stronger and the world is becoming an incredibly dark place.
Based on an original idea by Hattie Naylor and co-written by Hattie Naylor and Jamie Beddard with an original score by Charles Hazlewood. It is a large-scale collaboration between D/deaf, disabled and non-disabled artists and creators. Naylor and Beddard have talked about creating this show for some years. Beddard notes that as a disabled person and artist himself the opportunity to craft and present the untold and unrepresented stories was an exciting yet daunting experience.
The show is informed by a large amount of historical research. Naylor notes it's the most horrendous research she'd ever done for a project. "We're taking on not only what happened to disabled people in the Nazi era, which is unbelievably cruel and disturbing – but also fascism, and the poisonous idea that 'we are better than you', which lies at its heart.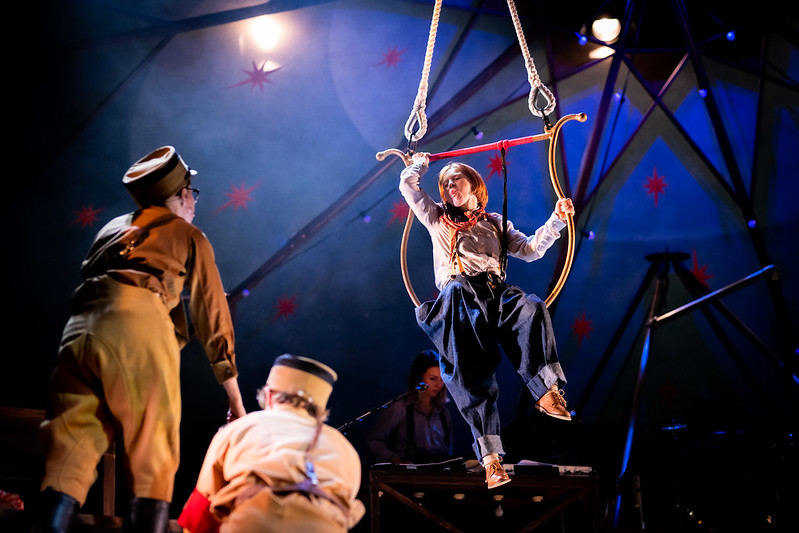 Ring master, Waldo (Garry Robson) has the weight of the world on his shoulders and can't stop his son, Peter (Tilly Lee-Kronick) from joining the brownshirts, fleeing his desire towards gay aerialist Renee (Jonny Leitch). Unsurprisingly, Robson has received several awards for his own work and has directed over 40 professional productions himself. Being a huge Stranger Things and Enola Holmes fan, I can't help but see her resemblance to female role model, Mille Booby Brown. Tilly Lee- Kronick, is a multitalented threat, she can sing, dance and act.
Krista (Abbie Purvis) is the main star of Waldo's travelling show and captures the heart of non-disabled Gerhard (Lawrence Swaddle). She is skeptical of his intentions at first, branding him as 'curious' for the 'exotic', though Gerhard eventually proves himself as an honest and sincere person. In both a heartwarming and amusing scene, Krista teaches the overly enthusiastic Gerhard how to take a bow on stage. "Look at your audience and take them in" she says. Purvis is not only an exceptionally talented actress, she has a pure, unadulterated singing voice.
Circus member, Dora (Joanne Haines, neurodiverse performer) takes it upon herself to cheer Gerhard up unbeknown to his fallout with Krista after voicing that their life was worth more than a 'degenerate', like Dora. Dora and Darragh (Ryan Murphy) execute some exceptionally delightful and charming choreography including hats, brushes and ladders, which they make look easy.
Gerhards sister, Nazi Dr Margot Kruger (Mirabelle Gremaud who doubles as Circus member Queenie) is disturbingly, set on sterilization of the disabled community. Gremaud's skilled performance including contortion builds on the eeriness of the pending situation.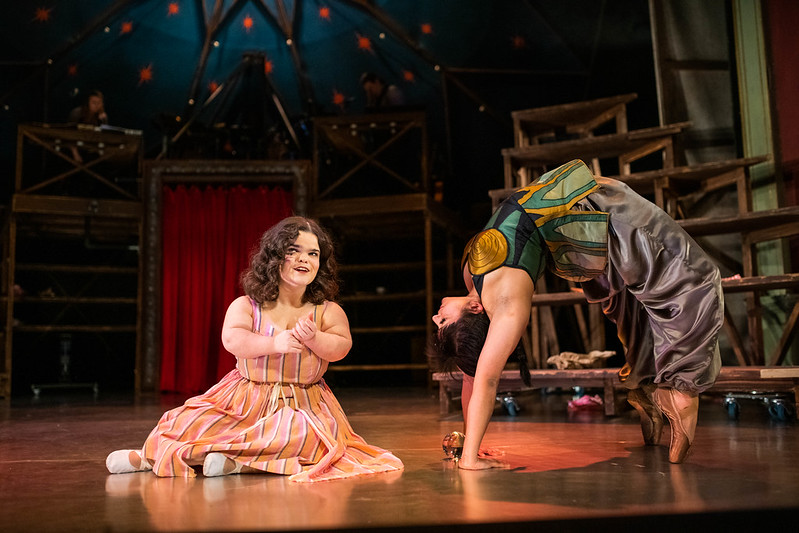 It's hard to take your eyes away from double clown act Mosh (Brooklyn Melvin) and Mish (Raphaella Julien) when they are on stage. Julien is highly skilled in mime and Melvin in performance in BSL. Julien gives an emotional, powerful and thought provoking BSL song performance. One I won't forget.
The evening has really made me think. The story and scale is bigger than previous productions. The show is running in Manchester for the next few nights, before moving on to the Theatre Royal Plymouth so make sure you purchase your tickets now.
Tickets: HERE until 22nd April 2023
Review by Katie Marie