What can I say about this production? It's the worse musical I have ever seen! Harsh I know.
The build-up online before the press night in Manchester last night was great. This production had all the features to be a marvellous, amazing music all by our late Dusty Springfield, a good cast, directed and Choreographed by Craig Revel Horwood, who will all know as a judge from BBC1's Strictly Come Dancing, who has been a judge on it for 15 series now. Craig has a vast catalogue of productions in the past where he has directed and Choreographed before. The show has been written by Warner Brown who also a long history working on successful productions on both sides of the Atlantic. You would think with a Crew and Cast like this, this production would be set for stardom.
This wasn't the case….. 🙁
Set in Soho London on the present day, tells the story of three different people reminiscing about their past. They randomly all decide to return to London where each of them has a different story to tell. Hoping to find a Preacher Man, who owned a record store 30 years ago (Around 1960's period). To see the Preacher Man to get some advice about the situations and to talk about love and their history with the record shop 'back in the day'. They discover that the now, record shop has been turned into a coffee shop ran by the Preacher Man's Son Simon played by (Ian Reddington). 
Kat (Diana Vickers) Alison (Debra Stephenson) and Paul (Michael Howl) all return to the store to see if they can seek some advice about their current love situations and to see if the Preacher Man's Son can provide any advice for them.
Simon decides reluctantly to help each of the characters resolve their love situations in some cases making it worse. For me, the story just didn't connect properly. I don't think it was well written and it seems to be that the plot lines were thrown together. For example when the characters travelled back in time, some of the characters weren't dressed for the era and moving back to present day hadn't aged one day. When other characters had, very confusing! At some points we didn't have a clue what was going on, or how the characters reached that point in time or for what reason they had put this scene in the production.
A random chair dancing scene tipped Jenna and I over the edge. In fits of laughter. I think it was 'I just don't know what to do with myself'. Where actors came out one by one dancing with a chair as if it was a real person, not making any eye contact with the audience and serenading the chair. I understand what the thought process was, there could have been a lot better ways to create this scene. Couldn't the character be holding a special object instead which related the scene from the past?? Not randomly dancing around the stage with an ugly plastic chair like you were about to make love to it at any point?! More of the actors came out serenading the chair. Cringe! Craig what were you thinking? Doesn't work!
The Music by Dusty Springfield in some parts was unrecognisable. I know her back catalogue of hits and some of the singing was terrible. I am sorry Paul (Michael Howe) You seem like a lovely person. But every time you came on and sung I shut my eyes. This music didn't suit your voice at all. In some parts even murdering Dusty's music. You're a good actor, but this music didn't suit you at all and for me painful to watch you're performances 🙁
First half ended thank god for that –  let's get out and go for a drink. Talking to people in the press lounge they weren't impressed either and some parts just didn't make sense to the story line.
As we left to go back in about a third of the 40 people didn't return to their seats. I still wanted to give the second half a chance. Let's see what happens…
Second half begins bursting into song. I am still unclear to at which point we are at in the story-lines? In one of the scenes Simon's character questions Mike (Liam Vincent-Kilbrade) by randomly making a series of sexual references towards women. The characters aim, is to see if Mike agrees with Simon as a potential love interest for Kat (Diana Vickers). He generalises women as 'All the same and we should belong in the kitchen' the audience did not take this well and gasped. The sexual references did not make sense to the scene and reminded me of comments that Craig and his bluntness would have had put it. No need for this to be written in the script. All it did was make the audience dislike Simon's character for NO REASON at all.
Another scene which was awful was the seduction scene. Basically Kat (Diana Vickers) tries to seduce Mike (Liam Vincent-Kilbrade) by throwing herself at him. Bending over in front of him, sitting on his knee and tries to kiss him. Have we fallen back into the 1980′ s? What sort of message does this send out to young girls in the audience? Do women have to be whores now to seduce a man? This scene could have been directed better and more discreet. After all Kat is supposed to be in LOVE with Mike. Utter crap and cringe worthy! No need for her to throw herself at him. Felt like a soft porn scene to be honest and putting a Dusty song in the background? Dusty would be turning in her grave, her song was meant to be about love not porn. Completely discredited the song! (Scene below)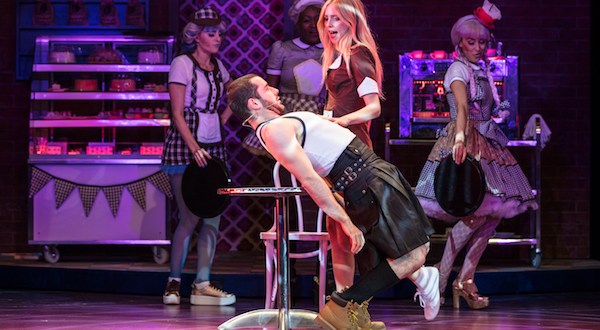 The best thing about the production was Kat (Diana Vickers) a previous X Factor winner in 2008. She has a beautiful voice, which really saved some of the production for me. She has soul in her voice which was perfect for Dusty songs. The majority of Dusty Springfield's major songs were at the end of the show 'Son of a Preacher Man' and other Dusty's major hits.
I also must mention Sandra/Anna (Ellie-Jane Goddard) a lovely voice and a great Saxophone player too.
I understand that actor/actresses to be 'in work' is their  job for them. They also have a choice which productions they take part in after the casting process. If I knew the writing, casting or choreography was poor I wouldn't take the part. Doing a production in our fickle industry can be damaging for your career as well as the upside. In this case the writing (Warner Brown) Choreography (Craig Revel Horwood) and casting (Anne Vosser) were poor. The only thing Anne did get right was casting Diana Vicker's as the lead and yes I enjoyed watching Andy/Mike/Young Jack played by (Liam Vincent-Kilbridge) a young good looking Shayne Ward look alike, who did have some talent.
Honestly I am not going to put the link or the ticket prices as I normally do, because I thought the production was awful. Apart from a few mere scenes of talent, who I have mentioned.
If you see it advertised – avoid!
I think Craig needs to get in someone like Tim Firth to do the job properly!