We went along one wet (supposedly summer?) day to Heaton Park in Manchester to see what the Friendsfest experience had to offer.
We parked up and had no idea where to go. Not one sign with directions to give us a clue; which is needed as Heaton Park is HUGE. Thankfully the giveaway was the crowds of people mostly in their 30's heading in one direction, so like lemmings we followed.
Being born in the 1980's meant that by the time 'Friends' the television series came along in the mid-nineties, I was an impressionable teenager with a smart mouth, full of  attitude & curiosity.
I still remember the first time I watched it the 'Friends' Series on Channel 4,  it felt such an affinity with the group of strangers on the my TV that I knew I was hooked.
They thought & behaved like I did; about work, boys, money, it was all such a minefield. Watching it was so refreshing, it made me feel that I wasn't alone in my thoughts, not to mention all the ridiculous predicaments I often found myself in.
So; here I was mid-thirties, married with two children traipsing through muddy grass to see the sets of the programme I was once totally addicted to. (I admit, in the rain & mud I was cursing myself wondering what on earth I was doing).
Once we were inside our first stop was the Chick & Duck bar for a cocktail, which was delightful.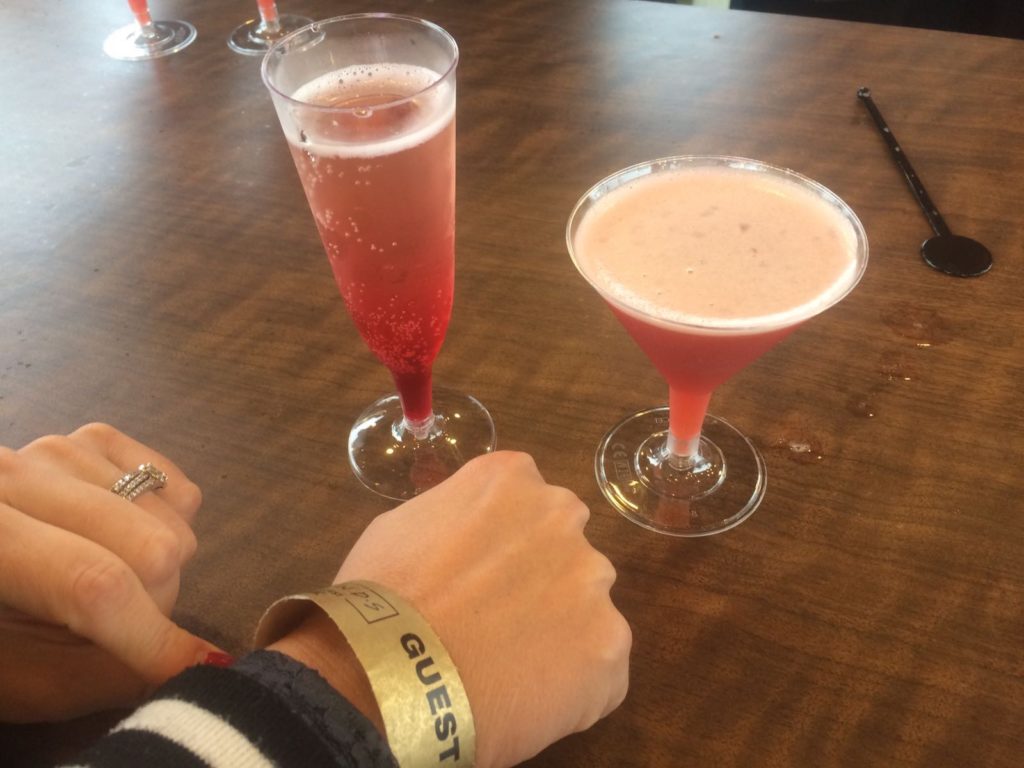 Opposite the bar was a big screen showing clips from our favourite sitcom and lots of tables & chairs for people to sit & watch.
It was nice but I think I would have preferred to watch actual episodes rather than clips – just my opinion.
You also need the weather for this to work and in England, in particular Manchester all it does is rain!
We then wandered over to the cabin to our right where we were greeted by two cheery girls who asked us what colour umbrella we wanted.
Then we saw the orange sofa and realised we were to recreate the scene from the famous introduction.
I could hear the music playing in my head the second I clapped eyes on it!
This was great fun & a lovely touch, I have to admit I'm glad we had a cocktail first as I would have felt a right wally.
The girls were nice & tried to suggest a couple of poses but it's not the same effect with just two of you. However; still good fun.
Next door was the shop, which we clocked and decided to visit later.
Next we headed over to the coffee house. Posing for photos outside the famous window, underneath the green sign I actually felt a flutter of excitement as I opened the door to central perk.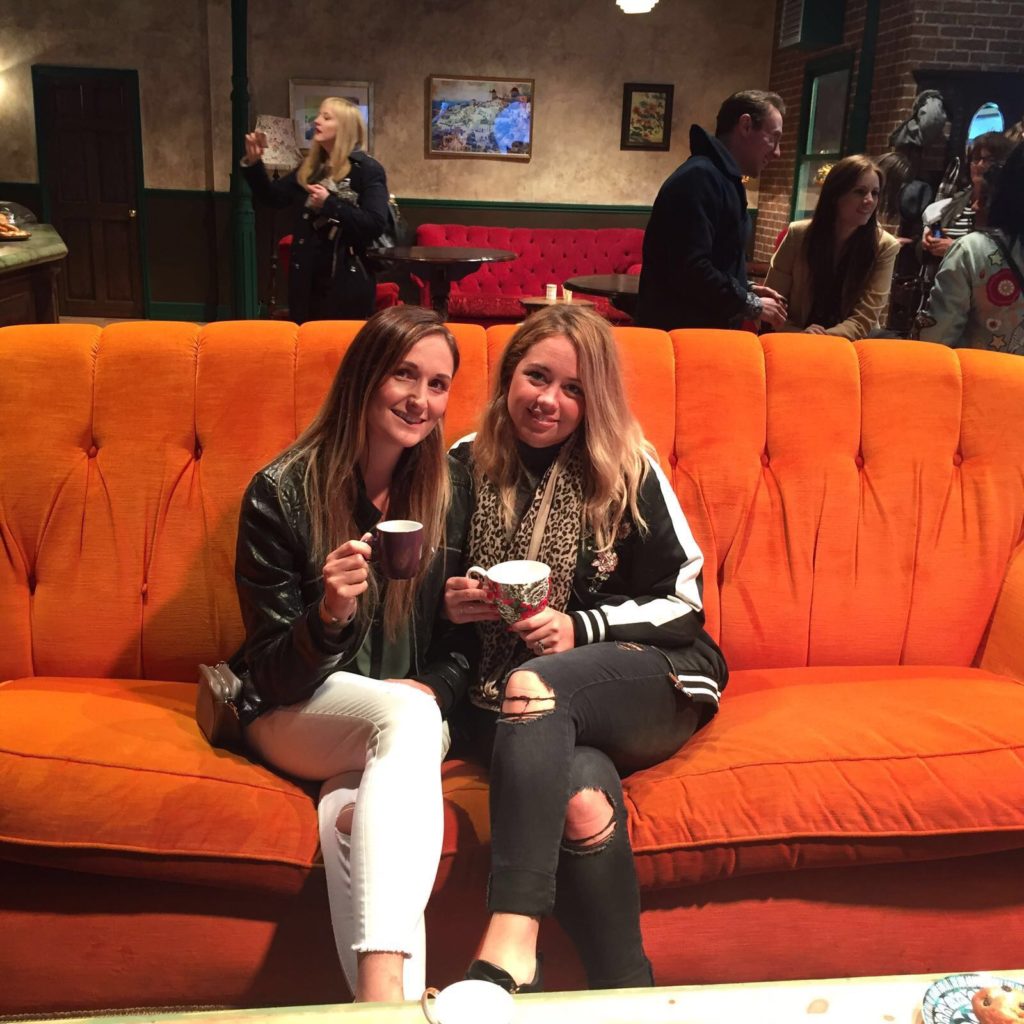 To my left was the stage where phoebe would perform her, let's say 'unique' songs. There were also a selection of instruments for you to pose with and a chalk board with the words to 'smelly cat' should you want them. (Not that I would need it, any 'real' friends fan worth their soul should know the words to that song)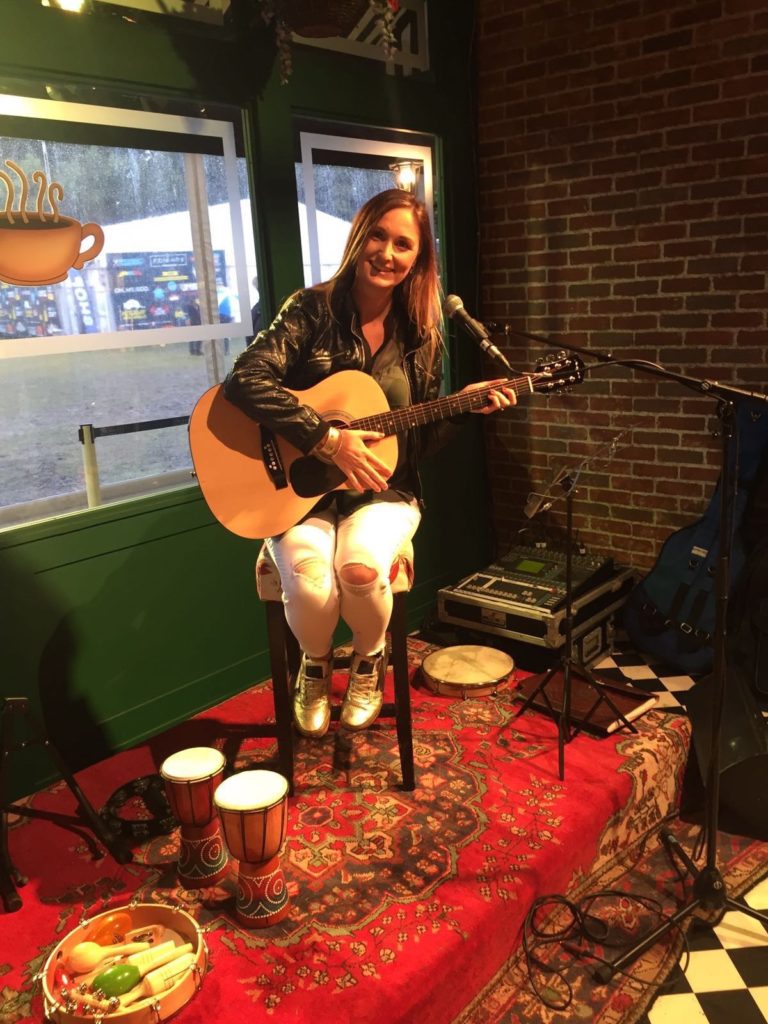 We wandered in and saw the coffee counter in front of us, there were some seats to our right but I don't think they were part of the original set, I could be wrong but it didn't look quite right.
We then saw THE sofa and had to wait our turn to sit & have our photograph taken.
Everything was stuck down, even the muffins (my friend tried because she loves cake, even fake cake) you were allowed one cup to pose with and that was it. Which I totally understand, given half the chance I bet most people would try and sneak out a central perk souvenir.
This was one of my favourite moments, just because I had seen it a thousand times! I felt like I was them, just flopping onto the sofa ready to pour out my latest saga. It was great.
We then went to phoebes stage, took some more pics with the guitar and then said goodbye to central perk.
We stopped for some food, there were a couple of places to choose from and the food was good.
After the visit to central perk I was really starting to get into it. I felt a buzz at what we might see next so i ate quickly so we could get into the next cabin.
We walked in & were met by glass cabinets containing props from the show. I LOVED this bit and got all excited as I skipped from one cabinet to the next.
There was phoebes guitar, joeys 'soapie' and the big porcelain dog.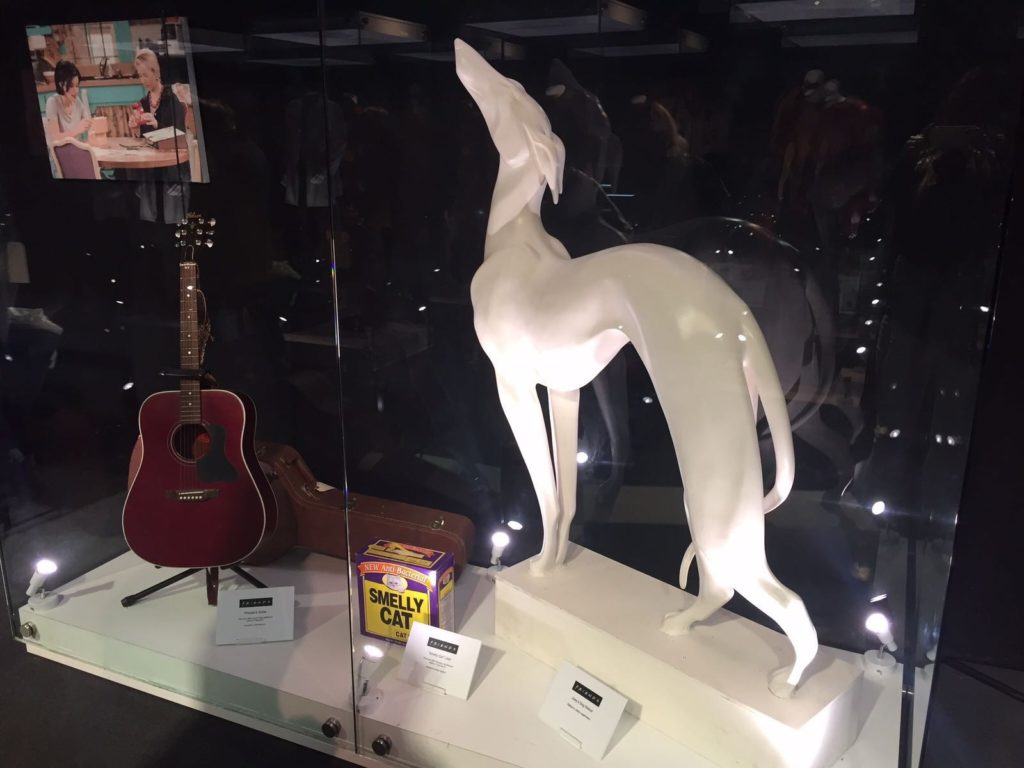 Then there was the Geller cup, chandler & Monica's wedding rings and Rachel's letter to Ross – all 18 pages!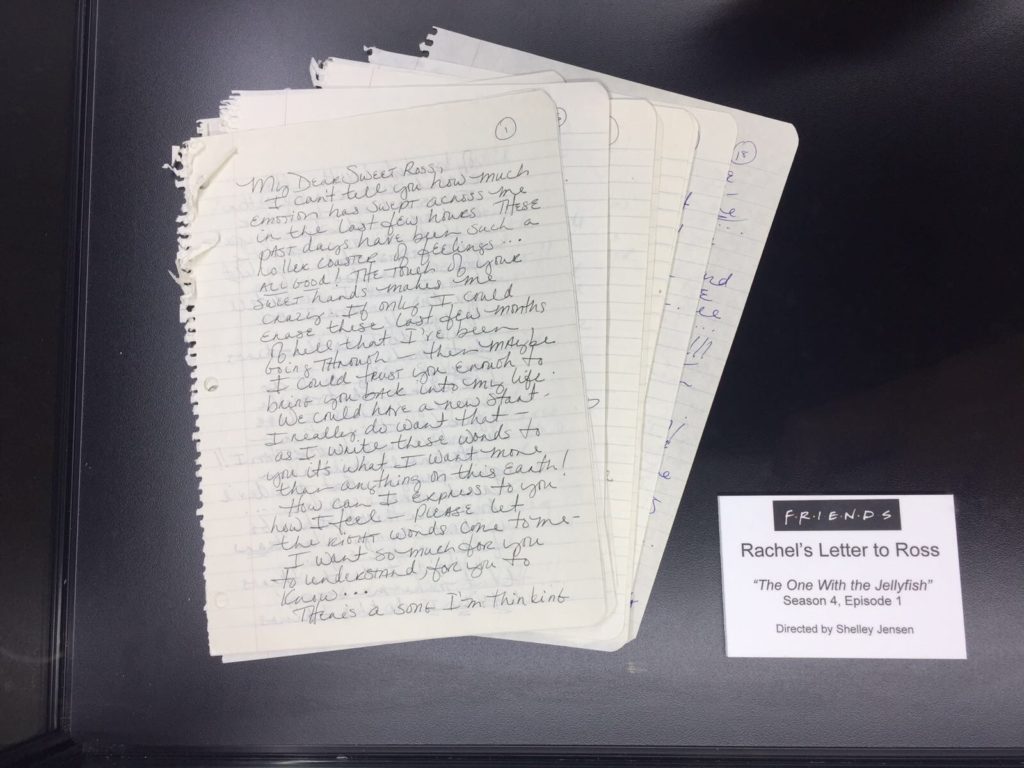 In the middle there was an outfit worn by each of them, my favourite being Ross's as it was the one with the leather pants (had me in stitches)
And lastly another favourite of mine, the holiday armadillo costume.
I was grinning from ear to ear after that and really felt like I was part of it.
The next set was joey & chandlers apartment. It had it all; the unit Joey built, the lazyboys, the football table & of course the canoe! We had so much fun in here, flipping out the chairs, cuddles with hugsy (joeys bedtime penguin pal) and there was even a copy of the shining in the freezer. They really had thought of everything. There were staff on hand to take pictures on your phones but if they were busy there was often a fellow friends fan nearby happy to help.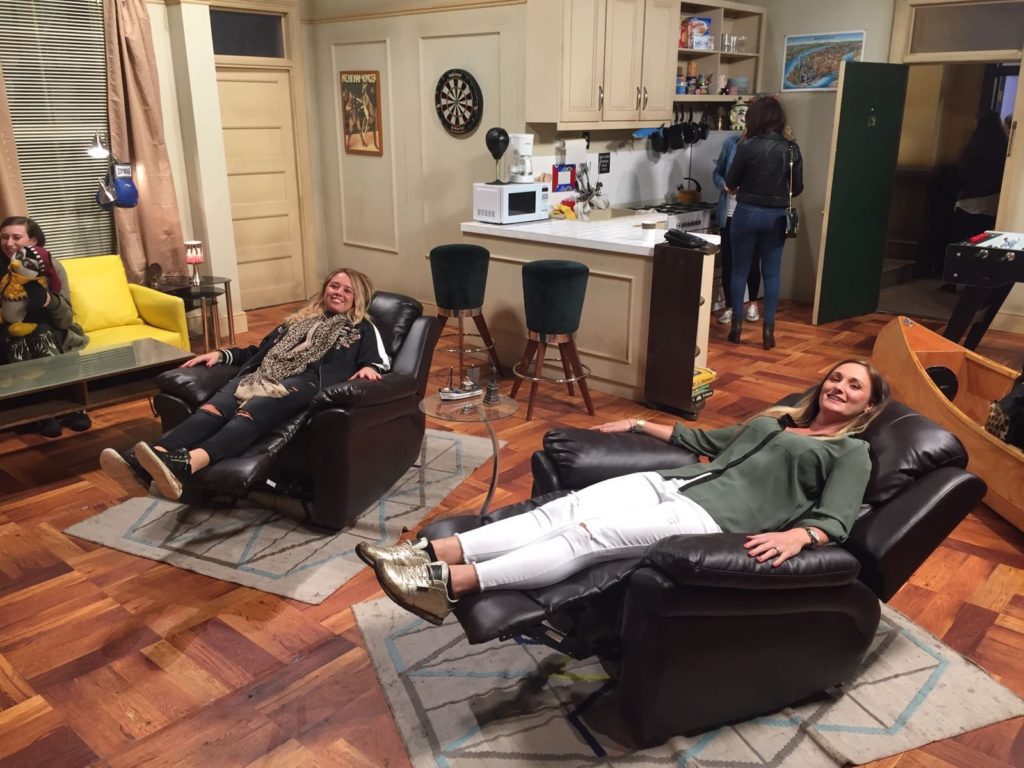 We left the apartment on a high and even got a couple of pics on the step in the hallway, which I thought was a great touch as there's been a few moments out there as well.
The final set was of course Monica & Rachel's apartment. I felt so excited to walk in through that door, yet a bit sad as I knew it was coming to an end. The set was immaculate & the detail impressive. We sat and had pictures at the kitchen table, of course on the sofa & even by the window where they looked out at ugly naked guy & where Rachel sat fed up over Ross's list.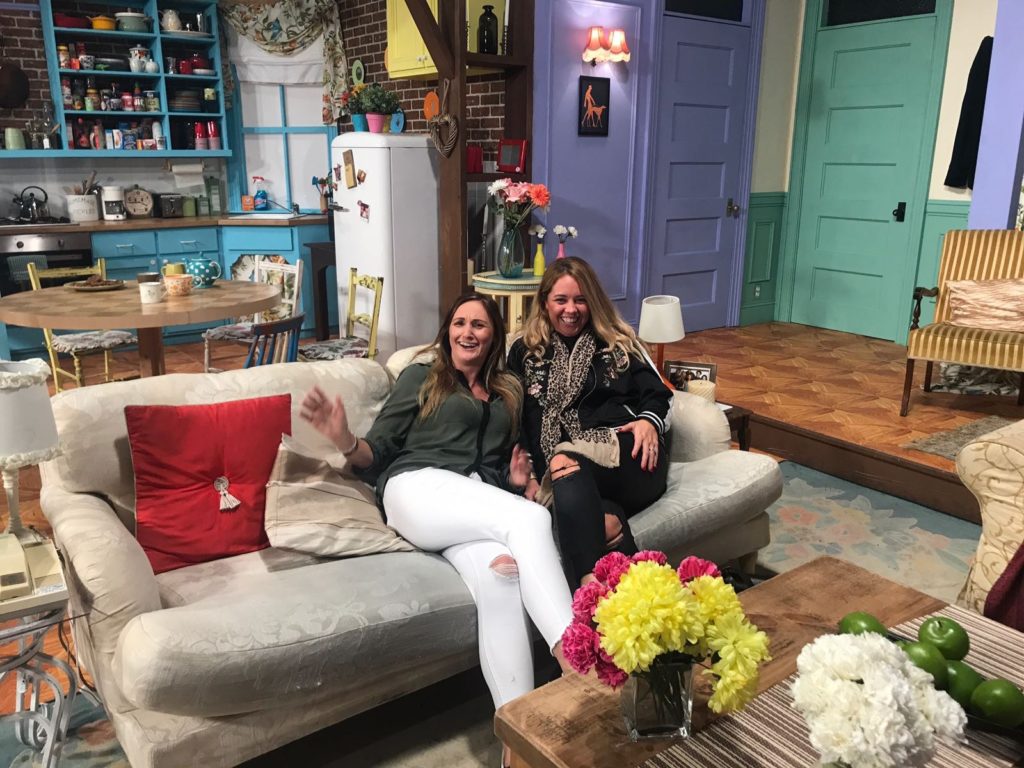 We thoroughly enjoyed the whole experience & it's a MUST for any friends fan. I have to admit, being older now I thought it might not be my thing but I was totally wrong. I loved it and felt like a teenager all over again. I was eager and excited to go from one set to the next and took so many pictures my phone battery died before the final set.
Thankfully I recruited a super nice friends fan who took some of us on her phone and sent them all to me.
You do need to be patient as there's a lot of people and only a few staff members taking photos. Some of them aren't the greatest at taking pics either so check them before you move on & make sure you get another one if you aren't happy.
You will get other fans in the background but that's going to be the case with so many people there & it didn't really matter to us anyway.
Oh, and make sure you charge your phone!!
Take some extra cash for the shop as well as I guarantee you will want something!
All in all, a good day. It was fun, brought back some great memories and I left on a high feeling nostalgic at what i had seen and really really glad I went.
A big thank you to Comedy Central for inviting us. 'Friendsfest' the experience is currently on tour throughout the United Kingdom.
Tickets are £26 including a booking for any Friends fan this experience is definitely a must!
Website link to book – http://friendsfest.co.uk/
Review by Janine Williams