The world premiere press night of 'And Juliet' had its launch at the Opera House in Manchester last night. What a glamorous affair it was, Quay Street in Manchester was lit up like a sea of pink; walking down towards the theatre. The pink carpet was down and stars from stage and screen were posing for photographs and interviews as we walked in.
For a long time, we have been looking forward to this night, I have interviewed the cast last month who were lovely and upbeat about the production.
So, what's it all about? Imagine this concept for a second. We all lovely William Shakespeare the greatest playwright of all time and I love one his plays 'Romeo and Juliet' which has been taught in schools and remade into films plenty of times. It's a classic. Imagine this, imagine if Juliet didn't kill herself and carried on her life without Romeo. What would she do? Where would she go? This is 'And Juliet' her life after Romeo cleverly narrated and rewritten by Shakespeare (Oliver Tompsett) and his wife Anne Hathaway (Cassidy Johnson) the pair have a right ole time coming up with a new life for Juliet and keep stopping the production and coming up with the next few scenes. Like an observational musical as you will, different and it worked. Also, the pair together are quite funny as a couple, Anne campaigning for women's rights for the story and William with his funny puns and jokes with Anne. With the clever words by David West Read.
In enter Juliet (Miriam Teak-Lee) glamorous, young and full of prosperity. Her take on 'Baby one more time' was completely different from I had ever heard. Written by Max Martin and first heard by Britney Spears back in 1999. I really enjoyed this version from Miriam which really worked with the context of the story.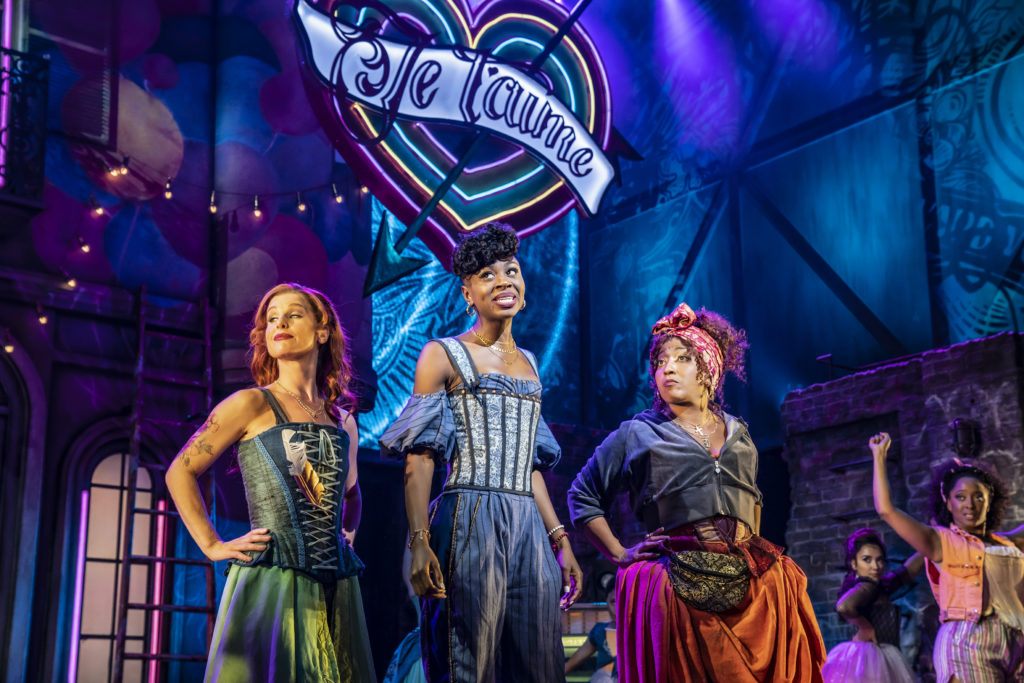 Miriam's voice is truly unique and last night she raised the roof off the Opera House in Manchester especially with her version of Katy Perrys 'Roar' and her version of 'Since you been gone' by Kelly Clarkson. Powerful soulful voice backed by dramatic sets and a full-scale moving stage which lifted Miriam high above the audience for a more immense atmosphere. We loved your sets Soutra Gilmour!
I loved the sets at the end, especially Romeos entrance (Jordan Luke Cage) in the second half where he comes down from the ceiling with his name in lights behind him. What an entrance to 'Love me Like you do' brilliant.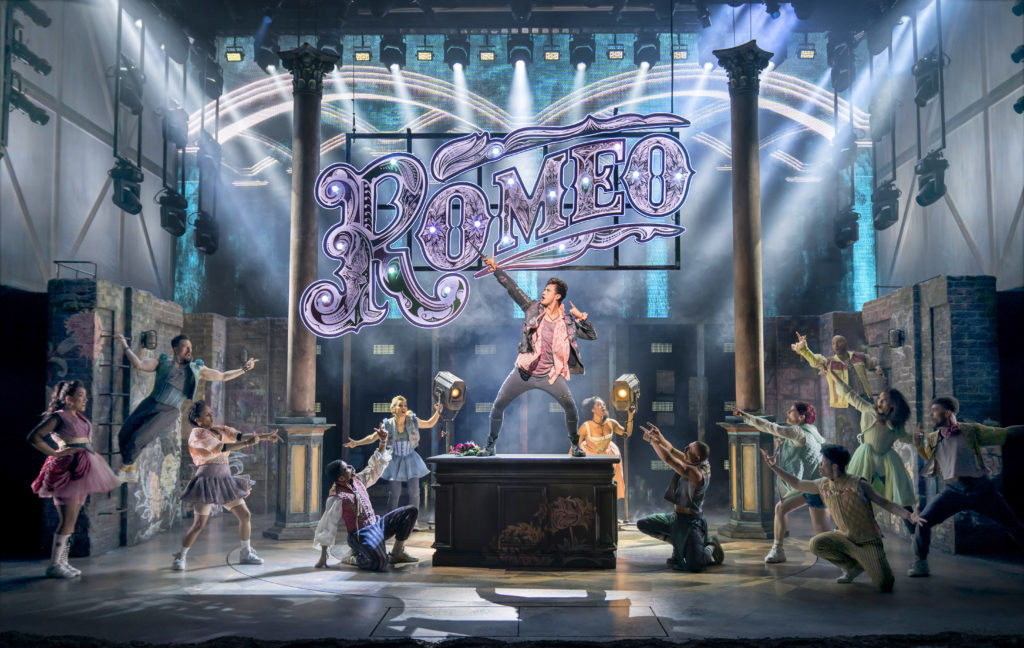 Other highlights for me included not just the set design; the lighting as the artists came bright and warming worked really well with costumes. I loved the contemporary look with the Shakespeare theme 90s clothes vs traditional well done Paloma Young and Howard Hudson!
Surprisingly the whole production had a happy go lucky vibe with the audience frequently bursting with fits of giggle as the famous Max Martins tracks (Britney, Back Street Boys, Katy Perry, Nsync, Ellie Goulding and many more) were performed in a different way by the 'And Juliet' cast, especially when you add a joke a dramatic scene crushed together with a Back Street Boys song 'I want it that way' brings the audience in fits of laughs.
Other highlights for me were the Nurse (Melanie La Barrie) and Lance (David Bedella) who's comedic timing was hilarious particularly in the 'Teenage Dream' number! They clearly have good chemistry together, and added another element of fun to the production!
This production with not your stereotypical happy ending; it showcases female empowerment, gender equality, honesty and endearment with plenty of laugh out loud performances, cheeky giggles, and heartwarming tracks which have been transformed! 
Max Martins himself who wrote all the songs has enjoyed success with 22 number one hits and this production really showcases some of his best tracks from the '90s and early naughties, with a talented cast, crew and orchestra conducted by Andy Barnwell.
A standing ovation at the end from the audience screaming and cheering with laughter a perfect evening with drama, wonderful sets, nostalgic music and Miriam who really raised the roof off with her stunning voice and grounded personality!
Also great performances from May (Arun Blair-Mangat) and Francois (Tim Mahendran) who proves you should always go after what you want. Their humility and grounded performances were lovely to watch and see them have a happy ending together.
All in all stunning performances, Laugh out Loud moments with flawless set design and Hollywood glamour.
Go see it before it leaves Manchester!
Top marks from me, congratulations!
Tickets: HERE
Thanks to ATG for a lovely press night.
Review and interviews by Amy Parkinson
Check out my cast interviews below:-