When I think of the words 'Club Tropicana' I think of the 1980s British hit track by Wham called 'Club Tropicana' by band members George Michael and Andrew Ridgeley. 1980s cheddar cheese I would describe it to my friends. The song was released in July 1983 and peaked at 4 in the UK, going on to become the 39th best selling single of 1983. At the time cheap package holidays were the trend for Brits to visit Spain for younger, single people of a hedonistic nature. It was specifically seen in the UK as a swipe at the very popular Club 18-30 scheme.
At a time when hair was big, shoulders were padded and mobile phones were shaped like bricks and weighed a tonne a fun period to be alive in Britain. The concept could be easily turned into a feel-good musical.
Last night Katie and I attended the press night of 'Club Tropicana the musical' at the Opera House in Manchester. With an all-star cast lead by headed by Joe McElderry (X Factor winner and star of Joseph and his Amazing Technicolor Dreamcoat), Nye Rees (Mamma Mia, Titanic and The Life) , Kate Robbins (Spitting Image, ITV's The Imitation Game, Dinnerladies), Emily Tierney (Eugenius! , Wicked, The Wizard of Oz); and former Sugababe star Amelle Berrabah making her musical theatre debut.
On an opening night at the beginning of June on the same night as the new series of Love Island on ITV1. I felt like I and Katie were ready for some fun in the sun. Instead, we opted to travel back to the 1980's on Spanish package holiday all inclusive with the Club Tropicana cast which was great!
Joe McElderry played a fun vibrant character who really got the audience going. Together with the chart-topping 80s hits from ABC, Cyndi Lauper, Frankie Goes to Hollywood, a-ha, Culture Club, Kenny Rogers and Dolly Parton, Bucks Fizz and Depeche Mode: Girls Just Wanna Have Fun, Take On Me, Just Can't Get Enough, Oops Upside Your Head, The Look of Love, Making Your Mind Up, Relax, Islands on the Stream, She Drives Me Crazy, Don't Go, La Dolce Vita, Surprise, Surprise, Church of the Poison Mind, Fantasy Island, Up Where We Belong, I Could Be So Good for You, Fantastic Day this show was packed with 80s iconic tunes!
Highlights for me included the very funny and talented Kate Robbins who played Consuela a very funny Spanish cleaner. The scene where she told the guests of the hotel ' I have a sign' and stuck her fingers up at them was funny. Kate is an established voice-over artist since the age of 22 and spent a decade doing voiceovers for many of the female's characters on satirical show Spitting Image. Her Cilla Black, Tina Turner and Maggie Thatcher were hilarious last night! Together with the tight 80s outfits to transform the characters plenty of laugh out loud moments.  Well done Kate!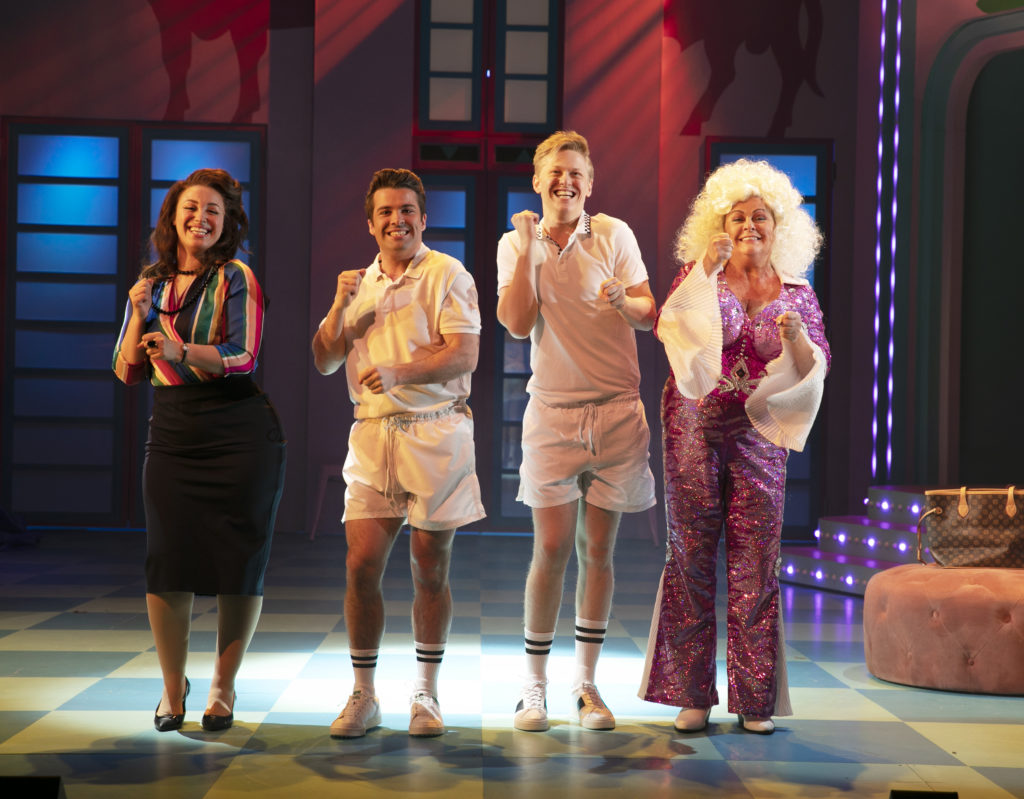 Credit: Lee Boswell Photography
As always for me when Nick Winston agrees to do your choreography; a highlight to any show. Fast kicks, lift and polished dancing a joy to watch!
The costumes are very colourful and truly representative of the era. Watching the girls in their shoulder pads, dayglo orange tutus and matching leggings makes one glad that fashion has changed significantly since the 1980s. Lovely to see all the cast dressed this way, certainly cheered me up. I actually missed these times too.
The show does remind me a lot of the musical/television show Benidorm for me. Joe McElderry and Kate Robbins are the stars of the show with Robert played by Nick Rees also did a good job together with Emily Tierney who plays Christine.
One person I must mention is Tracey played by Rebecca Mendoza very confident and funny actress. Her scenes after she seduces Robert very funny. I love her girl power and confidence with curves. A lot of young girls could learn a thing or to from you!
All in all a funny Benidorm/ 80s night out with some cracking moments from Kate Robbins!
Tickets:  HERE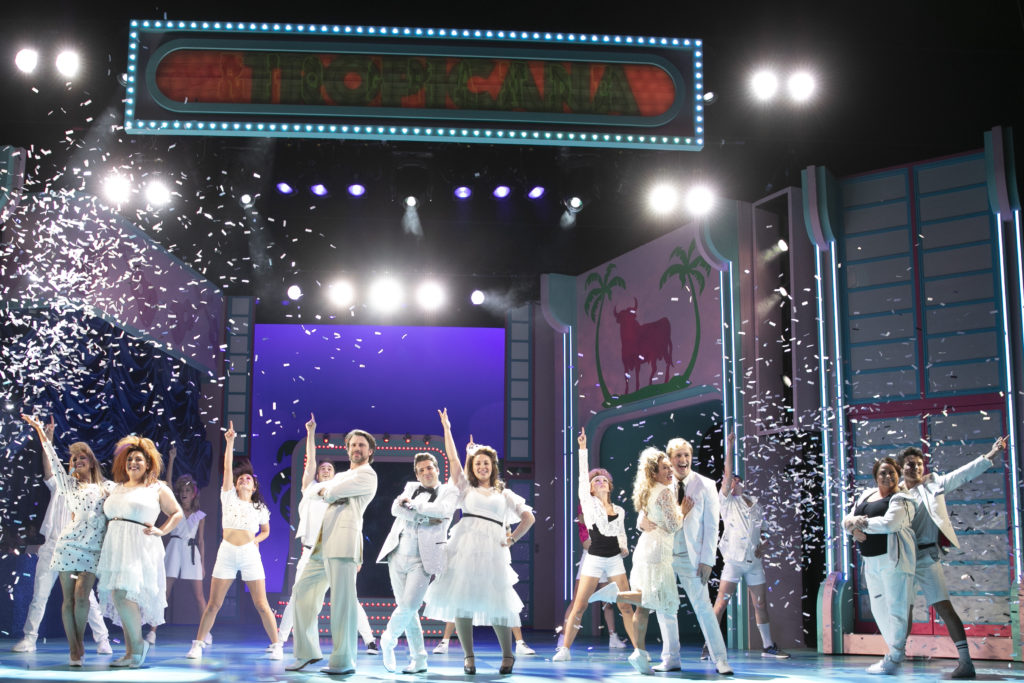 Credit: Lee Boswell Photography