With every great musician, there always seems to be a major struggle to get the top. The same happened to Buddy Holly to get his Rock music played on country radio stations and now I hear of Gloria Estefan also has major problems getting her Spanish/Cuba/ English music played on American Stations back in the 1980s.
On Your Feet is the true story of Gloria and Emilio Estefan they came romantically involved in 1976 when Emilio conveniences Gloria to join his band 'Miami Sound Machine'. Gloria and the band became one of the most successful Cuban-Americans of all time releasing forty-nine singles (solo), eighteen promotional singles (solo) and eight other guest or special appearance singles as a solo artist. They reached the peak of their fame in 1984 with Dr Beat a dance house Cuban style track which became catchy and successful. Later releasing 'Conga, Rhythm is Gonna get you and 1-2-3'.
Last night we attended the press night of 'On Your Feet' which opened at the Palace Theatre in Manchester, which celebrated the love story, struggles, rise to fame and tragic accident of Gloria and Emilio Estefan.
The stage opened with a live band and bust of fantastic Cuban music and energy straight in with one of her biggest hits 'Rhythm is Gonna Get you' played by the band. Putting you straight in the mood for partying especially for a cold Monday night!
We meet a young Gloria (Olivia Holding) with her family in Miami growing up and looking after the family at a very young age. As the years go by her grandmother Consuelo (Karen Mann) speaks to a local band and asks Emilio (George Ioannides) who is in charge of the band 'Miami Sound Machine' to come and hear Gloria's sound. Cut to an older Gloria (Philippa Stefani). It's very clear from the very beginning that these two have great on stage chemistry and singing together becomes very natural for them both.
The story is heavily focused on them and their love for each other, which is nice to see. Enriched with plenty of brightly coloured numbers with lovely costumes and flashy set design. Particularly favourites of mine include 1-2-3, Dr Beat and Conga. At the end of the first half they did the Conga around the audience, which is always fun to see coming off the stage and grabbing audiences members!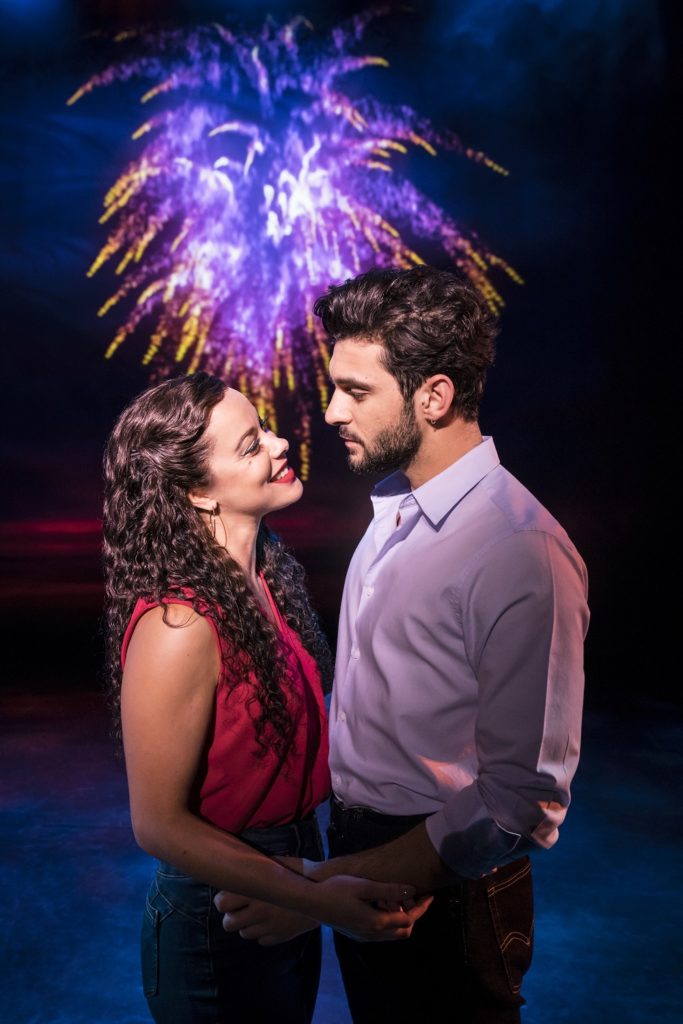 Other highlights of the show included Gloria's mother numbers (Madalenda Alberto) the touching 'If I never got to tell you' between Gloria's mother and Emilio lovely song and they sounded wonderful together. Madalenda has also played roles like 'Evita' previously which include very high and difficult numbers. Madalenda had no problem hitting the high notes and has no problem adjusting her voice to fit in with the other cast and ensemble. Emilio (George Ioannides) has a lovely powerful voice to and I enjoyed the numbers with both Gloria and her mother when they performed with Emilio.
In parts I did find Consuelo (Karen Mann) very funny and sarcastic Karen has a very long theatre career and her comedic timing is perfect.
The only drawback for me was at near the end of the first half I found the story a bit flat. My favourite was the second half taking you on a journey full of every emotion.
All in all I really enjoyed the production lots of bright Cuban/Spanish costumes (Emilio Soga) happy vibes and heartache particularly at the end after Gloria's accident. The story itself has lots of hidden messages from the original book written by Alexander Dinelaris. This is definitely a couple who would never give up; even if the New York record label said 'No' to them they will still keep on pushing for their dreams.
Very well cast (Natalie Gallacher CDG) high octane routines (Sergio Trujillo and his team) and great set design (David Rockwell) also lovely to see high percentage of Spanish and Cubans in the cast. Very fit actors and dancers!
A brilliant night out with plenty of great tracks to get up on your feet. The audience left the theatre dancing the night away from a feel good musical. Go and see it before it leaves Manchester. Ve Ahora!
Tickets:  HERE