The sound of Ethan Iverson's interpretation of the nostalgic Sgt. Peppers Band tracks played live, including the accompanying theremin, set the tone for the vibrant, colourful and energetic dancers whose mixture of brilliantly choreographed controlled and chaotic dance moves filled the Lowry Lyric stage.
Mark Morris Dance Group Pepperland has come to Salford Quays having been created as part of the Sgt Peppers 50th Celebrations in Liverpool in 2017. The production comes, as part of the Dance Consortium's engagement programmes which promotes access for all to become involved with dance and music activities through workshops, creative projects and talks. Mark Morris is also instrumental in his quest to engage Parkinson's suffers in dance, which is believed to be beneficial to their wellbeing and quality of life.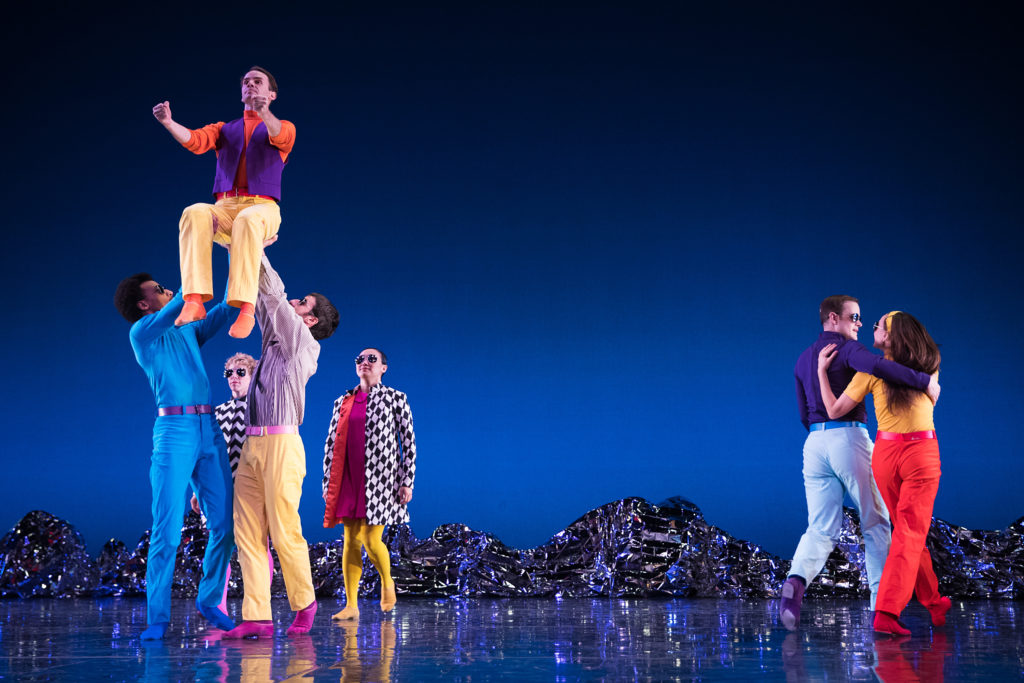 Credit: Mat Hayward
So much action was delivered at times that your eyes were able to drift to any one part of the stage and see what appeared to be equal skill and agility.   I was surprised, afterwards, by the word apprentice next to two of the crew's names in the programme and subsequently noted quite a few of the current company members had been recent apprentices which indicates to me that education and access to dance is very prominent within the ethos of the production.   Not one dancers' physique was unappreciated.  The effortless way dancers jumped, were carried, span and quirkily walked, whilst in sync with each other, and at the same time mirroring each others facial expression, set the mood of each piece, from the sombre feel of a meditating guru with his thoughts to the wacky quirkiness of partners being slung over other halves shoulders to leave the stage. Movement flowed throughout the dancers' bodies both in flowing arms and jerky walks. It was noted that single sex couples were among the many dances ensuring an all inclusive atmosphere. The amount of weaving and diving and intertwining of dancers with sudden bursts of graceful gazelle like bounces as dancers were supported across the stage, through all the action on the stage, showed the skill of the dancers and certainly allowed the audience to amaze at the very clever choreography.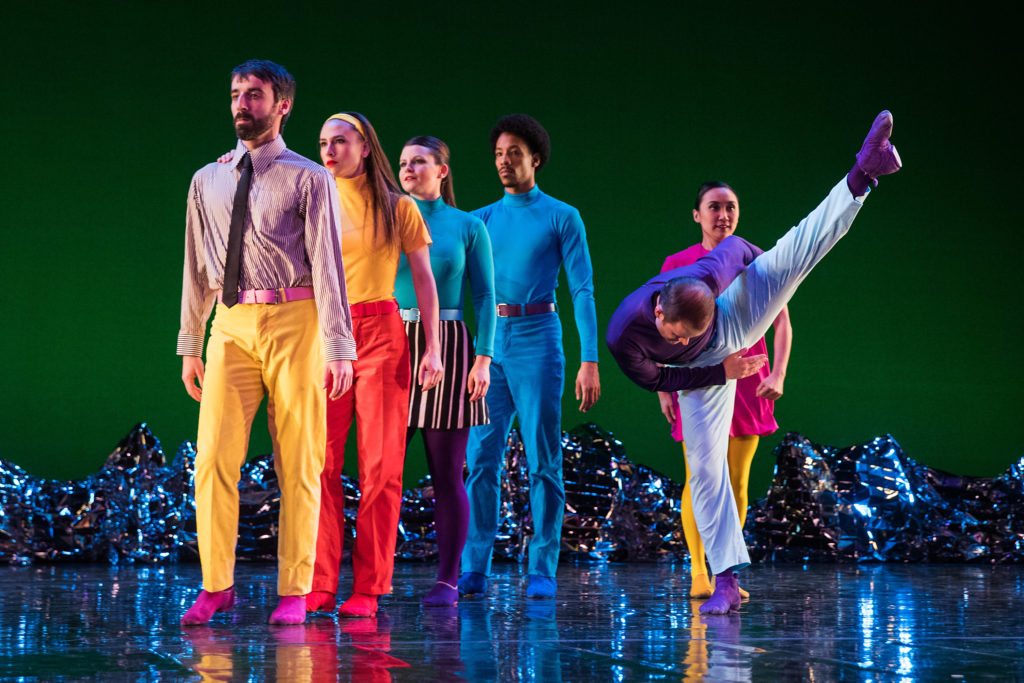 Credit: Mat Hayward
One very uplifting dance to When I'm Sixty-Four saw some very, very clever spacing and quick joining up of people who entered the dance in an entertaining manner giving the tempo both in the dance and in the music an extra energy. The dancers reflected the mood and the appropriate 60s attire, with a mixture of block colour, bright tights, black and white tooth combed fabrics, flowing skirts and mini skirts left no doubt about who the dancers were bringing to the audience. All in all the show was entertaining and should be liked by Beatles fans and/or dance fans. The skill of both the music playing and the dancers on stage was evident as was the very hard work and pride of the production team.
Review by Anne Roberts
The show is currently on its UK tour tickets are available HERE