Michael Joseph Jackson was born 29th August 1958 in Indiana in the United States of America. Born one of a family of eight he made his professional debut at the age of six with his brothers as the Jackson 5. 2018 he pulled in a reported $825 million, according to Forbes, "the highest annual total for any entertainer dead or alive," thanks to the sale of his half of the Sony/ATV catalogue. When Jackson died in 2009, he was worth an estimated $500 million. Even after his death he still makes more money than any of us in a lifetime in 2017 making $75 million alone more than Elvis Presley, Bob Marley, John Lennon or Prince.
It is no doubt in my mind that Jackson is one or the best male entertainers that has ever lived. Creating a new music style and then millions of people will copy hundreds of years and generations after.  A true legend who had a career over four decades! The true king of POP, R&B and Rock!
Last night we attended the opening night of Thriller Live at the Palace Theatre in Manchester. I have seen the show before with the Director and Lead vocalist Britt Quentin and without a doubt this man lives and breathes Michael Jackson even sounding like him as a young boy in the Jackson 5. The show took on us a history tour from Michael Jackson's younger years from the early 1960s Motown eria right up until 2009 until his death. In the production we had seven five vocalists to play the different parts of Michael Jackson. Lovely to see the lead vocalists different take on his sound and this time around having a lady to Adriana Louise a deeply talently vocalist with a large range.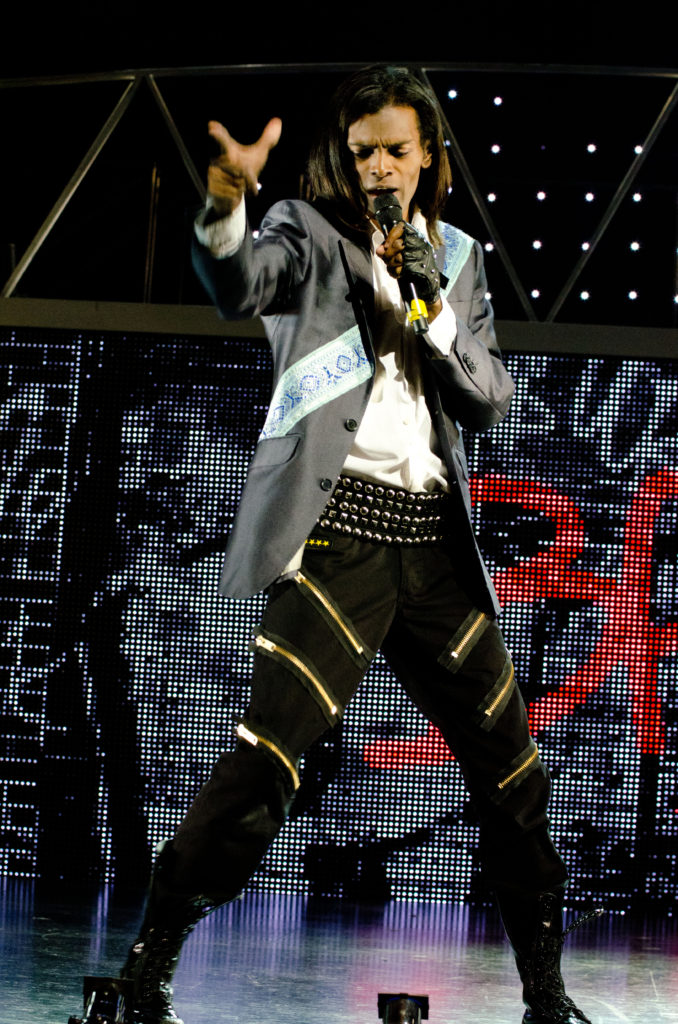 Listening to songs like ABC, Rockin' Robin and Blame it on the Boogie puts you in a lovely uplifted mood and they are real feel good songs. The delivery of these hits wasnt so great though, they production pulled down a big screen with a young boy on it singing the songs along with four female dancers. For me this completely missed the mark, this scene as I mentioned in a previous review should be done by young boys. The energy is taken out of the songs and completely defeats the objective of 'Live Theatre' such a shame.
For me the first half of the show was quite slow and yes lovely to hear the songs; but I expected better from the second half for some reason it felt like the microphones were turned down all the way through the production. You see the vocalists strain to get to the high notes in the songs, but dont really hear that through the microphone.
The second half felt more upbeat and had Jacksons biggest tracks of this career. I really enjoyed 'Beat it' performed by Manchesters own David Julian, he has a unique way of performing the songs and I love his voice.
Some nice ballard tracks to 'The way you make me feel and I cant stop loving you' from the lead vocalists where they all came out and performed the tracks together. I really loved Adriana Louise and Britt Quentin's vocals on these  tracks as they really did the songs justice.
Highlights for me included Smooth Criminal, Dirty Diana, Billie Jean and Bad this was because of Kieran Alleyne one of the most incrediable dancers I have seen. As close to Michael Jackson I have witnessed. Smooth, flexible and a naturally born mover. He has been in 'Thriller Live' before as a young boy of 13 years old, now 25 years old playing the adult Michael he is just incredible. The ticket price alone is worth it just to see ths move, he is was also a finalist on X Factor in 2016.
For me it was a lovely walk down a nostalgic a journey of Michaels Jacksons career. For me it would have been better if the set would have changed at some point especially for tracks like Earthsong,  which I felt the atmosphere and set let it down.
However some incredibly talentled vocalists and dancers and as close to seeing the real MJ as you can get.
By the end the night Manchester were busting moves out on their feet and we left the theatre with a smile on our faces. The show has been on tour for the last eleven years it no wonder, lovely to see his Micheal Jackson's career celebrated with his music from the past four decades.
If you feel like a bop and want to see come incredible performers then this is the show for you.
Showing from now until Saturday 15th February 2020 at the Palace Theatre in Manchester.
Tickets: HERE
Score: 3/5