It's another one of those Andrew Lloyd Webber classic musical's that I have not yet had the pleasure of watching. I knew I was in for a treat because he is one of the most successful composers of all time.
This particular piece is based on a 1950's film – Sunset Boulevard; which was set in 1949 Hollywood. The 50's were the times of stars like Marilyn Monroe, Grace Kelly, Elizabeth Taylor, Marlon Brando and James Dean. Wow, what a time to be alive!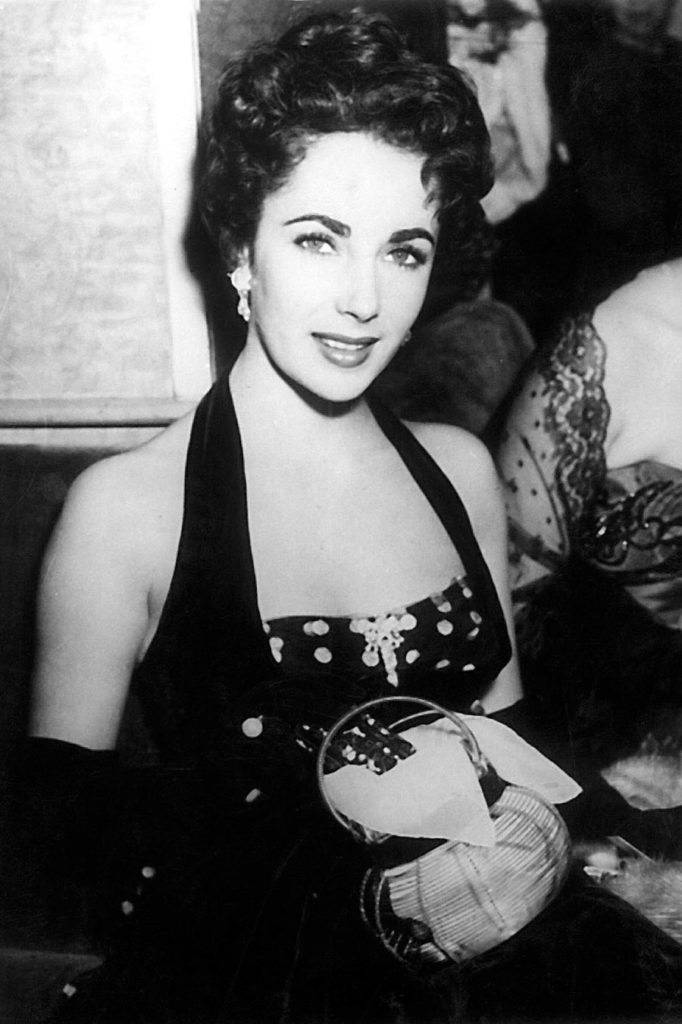 Photo: Elizabeth Taylor, 1951 – CBS News
Our first scene dramatically opens with Joe Gillis played by Danny Mac (Hollyoaks, BBC Ones Strictly) a down on his luck writer looking for work at Paramount Pictures. He meets the stunning Norma Desmond played by Ria Jones (42nd Street, Cats, Jerrys Girls) who is a Hollywood has-been, locked away in her mansion in the Hollywood Hills.
The two meet and they decide to work on a script together, living in Norma's mansion and being supported by her. Unbeknownst to Joe, Norma has other plans for him. Adam, played by Max Von Meyerling, is Norma's butler who has an unusual and hands-on approach to looking after Norma. Max's voice is an extraordinary baritone voice with the capabilities of reaching countertenor notes. Looking through Max's theatre credits he has starred in: Les Miserables, The light Princess & he was the understudy in Sweeny Todd: the Demon Barber of Fleet Street. You can see that Max is perfect for the part of Adam in this musical – his vocal range is simply outstanding.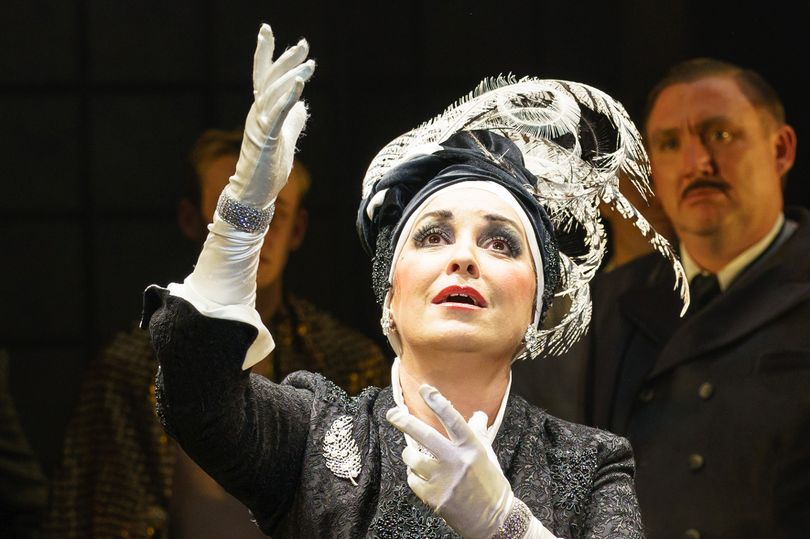 Photo: Ria Jones taken by Manuel Harlan
My favourite vocalist is the lead, Norma played by Ria Jones. As she sings her opening song "With One Look", all I could think was "Wow! What a voice!" For me her voice was absolutely magnificent and she is truly a lady that owns the stage. Her presence as she walks down the grand stairs case in her first scene is wonderful. She owned the audience as not a single person moved as she entered – too entranced by her beautiful outfits, her overwhelming stage presence and a powerful voice. Its clear to see she has worked with the greats and has understudied the amazing Glenn Close in the ENO's production at the London Coliseum. I wonder if Glenn gave her any tips for Norma's part, as Glenn Close played the same part in a previous production in December 1993 on Broadway.
Joe Gillis played by Danny Mac plays Norma's lover, writer and friend. Also has a good voice and vocal range and his scenes with Betty played by Molly Lynch are perfectly in sync.
As the second half opens, Joe Gillis walks on half naked after having been for a swim in Norma's mansion. My mum is 66 and I am 34 and we melted to the floor – ha-ha. Wow, you certainly work out Danny! Very toned and muscular – I almost dropped my wine!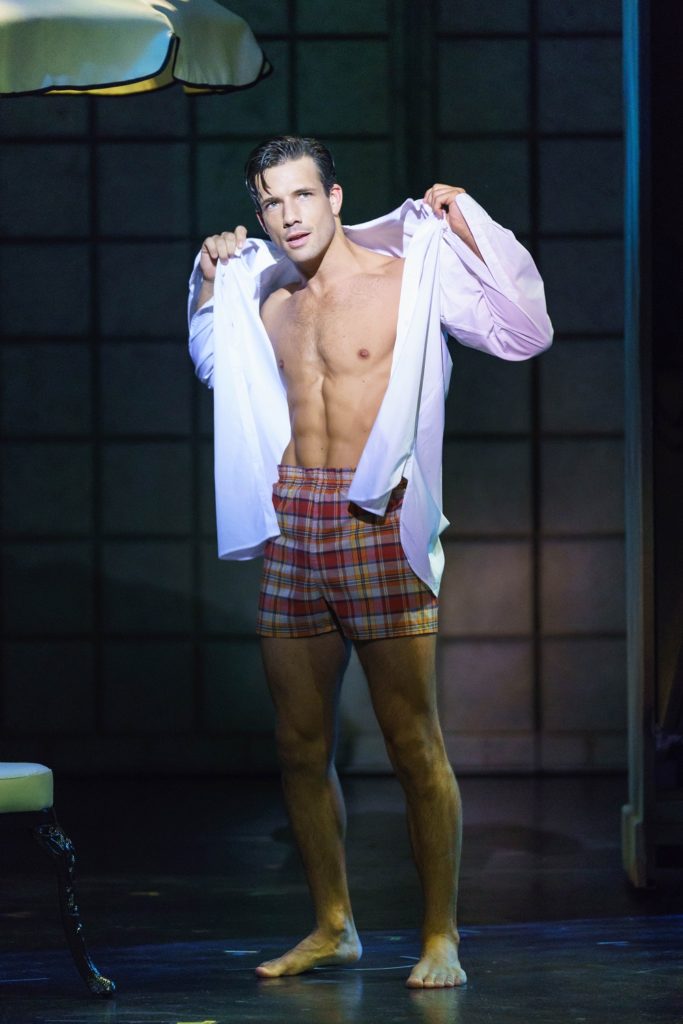 Photo: Danny Mac taken by Manuel Harlan
Tragic circumstances hit Norma and Joe in the second half, however, I won't spoil it for you completely because I want you to go and see it!
There was a standing ovation at the end of the production. Norma's on stage presence and yet again her magnificent singing was truly amazing. I have only seen one other production this year which was as good as this; Tim Firths 'Bat out of Hell'. Sunset Boulevard gets my 5 star rating, too.
Adrian Kirk, Sunset's Musical Director, you are a genius! The music at so many points throughout the evening was magical. Props also go to Andy Pye and his team for their clever set design. I loved the way the sets moved into new positions throughout the production; meaning that the characters had to walk between them. I also loved the way Norma's character was brought in and out, usually wheeled out at the top of the staircase with her glamorous outfit and an elegant cigarette holder. The holder reminded me of Bet Lynch's character in Coronation Street as she was the first person I ever saw with one of these; though Audrey Hepburn is more likely to be associated with them for most people. Both Norma and Bet owned scenes because of their talent and exceptionally strong, dominant characters.
You must go and see this musical it's utterly outstanding!
Sunset Boulevard is in Manchester until Saturday 4th November 2017 and then continues with its UK tour.
Tickets – http://www.atgtickets.com/shows/sunset-boulevard/palace-theatre-manchester/
Cost: £18 – £54.50 plus a transaction fee.
If you don't see anything else this year, make sure you go!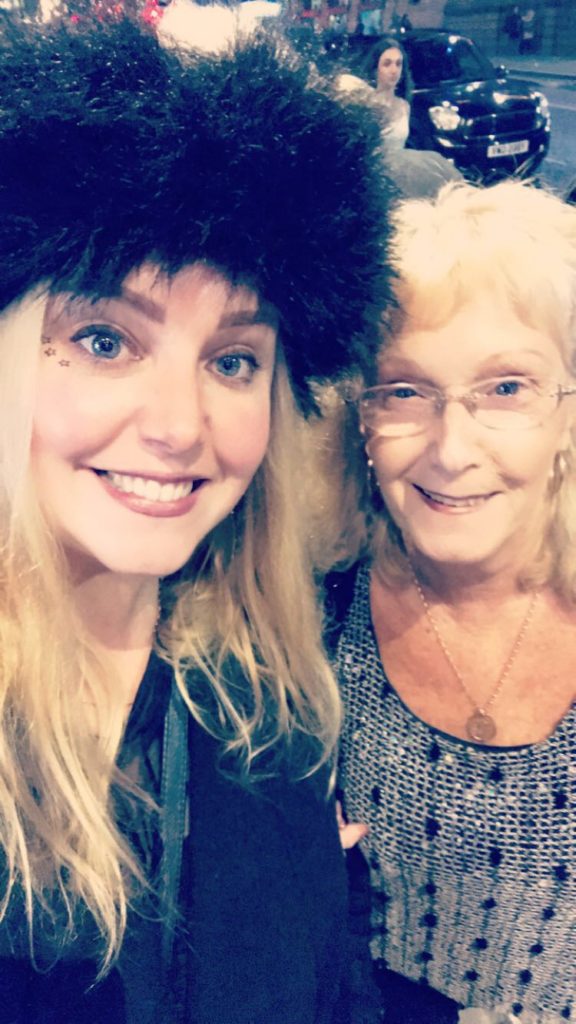 Photo: me and mum