Bright lights and razzmatazz as Madagascar the musical opened for the first time in Manchester last night! If you had a hard busy day at work and you were feeling sleepy then this musical will knock it out of you! The musical opens with Marty the Zebra played by Antoine Murray-Straughan waking in up the New York Park Zoo his best friend who is a Lion; Alex who is played by Matt Terry is the king of the urban jungle. His other best friends include Melman the Giraffe played by Jamie Lee-Morgan and Gloria the hippo played by Timmika Ramsay they have spent their whole lives in blissful captivity before an admiring public and with regular meals provided for them. Not content to leave well enough alone, Marty lets his curiosity get the better of him and makes his escape along with his other best friends and some playful penguins!
I loved the costumes of the animals particularly the main cast Alex the Lion, Marty the Zebra, Melman the Giraffe and Gloria the Hippo, well done Laura Rushton! Very inventive! We thought Gloria the hippo was hilarious. She had charisma, groove, and attitude, well done Timmika!  (Not an easy costume to move in either) Melman was funny at times he had a funny voice, which for some reason in my head sounded like exactly like a Giraffe would sound like if they could speak ha! Well done Jamie Lee-Morgan!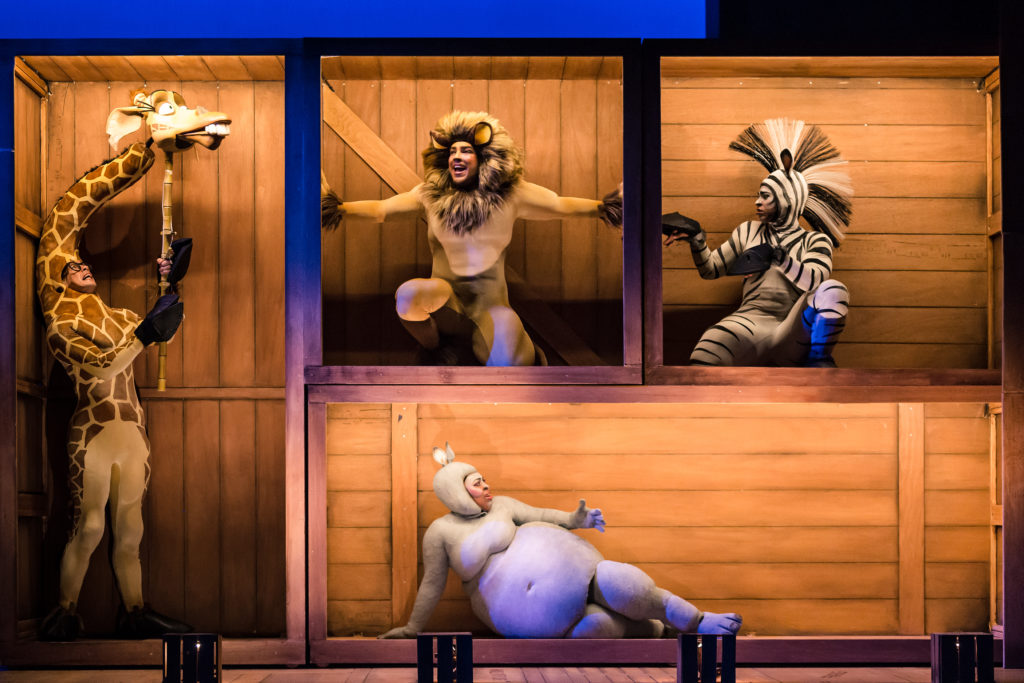 Credit: S Rylander
The real stars of the show for me were Alex the Lion played by Matt Terry (X Factor Winner in 2016) and Marty the Zebra played by Antoine Murray-Straughan there infectious 'best friends' song and ability to take the relationship as friends to the ultimate test; even though one of them is technically the other ones pray in the animal kingdom.
Highlights for me in the first half was Marty's dancing hip-hop moves, even in a tight Zebra zoo he can do the splits and break dance. Incredible dancer Antoine! Matt's singing his high pitched notes in various group numbers really showed and he has a beautiful vocal range. Both Matt and Antonie's happy go lucky attitude and passion for their roles beamed through to the audience. At times the children in the audience were constantly giggling at them.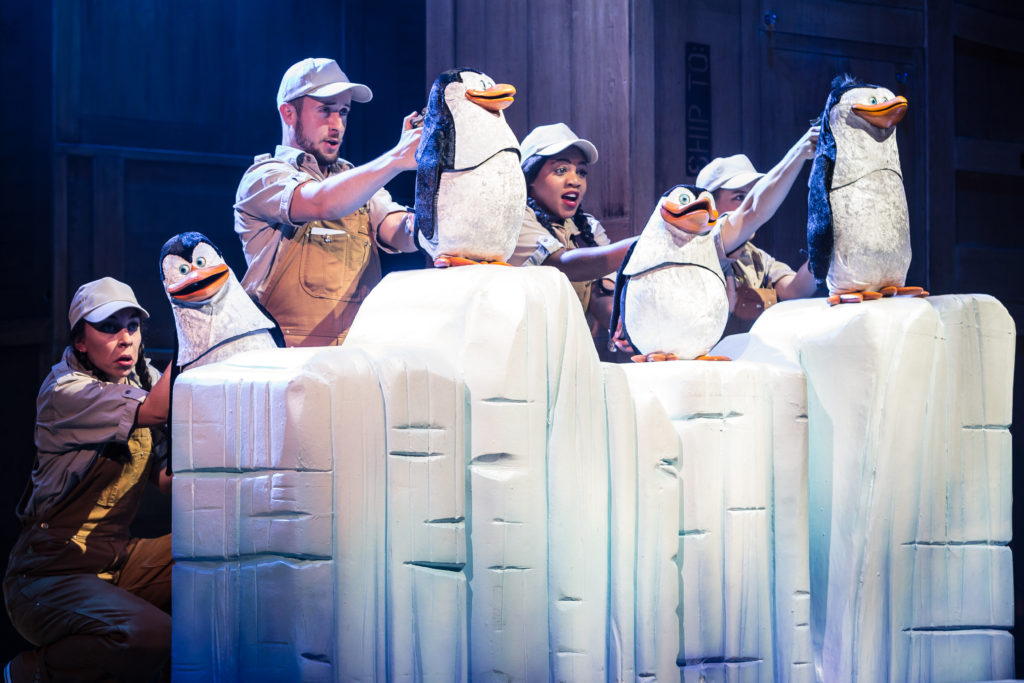 Credit: S Rylander
Other highlights for me were the penguins, their outfits and the way they moved, made me giggle like a little girl again. The bit where they were dressed up as nuns in the first half in disguise was amazing and their handlers also had black outfits on with black shades on, really funny! Great puppets Max Humphries!
The second half came with more colourful and interesting sets at the animals reached Madagascar on their travels. With the addition of new characters like King Julien played by Jo Parsons who came as a lemur. His facial expressions and comedic timing were hilarious and brought the comedy to an adult level, which was still appropriate for children. His character reminded me of Lord Farquaad played by Samuel Holmes in the Shrek tour which I saw in January of this year – http://www.backstageaccess.co.uk/a-night-with-the-green-ogre/  same clever humour!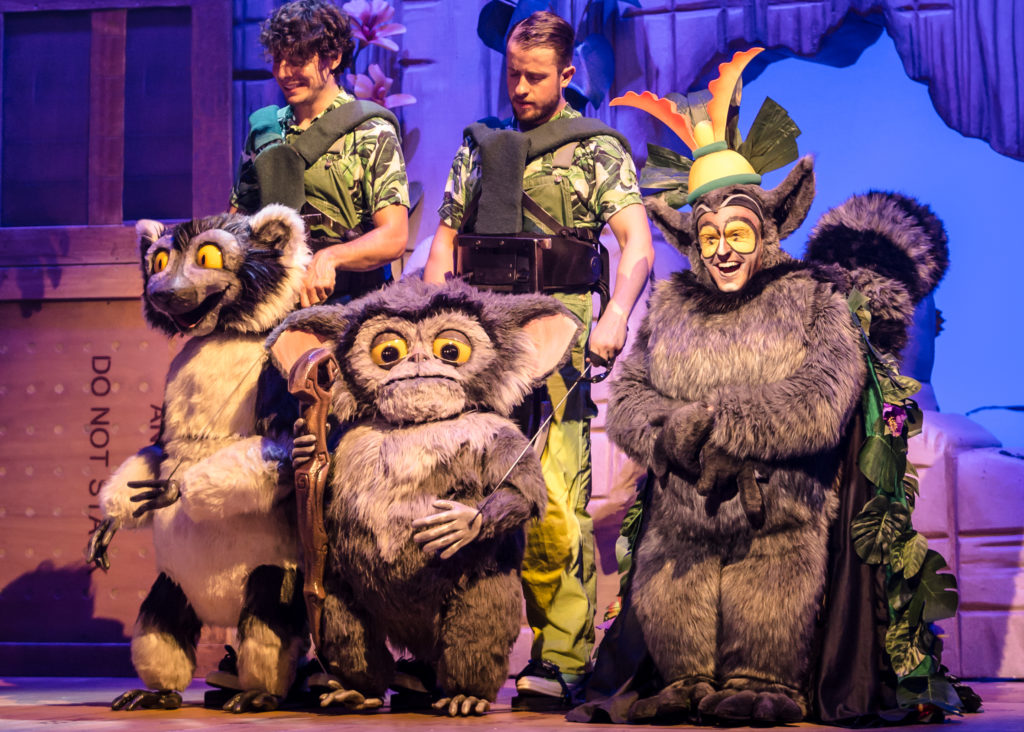 Credit: S Rylander
The song at the end 'Move it, Move it' a remake from the classic 90's song by Reel 2 Real went down with a blast. Something about animals rapping, with funny outfits on and talent moves is absolutely hilarious! Together with Jo Parsons funny faces really made it!
Kieran and I never stopped laughing throughout the whole production, perfect comedy timing, great puppeteers together with Matt, Antoine, Jamie and Timmikas singing and dancing is awesome to watch!
Another great hit production from Sell-a-Door, which is perfect for families of all ages. I highly recommend you book this before it leaves.
Thank you to the ATG & the Palace Theatre for having us.
Its leaves Manchester on Saturday 18th August 2018
It's a 5 star from us congratulations cast and creative!
Tickets: here