Wow, what a night !!! Where do I begin? The musical Hairspray is set in 1962 Baltimore in the United States of America. Tells the story of a teenager Tracy Turnblad played by Rebecca Mendoza and her friend Penny Pingleton played by Annalise Liard-Bailey. The pair dream of appearing on the Corny Collins show, which is a young hip tv show. Tracy gets an opportunity to go on the show when she meets Corny Collins played by Jon Tsouras from then on Tracy's life will change forever!
She meets Amber Von Tussle played by Aimee Moore and her nasty producer of the show mother Velma Von Tussle played by Gina Murray. Who constantly ridicules Tracy and her friends. Her friends including Seaweed played by Layton Williams (Who is an amazing dancer) who also dream of being on the show. However, due to colour segregation which was rampant during this era, meant that Seaweed could only appear on the show once a week. Whereas white people could appear on the show more regularly. The shows regular dancers became known as the 'committee' and were looked upon as tv stars in their own right due to their looks and dance moves. Teenagers all over America would copy them.Part of the 'committee' was Amber Von Tussle and her boyfriend and dancing partner Link Larkin played by Edward Chitticks (photo below) He plays the 'dreamboat' of the show who Tracy has a crush on. The scene where Tracy first meets Link is absolutely hilarious! Her faces and she pulls while she is swooning over Link is so funny. Reminded me of when I was a teenager swooning over a guy called Alex at school ha!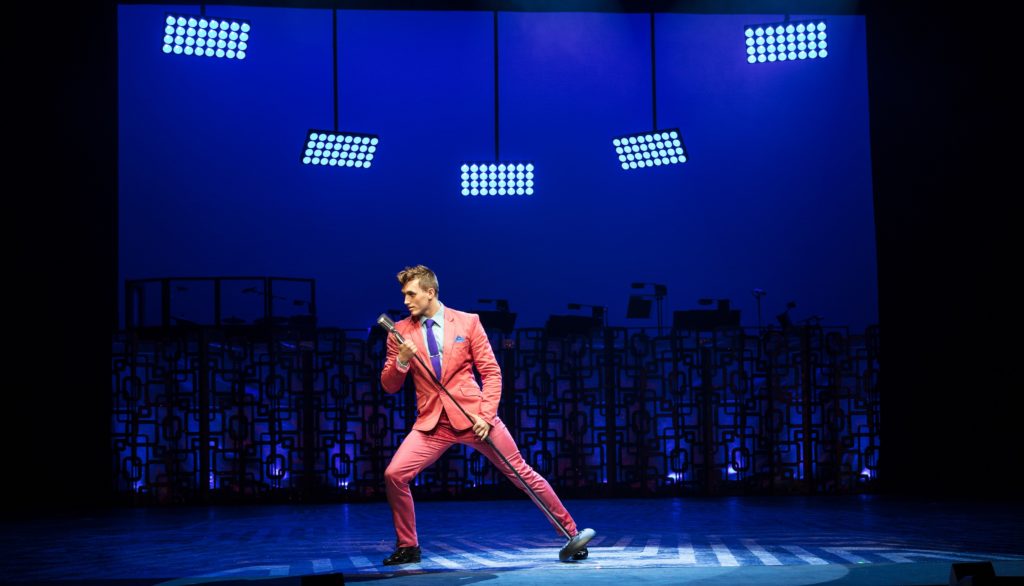 Credit: Darren Bell
The difference is Tracy and Link do end up together which is amazing, because Link's character sees the beauty and her amazing personality. The song "I can hear the bells" is one of my highlights of the show because she talks about being married to Link when he bearly even knows her yet.
Other highlights in the show for me were Wilbur Turnblad played by Graham MacDuff and Edna Turnblad played by Matt Rixon who plays Tracy's parents. The comedy duo are the highlight of the show, particularly in the second half where they have more stage time. The song "You're timeless to me'" reminded me of a Morecambe and Wise double act. Particularly the part with the failing balloon! (You know what I am talking about haha)
My favourite part of the show were the scenes with MotorMouth Maybelle played by Brenda Edwards. (photo below) Your voice is amazing, which at times reminded me of the stunning Shirley Bassey. For me, Brenda's voice really stole the show. Particularly the song "I know where I've been" and at the end when she joins all the cast singing "You can't stop the beat".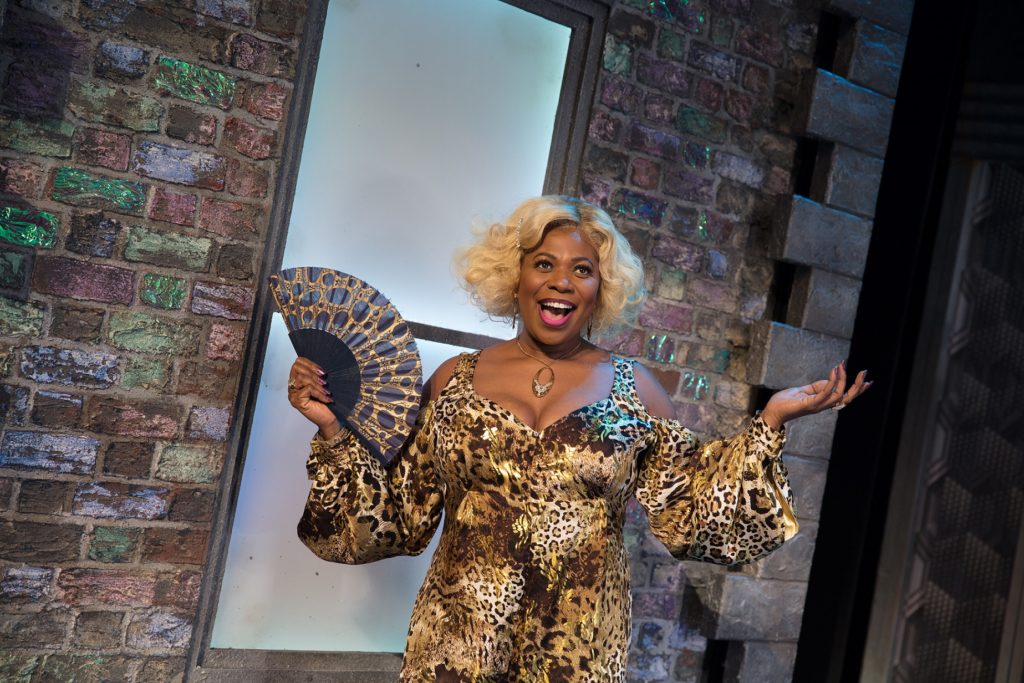 Credit: Darren Bell
Other highlights were watching Seaweed played by Layton Williams wow! Mannnn that guy can move! Considering Layton is only 23 he has some icon roles including playing one of the Jackson Five in the musical hit Thriller Live. For me, Layton was incredible to watch, a real talent! To be honest all the dancing in the musical was brilliant. Link, Seaweed and all of the dancers were very talented. Tracy herself was a lovely dancer. The scene with her and Link singing and dancing made me believe in love again.
I must mention Tracey Penn who played various Female authority figures in the production (policewoman & sports coach) she was soooo funny. I mean Laugh out Loud funny. Bossing the students about at the high school and making weird references with her body towards them and as the policewoman at the jail. Very talented young actress!
The choreographer between the dancers was also brilliant well done Drew McOnie! The music was awesome too, I loved your band Richard Atkinson. Especially when characters went off script (Wilbur and Edna) they still managed to keep everything in time.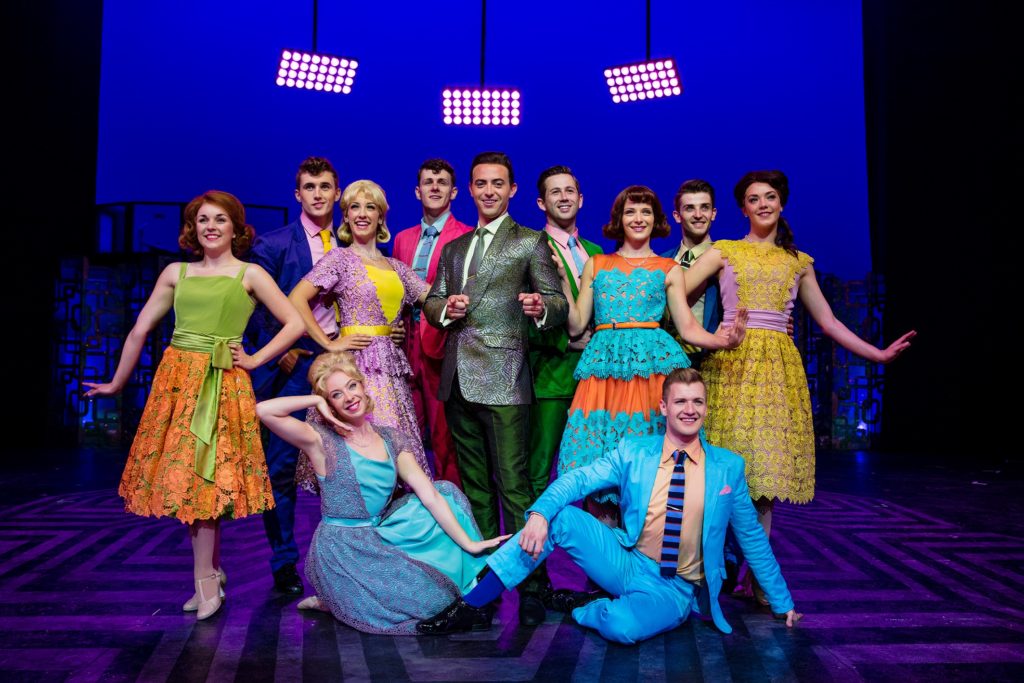 Credit: Darren Bell
This musical is a happy go lucky bubblegum stage show, with a very talented cast and crew. However, there are messages behind the production. Segregation, racism, and body confidence all subjects which are in the storyline. It's amazing to see how far we have come over the decades. For me the message was simple we are all part of one race the human race and everyone should be treated the same no matter where they are from and what they look like. Too many people worry about what other people think of them. Honestly, who cares? Be yourself and try and to do good in the world. This pretty much sums up the powerful message from this bubble gum 60's production.
I thoroughly enjoyed the Hairspray and that's why it's getting a 5 star! Well done everyone!
Tickets: http://www.atgtickets.com/shows/hairspray/opera-house-manchester/
Later on, I interviewed some of the cast check it out below! Lovely to meet you all too 🙂
Tracy (Rebecca Mendoza) & Link (Edward Chitticks)
Amber Von Tussie (Aimee Moore)